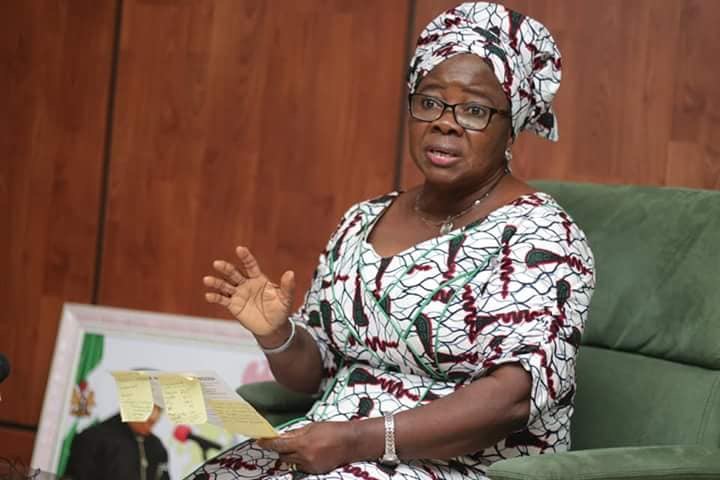 The welfare of Akwa Ibom workers has been on the burners recently. In this media chat, the Head of Civil Service, Mrs Ekereobong Akpan, bares her mind on the policies, programmes of Governor Udom Emmanuel as it concerns workers under the employ of the government.
Excerpts:
*Good afternoon Madam, it is good to have you, not withstanding your very busy schedule.*
Thank you very much. The honour is mine.
*It has been an interesting journey, 3 years and 4 months with Akwa Ibom workers. How have Akwa Ibom workers fared under your watch?*
Thank you for this opportunity you have given to me to enlighten Akwa Ibom people on what the Akwa Ibom State government is doing for her workers and I want to use this opportunity to tell the entire world that the man at the helm of government in the state is workers friendly and cares about their welfare. I have so many instances I can cite that will address this issue. If a leader assumes office and then notices that some people were left out for over 10 years without being paid their gratuities and without being prompting clears the entire outstanding. I think that leader has the interest of the workers at heart. It is the truth and if that same leader and within the period of recession, instead of downsizing, he continues to employ, I think the gentleman has the interest of the people and the workers. If a leader comes in and with or without federal allocation, he pays salaries between the 25th and 27th of every month to the workers and one week after pays retirees, he has the interest of the workers.
In Akwa Ibom State, even when you are not promoted, you are not denied your increment yearly. I want to say here that in Akwa Ibom state, every January if you have not hit the bar of your grade level you are given your increment , we have rules, if you are promoted, your next grade level should not be less than your annual increment and this is one state that if in January you are given your increment and then you are promoted in that same year, your placement will be determined by the increment you enjoyed one or two months earlier. What could surpass this level of welfare. Here is a state that car loans is still being offered to workers in our different ministries, we know this is a revolving loan and the money we know have alternative uses. In Akwa Ibom, this is the due of workers and it is given to them.
This is an administration that still promotes workers. I remember when I came on board, I said arrears of people to be promoted included 2012, 2013 and 2014 and such persons were duly promoted when this administration came on board, they were over 10,000 of them, they were promoted, and I have record to show that we have been paying this people that we promoted. In this same civil service the workers in the local government, when things were not going very well in the joint account, the government of His Excellency, Mr Udom Emmanuel stepped in and intervened in all ways possible by paying the salaries of primary school teachers and paying local government workers. We were all there when they came out en-masse and said Oga you paid us , we have been fairing well. We all watched the NULGE week event, it was aired and every person watched it , It was real and I also know, in this my state and in this service I serve as the head of service were pensioners came out December last year, all of them and said you have been paying all our pensions, in this same state when all of them came out and surrendered 28,000 retirees to his Excellency. We have records to show, I don't know what welfare is, if it is not what I am talking about now, which am not just talking, which we have observed, it is part and parcel of us.
.
I'm also looking at this state where we are in advanced stage of offering workers houses. A circular will be out soon which I have allocated different ministries the numbers they should invite applications from. We want houses for civil servants because we don't want civil servants to retire into nothing. If you live in your own house and you pay monthly for the next 15 or 20 years as the case may be, you own your house. If you are paying N600,000 for a 3-bedroom flat like it's obtainable now, we can divide it into 50 depending on your grade level. What welfare package are we talking about that can be more than this?
This is a state where workers and retirees are taken care of. We are working with the salary consultants. If you retire today, by 12 midnight, your name will be inactive in the integrated payroll and become active in the pension payroll. I have observed what used to happen before that a retiree that was used to monthly salaries is now wondering when he would be paid. In August this year, I gave names of those that would retire between July and December so that they will also prepare that come October, November and December, they will be out and that they will be earning pensions. I think that is part of the goodies for the workers that wasn't there before.
In Akwa Ibom State today, Governor Emmanuel has been announcing that if you have issue(s) with your pensions, come to the Head of Civil Service, and I saw some persons. This is something I have explained before. Before Governor Emmanuel came on board, we observed that people were collecting money from both ends of the government – collecting as pensioners and sitting workers – and then we ran to a salary consultant who is doing a fantastic job. With the use of BVN, all such persons were picked out. And so, if we do not clear you, you cannot earn your money.
A young man came to me two days ago and complained that he was paid salary. I asked where he was working and he said he was working in one of the district courts in the state Judiciary. I asked if he was a judiciary staff and he said no, that he picked the job as a sitting court member. I asked if he retired from service and he said no. I asked if he wanted us to pay him as a student and judiciary staff. You know once that kind of a news comes up, the system will flag up that person and so he cannot be paid until we clear him.
I also asked if he was on a leave of absence but he said they refused to give him despite that he still serves government. I told him that is how to serve, because we have rules.
With this, we started a baseline and said from now, pension will run for the people that we are paying, and then the people before January 2016, we are paying you pensions. We know we have paid from subtreasuries of our choice. We have pockets of people are owed one month or more. Once the sub-treasurers complete the job, we will hand them over to the salary consultant so that all what we are owing then would be paid to them.
*Let's get to this very important aspect. Is Akwa Ibom State Government owing workers' salaries?*
We are not owing workers' salaries.
*What is the state government owing the workers?*
What the state government is owing the workers, I would say, is gratuities, and it is not peculiar to Akwa Ibom State. Many states of the federation are facing challenges of payment of workers or gratuities to retirees. For a state like ours that has not joined the contributory pension scheme, it's still a problem. For those that have joined, they have backlogs of the ones that retired before now.
*Will it be paid?*
When government owes you, it will pay. Government does not owe any person in perpetuity. If government owes you a kobo, remember that you will be paid. And so, for salaries, we pay salaries in Akwa Ibom on every 25th to 27th of every month with or without federal allocation. That is the truth and it is on record, including SUBEB and local government staff. If a worker comes out to say he/she is owed salary, I would ask the worker just as I asked the young man I referred to earlier. There must be something wrong somewhere that he's not cleared. And until we clear you, we can't pay you.
*What came on the highpoint since the emergence of this administration is the much-talked about 5,000 workers, I know in reality, you have resolved about 2,000 now. What is fate of the remaining ones?*
Very good. Remember that we screened them, and we have been releasing the results of those that passed batch by batch, and we will continue to release all of them. Somebody came up to me and said 'I'm one of the 5,000 absolved staff'. I looked at the papers and asked if the person took the screening test. He said 'I'm not sure'. I painstakingly went through the files that he brought. Out of the 45 he brought, only one took the test. And that one, in the subject area, we have not yet released the result. Once we do for those remaining, all of the them who passed would be accommodated. When His Excellency, Mr Integrity said he would take all of them, he will definitely do so.
**The Opposition party in the state has been using that as a negative campaign strategy* *against your government. Is it true that most of the 5,000 workers that were employed by the last* *administration were not citizens of Akwa Ibom State?*
Somebody sent me a text that, amongst the people screened, two of them were NYSC members attached to the particular school, and they were not citizens but included their names. I quickly did a check with my Permanent Secretary and it was confirmed. So, such things do happen. That is the essence of screening.
*Just recently, His Excellency approved the appointment of 3,000 teachers in primary schools. Where is the money to pay them?*
Well, we do not look at the monetary aspect only, but also cost benefit analysis. We don't have enough teachers, and we have so many primary schools and we need people to teach. Retirement is fixed. 60 years of age, 35 years of service you are out. And we also remember that education is free and compulsory in Akwa Ibom State, and so the children in our schools have to be taught.
The money is not there but then if we have to look at it from that angle, and also from the point of view that Akwa Ibom still, is largely a civil service state, we need to employ people. Outside employment, we also need man power to do the job of training our youths and children. Money will come, and God has given us a man that is very resourceful and capable when it comes to managing money. And so, I trust God Almighty that we will be able to pay them. And for your information, they have been given their appointment letters and posted to their different schools.
I told the salary consultant in charge of SUBEB that we have to do everything possible to make sure we pay them. If we can't pay them by this month, we have to pay the come October, because we don't want any arrears. So, 3,000 of them have been given appointment letters and subsequently posted to their different areas and schools.
*While the school is free, neighbouring states are taking advantage whereas most times, our children are seen on the streets hawking*
Well, that would be the attitude which is not very commendable. But be that as it may, Akwa Ibom is known for hospitality, and so we cannot say unless you are resident in Akwa Ibom, your child cannot benefit from our schools. We cannot discriminate. Akwa Ibom is known to be giving even at the detriment of the state. And so, the children that resident in the state enjoy all the facilities. Be that as it may, no Akwa Ibom child should be hulking while school is on.
We have the Child Abuse Law domiciled in Akwa Ibom State. Don't abuse our children. They are our future leaders. We have to give them the basic education so that they can flow in line. If they don't have this one, it would be very difficult to move on.
*Let's look the issue of entitlement. In the civil service, somebody is entitled to a car, but sometimes not given* . *I don't if it is true but that is what we hear on the streets. What is going on with entitlement of workers in Akwa Ibom State?*
There are certain things that are classified as rights and some as privileges. In Akwa Ibom State, as much as the economy of the state permits, workers are given their entitlement. I will say this over and over again. When things are not so rosy, there are some things that may not be given at initio because you cannot afford it. If there are things that cannot be granted now, not only applicable to workers but others that would demand one thing or the other perhaps they feel their lives would be a bit better if they had those things. They have to remember that things have changed. The fortunes of Nigeria have dwindled. Things that we used to have at ease, we are now planning before they can be achieved.
I know young men used to plan to buy a car within a year or two. A Toyota Corolla car that used to cost about N5 million is now sold for about N20 million. If you have a large audience to buy this for, you have to do a bit of planning. For those that could not have, the things that may not be as of right, could be a privilege, and that are not yet come out or materialized, please bear with this administration because we will do everything within our power to make what should be given to all and those that need and entitled to, will be given.
*You said the workers of Akwa Ibom State are 100% in support of Governor Udom Emmanuel, please tell us…*
I have been around in the civil service. I know when we started, I know where we are today and I know the challenges that we are facing and what we used to face though I was not the one bearing the heat. I can now imagine what happened to a one-time Secretary to the State Government and Head of Service, Obong Asuquo Etokeyen, what it took him to start the government of Akwa Ibom State in 1987 – when the announcement was made, where the offices would be, where His Excellency the then Governor would step into and sit down, the workers, different ministries – all challenges from different times.
Things have been done to improve this system over time and we are moving on in all areas – education, agriculture, health, administration and all others. We may not be there yet, but we are working. I will say the challenge we have today 'I want this, I want that', and I will say no, I will give you this now, that tomorrow and the other next month. But for my child, he wants it all and now.
This administration has tried within its power to do a lot of things. We have had over 20,000 persons promoted within this period. This is beside junior staff in all our NDAs. This is beside promotions in the judiciary and the extra-ministerial departments and tertiary institutions. You know what that will mean if we were to add all of these together. They all have been promoted. I can give you the details of the arrears that have been paid including people that were employed into the service in 2014 and 2015 and were not paid. All of them have been paid. The last batch is coming up in October payment. This is a state that is still paying leave grants.
The arrears we are talking about for the newly employed people we had, 2249 of them have now been paid close to N1 billion. Most of them have not informed their people that they have received their salaries. If they are owed one year, they are paid all one day including the current month. I'm speaking from records that we have. For other staff in the ministry, when it comes to promotion arrears, have paid them, and I have in our different NDAs between 2016 and 2018, we have paid a total of 1227 staff close to N500 million in terms of arrears. For civil service pensions, we have paid 4304 retirees close to N600 million. For those that have not been paid, or those because of one thing or the other that has to do with civil service, will be done.
Notional and financial promotions have always been with the civil service. We have in circulars. When I came on board, we had over N8 billion to be paid as arrears. I called the Public Service Negotiating Committee which I served as the chairman, to know what to do to restore the seniority of workers so that they can move forward and enjoy their seniority. Because if we continue to wait for arrears, promotions will not be released. Thank God that every money that comes to the state is published on the pages of newspapers.
*Thank you so much Ma for your time*
Once again I am delighted to say the pleasure is mine. Keep on the good work of informing the people.