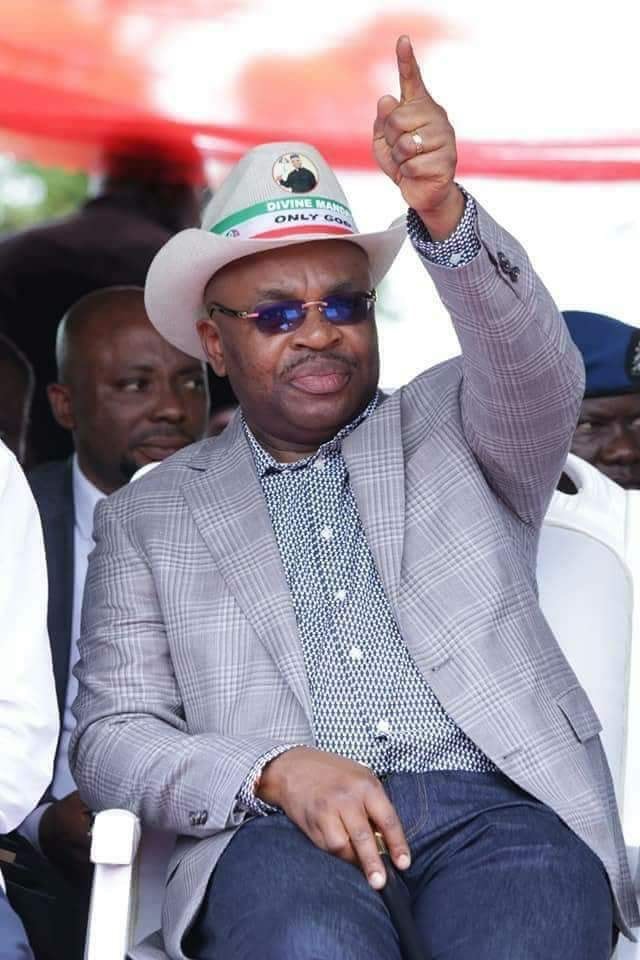 Akwa Ibom State Governor, Mr Udom Emmanuel, is set to formally declare his intention to vie for a second term in office in the forthcoming governorship race in the state.
He dropped the hint on Monday during a mega rally by Eket Senatorial District held at Onna Township Stadium, endorsing him to return to the Hilltop Mansion in 2019.
Gov Emmanuel's decision comes on the heels of agitations from the several people in the state for him to re-contest for second term in office to consolidate on his remarkable and sterling achievements in office.
The Governor thanked the people of Akwa Ibom State for the show of love and confidence in him, saying that the overwhelming encouragements from all parts of the state has indeed boosted his determination, not just to declare but to do more for the unity of Akwa Ibom State.
The State Chief Executive Officer stated that within the last three years, his administration has touched areas that were never touched in the state, enumerating such areas to include Mbo, Ini local government areas and other interior parts of the state which have been visited with roads, improved healthcare facilities, power infrastructure, International market and a modern sports facility in Eket.
Gov Emmanuel, who was reluctant to render his scorecard, stressed that the rapid developmental strides and industrialisation drive in the state are clear indications that he came prepared to improve the state.
"I stand for the unity of this state. I stand for the development of Akwa Ibom. I stand for the love of my people. I stand for the progress of this state and nothing less. This is one government that believes in the unity of this state.
"When we took over office, we made a promise that we will bring down the price of garri and other staple food by at least 50%. Two cups of garri went for N200 but now, with N200, you can buy up to 12 cups of garri.
"Since inception, no single kilometre of road was constructed in Mbo and Ini Local Government Areas but in just three years in office, we have done several roads. There is a highly commercial road in Mbo that leads to Ibaka Deep Seaport which was totally impassable but today, the road has been constructed and there is another one that leads to the Atlantic Ocean.
When we came in, the Ibom Power Plant was shut down but today it is generating 115 megawatts of electricity."
Speaking further, Gov Emmanuel said, "this is the only time our secondary healthcare system has ever seen incubator and foreign equipment. The General Hospital Etinan that was long abandoned, was commissioned by the Vice President, Prof. Yemi Osinbajo, courtesy of my administration.
"Since I was born, Nigeria was importing toothpick, pencil and syringe. But in Akwa Ibom under three years of my administration, we have pencil and toothpick factory, syringe factory, flour mills factory, coconut refinery, plastic factory, agric, done green houses, rice mills, etc.
"Akwa Ibom State has the highest number of youths empowered in the country as at today. The Ibom Deep Seaport, on completion, will create jobs for not less than 15,000 youths in the state.
"Because you have endorsed me, I will declare to run on Friday. There is no other party in Akwa Ibom State. Let me tell Nigerians that Akwa Ibom is PDP and PDP is Akwa Ibom. South-South Nigeria is PDP."