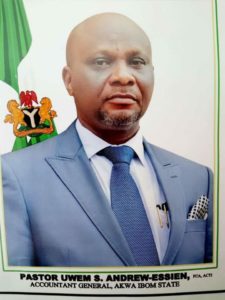 Pastor Andrew-Essien, Uwem Sunday: a Professional Accountant and a Public Servant in Akwa Ibom State Service, was born on 6th February, 1963 in Atiamkpat, Onna Local Government Area of Akwa Ibom State.
He commenced his formal education at Primary School, Atiamkpat (1970 to 1975), where he obtained his First School Leaving Certificate (FSLC), and proceeded to Community Secondary Commercial School, Ikot Akpan Ishiet (1975 to 1989), for his West African School Certificate (WASC).
In his quest for advanced education, he moved to study for his Higher School Certificate (1981 to 1983) at the then School of Arts and Science, Uyo and later proceeded to enroll for his B.Sc in Accounting at the University of Calabar, Calabar (1984 to 1987). He bags a Masters Degree in Business Administration (MBA) from the Prestigious University of Hartford, Connecticut (1992 to 1993).
Pastor Andrew-Essien was appointed Special Assistant (SA) to the Governor on Due Process in October 2015, a position he held till May 2016 when he was posted to the Office of Accountant-General as Director of Accounts. In December 2016, he was appointed Acting Accountant-General of Akwa Ibom State by His Excellency, Deacon Udom Emmanuel, Governor of Akwa Ibom State; and in that strategic capacity he had served with unmitigated diligence till August 17, 2017 when he was confirmed as Substantive Accountant-General of the State by the State Chief Executive.
He was Head of Accountancy Department, Akwa Ibom State Polytechnic, Ikot Osurua; External Assessor to various Polytechnics, and Resource Person to National Board of Technical Education. As an erudite Lecturer and distinguished Scholar, Pastor Uwem Andrew-Essien has published notable Accounting-based texts and scholarly journals, thirteen (13) of which are underlisted:
Management Accounting, Theory and Practice 2012
Public Sector Accounting 2013
Cost Accounting Made Simple 2014
Personal Income Tax As instrument for
Poverty Alleviation 2009
The Strategic Role of Research in
Entrepreneurship Development for Economic Growth 2011
Performance Evaluation, Issues and perspectives 2011
Production of Polyclean Liquid Soap 2011
Evaluation of Internal Control System of Banks
in Nigeria 2012
The Supervisor: His role and Contributions to Success
of Modern Organizations 2010
Sovereign Wealth Fund and Nigerian Economic
Development 2015
Challenges of the New Pension Scheme
Free Trade Zones and Nigeria's Economic Development 2004
Accounting Ratios for Decision Making 1987
The Onna-born Accountant is a Member of many professional bodies. He is a Fellow, Institute of Chartered Accountants of Nigeria (FCA – 2010); Associate member, Institute of Chartered Accountants of Nigeria (ACA – 1992); and Associate member, Chartered Institute of Taxation of Nigeria (ACTI – 2015).
As a tested and proven Professional and Leader, he has served in many positions of high responsibilities, viz: Chairman, Institute of Chartered Accountants of Nigeria, Uyo and District Society (2013 to 2015); Treasurer, ICAN Eastern Districts Conference (2013 to 2014); Member, ICAN – ATSWA Committee (2015 to 2017) and Director, First Attempt Associates (ICAN Tutors) – 2001 to 2016.
The former polytechnic lecturer is a known devout Christian, a Pastor of Living Faith Church (Winners Chapel) who plays various lofty roles to inspire the growth of the body of Christ, particularly as leader of Crowd Control Unit of the Living Faith Church (2008 to 2009).
His pastoral role notwithstanding, he is still very much in touch with his Socio-cultural environment. His public-spirited disposition has earned him the prestigious title of Akparawa from a renowned socio-cultural organization in Africa, Mboho Mkparawa Ibibio. As Patron, Uyio Iwaad Awa and Founder, the Voice of the Electorates (VOTE) – two vibrant Socio-political organizations that have championed robust sensitization of Electorate in that part of Akwa Ibom State, his positive influence and relevance in his Socio-cultural milieu cannot be contested.
Uwem, as fondly called by his squash mates, was the captain of the squash section of the prestigious Uyo Sports Club (2008 to 2009), and he plays squash as his hobby.
He is happily married with Children.
ACHIEVEMENTS
From his inception as Accountant-General of the State, Pastor Uwem Andrew-Essien has creditably discharged his statutory functions of receipts and payments for the State Government. Some of his achievements that have direct bearing on his status as public-spirited Public Servant include the following:
Prompt and up-to-date payment of salaries and pensions to active and retired workers in the State Service.
Payment of backlog of gratuities to retirees up till October, 2015.
E-payment of corps Members Allowances in the State.
In the area of human capacity development, he has embarked on regular training of the State workers on ICT skills acquisition.
Trained Accounting Staff on proficiency in Public Sector accounting- practice.
Upgraded the ICT skills acquisition programmes in the Accountant- General's ICT Resource centre, and introduced and sustained the issuance of certificates to graduating trainees.
Publication of 2015 & 2016 Financial Statements of Akwa Ibom State Government, which has been circulated to all tiers of Government including the Federal Government.
Successfully transited the State from IPSAS cash to IPSAS Accrual Accounting in the financial reporting of the State Government, and painstakingly enforced the entrenchment of transparency, integrity and accountability in the Office via quality service delivery.
Renovation of dilapidated Sub-Treasuries.
Computerization of accounting system.
Re-invention of workers car loan project.
Continuous staff training.
Erected befitting carports in the Executive parking lounge of the Accountant-General's Office.
Construction of temporary drainage to check flood menace in Accountant General's Office.