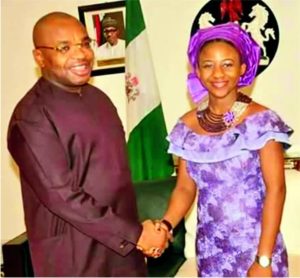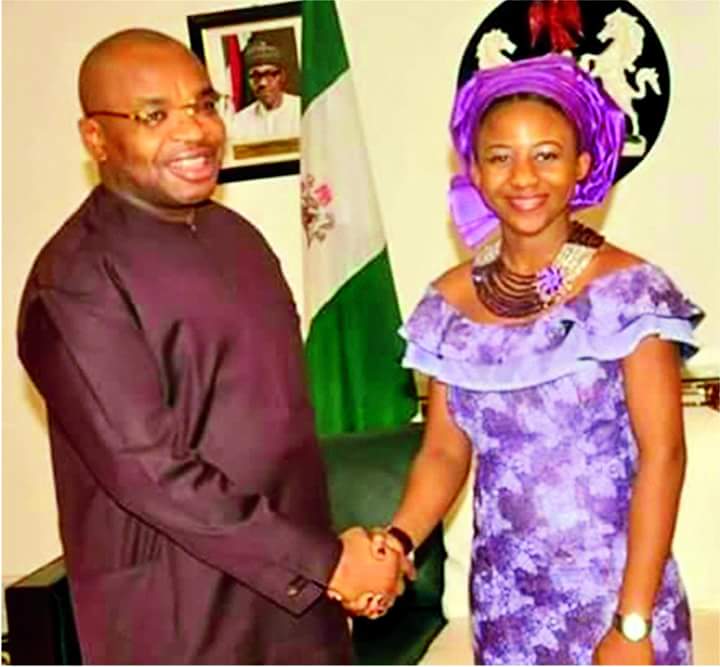 …bags 2017 Dudley Newitt Prize
A Nigerian student has again broken the existing academic record at the Imperial College, London and was yesterday Monday, February 26, honoured by the college with the enviable Dudley Newitt Prize for Experimental Excellence.
Christiana Esio Udoh, 26 had since the first six month of enrolling for a Ph. D in Chemical Engineering, exuded exceptional academic feat which attracted a complete scholarship from the school.
The award was officially announced yesterday during the Dudley Newitt Lecture at the university campus, London.
A peep into her academic records show that Christiana Udoh, while at the Air Force Secondary School, Uyo during their valedictory session in 2006 picked 15 out of 21 prizes given in a class of 72 students in virtually all the core subjects.
It could be recalled that Christiana led her team of contestants during the 2006 NNPC science quiz contest, where Akwa Ibom State emerged overall winner ahead of 26 other states of the Federation.
In Ghana at the Kwame Nkrumah University of Science and Technology, Kumasi, Christiana Udoh, a native of Okosi Village in Urue Offong/Oruko Local Government Area of Akwa Ibom State, passed with unprecedented First Class in Chemical Engineering in 2012, the first of its kind since the School started in 1959.
At the Imperial College London, Christiana is said to be the first Nigerian to have merited this award since the birth of the University in 1845. Meanwhile, she had earlier thrilled the institution with her impressive performance during her Advanced Masters studies in Chemical Engineering, which again, attracted a scholarship of 20 thousand dollars from the Akwa Ibom State Government which was presented by Governor Udom Emmanuel.
Governor Emmanuel who had commended her for making the state proud through dedication and commitment to her academics, thanking the father, Dr Esio Okwong Udoh for investing in her education, had charged her never to rest on her oasis but push further to break more grounds for a better success story.
Reacting to the development, the awardee's father, Dr. Esio Okwong Udoh said his daughter was a pacesetter who has remained undaunted in being top of her class, irrespective of the environment. He said, "Whether in Nigeria, Ghana or over there in far away United Kingdom, Christiana has retained her number one position and we feel thrilled about it. This shows that Nigeria is on course to favourably compete with any nation of the world."
Esio Udoh, himself a medical doctor and outstanding politician, frowned at a situation where the Nigerian government paid deaf ears to issues of education, especially when less than one percent of the country's GDP is allocated to education.
The two term Member for Oron Federal Constituency called on Nigeria to imbibe Israeli educational system where brilliant students are exclusively trained in military and technology so as not to waste her best brains.
He referred Nigeria's policy makers to countries like South Africa, and both Indonesia and Malaysia which allocates not below 17 percent and at least 20 percent of their GDPs to education respectively.
According to him, such schools which should have boarding facilities, qualified and well paid teachers, discipline, security and well equipped libraries and laboratories for effective teaching and learning, could help the state to produce at least 10 thousand perfect products that could readily gain admissions into universities.
His words, "I always believe the Akwa Ibom State Government can build model schools in each of the 10 federal constituencies, where clusters of schools around them could become feeders.
The best students in each school could then be moved into the model schools where there are boarding facilities, qualified and well paid teachers, discipline, security and well equipped libraries and laboratories for effective teaching and learning.
"If this policy is implemented, Akwa Ibom State could stand out in technological development within the next couple of years.
Nigeria should invest at least 20 percent of her GDP in education. Academic performance of our students is hampered by government's negligence to meaningfully invest in education.
"Illiteracy is the greatest enemy of mankind.
If you eradicate illiteracy, hunger is pursued out; diseases and vices that are generated by illiterate people would drastically reduce and our society would be a better place to stay."
The elder statesman who enjoined the government of Akwa Ibom State under Deacon Udom Gabriel Emmanuel to build model schools in each of the 10 federal constituencies in the State and allocate 25 percent of the State's annual budget to education and health, opined that such feat would brighten the future of its citizenry.