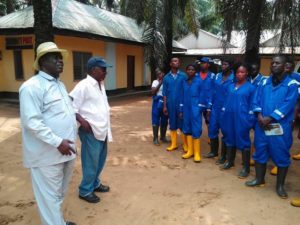 By Ukpong Ukpong
Akwa Ibom State Government has been commended for taking the initiative to revive cocoa production in the state.
Dr. Asikpo Ibokessien, the chief executive officer of Vika Farms, who gave the commendation while taking trainees from State Government Cocoa plantations located in Ini Local government Area round his farm, however tasked government to provide policy and support system to farmers in order to ensure its sustainability.
Vika Farms is a 13 hectare cocoa plantation located in Mbak Etoi, Uyo LGA. It operates an integrated farming system comprising cultivation of cash crops such as oil palm, plantain, yam, cassava, corn and assorted vegetables as well as rearing of pigs, poultry, snails and fish.
According to Ibokessien, since the reintroduction of cocoa in the state, through the initiative of Governor Udom Emmanuel, Akwa Ibom has recorded substantial increase in output.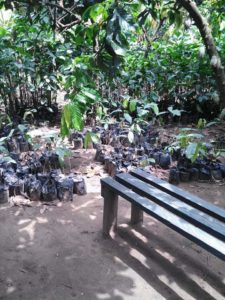 "There are so many cocoa farmers in the state presently. In three years, cocoa farming in the state has become very competitive and already we are planning to export", he enthused.
The second republic politician and university don nevertheless urged government to do more in terms of supporting farmers to produce more cocoa.
"Cocoa is a very expensive crop to maintain as such any meaningful production of the high value crop needs government assistance to succeed".
He further disclosed that marketing of the produce does not favour farmers as the nearest selling point for cocoa is currently situated in Calabar.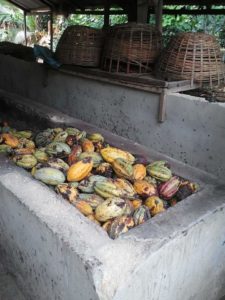 The Lead Consultant, State Government Cocoa Farm at Ukwok and Ikot Udo Asang, Ini LGA, Mr. Richard Anane Adabor, who led the visiting cocoa trainees, noted that Akwa Ibom soil is very good for cocoa production, adding that several farms are springing up in Nsit Ubium, Ibiono, Ini, Mkpat Enin and other areas.
He commended government for going beyond training of prospective farmers three years ago into actual production of cocoa, noting that with the current effort the state will regain its pride of place among the highest producers of cocoa in the country.
On the maintenance of cocoa, Adabor informed that the crop thrives on regular pruning.
"The myth that cocoa will die if pruned is not true. In fact, regular pruning of cocoa makes it more productive. You need to prune especially between January and March to conserve nutrient and to enhance flower."
Lending his voice to the need to organize farmers for proper recording of cocoa production in the state, the Ghanaian expert disclosed that since the selling point for cocoa is located in Calabar production data for the crop will be credited to Cross River State as such the relevant government agency should organize cocoa farmers, catalogue their farms and take record of their production capacity.
Also speaking, the farm manager, Mr. Monday Akpan, thanked state government for reviving cocoa production in the state, saying it has provided direct and indirect job opportunities, employed 26 youths in catchment communities in Ini LGA and boosted economy of the state.