…Environment And Mineral Resources In Focus
It was Ansel Adams, who said: "It is horrifying that we have to fight our own government to save the environment."But with the Udom Emmanuel-led administration, this quote would be left in the realm of fallacy.
In 2014, during the election campaign for the hilltop mansion, Mr. Udom Emmanuel came on board with industrialization as one of his campaign promises to the good people of Akwa Ibom. After elections were conducted and won, the undeterred and very focused Mr. Industrialization after being sworn in as Governor immediately swung into action.
So far so good, the conscious efforts of Gov. Udom Emmanuel towards fulfilling his campaign promises to Akwa Ibom people are yielding fruits as Akwa Ibom is now rated "the emerging industrial hub."
However, the role of a clean and green environment in the industrialization drive of his excellency cannot be overemphasized. Having full knowledge of this, Gov Udom Emmanuel has placed premium on safety of lives and properties via his policy thrust on environment and mineral resources ; which is targeted at pollution control/waste management, forest/erosion control, forest reserves conservation, mineral resources development and sustained awareness campaign on good public attitude towards environment protection.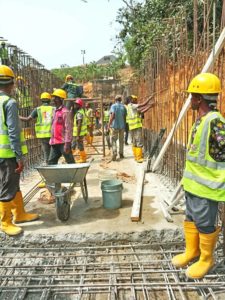 Below are the modalities and programmes Gov. Udom Emmanuel has put in place in a bid to ensure a clean and healthy Akwa Ibom for indigenes, tourists as well as investors:
-Timely waste collection and disposal in burgeoning urban centers of the state; acquisition of four new 20 ft wastebaskets and refurbishment of 100 receptacles.
-Daily sweeping of roads and regular desilting of public drains to check street flooding
-Reclamation of over one hectare for extension of Uyo Urban Central dumpsite at Uyo village road.
-Site acquisition and preparation for integrated Waste Management Projects.
-Gully erosion control and urban drainage construction/maintenance work at Anua, Oron, and Mbak erosion sites.
-Mediating between oil companies and host communities, especially the signing of Memorandum of Understanding for uninterrupted petroleum production in the state.
-Landscaping and open space beautification /maintenance of parks.
-Action plan for biodiversity preservation.
-Street campaigns and sustained Radio/Tv jingles for public sensitization.
-Regular environmental monitoring via GIS and update of environmental laboratory facilities.
-Building co-operation with government and non-governmental organizations for regulated environmental operations in the state.

-Successful taking over of the Green Brigade, an initiative of Her Excellency, Mrs. Ekaette Akpabio in collaboration with the ministry, aimed at keeping Akwa Ibom clean as well as employment of 2000 youths.
-Improved and effective urban refuse evacuation and disposal activities, especially within Uyo and waste management equipment maintenance facility at Itam.
-Maintenance of truck compactors and refuse receptacles, which are strategically located.
-The re-introduction of the state-wide monthly sanitation, every last Saturday of the month.
-Tackling indiscriminate sand dredging activities in the state in order to come up with resolution and environmental guidelines duly signed by regulators of sand mining.
-The introduction of the mobile sanitation courts and upgraded enforcement unit to curb street trading.
-Site acquisition and preparation for integrated waste management projects at Ekim junction.
-Donation and delivery of receptacles from Zenith Bank PLC,
-Remedial gully erosion intervention at Enen Atai, Calabar-Itu High Way.
World Bank assisted erosion control measures are St.Luke's Hospital, Anua, Uyo/Etim Umana.
-Ongoing flood control measure on IBB/Behind Idongesit Nkanga Secretariat.