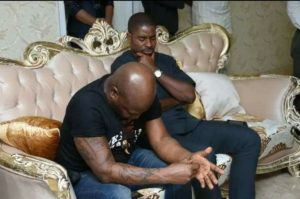 If  never knew the personality of the man Charly Boy, the magnitude of the miracle of his salvation may not be immediately apparent to you. Up until yesterday, he had been a most unusual and highly controversial figure in Nigeria for decades – the kind parents wouldn't like their children to see on the television, let alone come in contact with.
Abnormal music and music videos, a most unsettling TV show, outlandish gothic dressing, a strange choice to create a female personality about himself, using a casket for his midday nap, adorning himself and his home with dark ornaments like human skulls, and so many more had been the most commonly known things about Charly Boy, for which reason many could have written him off as lost, but the love of Christ reached out to Him.
He had been labelled all sorts by men, but now the name of Jesus is named upon him. He was certainly not someone anyone would likely expect to find attending a church service…the last time he was seen in a church, he caused a huge stir with his appearance and wired entourage.
But in this testimony you would find out how he gladly and willingly came to church, heard the Word and returned for more! It was indeed the set time! Just as Paul said of his own conversion, 'But when it pleased God, who separated me from my mother's womb, and called me by his grace, to reveal his Son in me, that I might preach him among the heathen…', so it was with Charly Boy yesterday, Tuesday 27th February 2018, the day everything changed; and at almost 70 years of age, he heard and believed the gospel, and joyfully gave his heart to the Lord Jesus. A new life now begins… Christ's love is unrestrained in reach.
No one is to far away, no soul is unreachable, no man is unchangeable. Heaven is ready to intervene, and we must be available to be used of the Lord in this day of His power. Watch out for the unfolding of this amazing testimony in subsequent posts.
Source: Christ Embassy, Abuja