Health Workers in Akwa Ibom State, have called on the government to apply a partial lockdown policy as one of the measures in containing the raging COVID-19 disease currently ravaging the country. The full text of the communique by the health professionals after a meeting in Uyo is below:
A COMMUNIQUE ISSUED BY THE CONGLOMERATION OF HEALTH CARE PROFESSIONAL BODIES (BEING THE COALITION OF THE LEADERSHIP OF NMA, PSN, NANNM, AMLSN) ON COVID-19

PREAMBLEThe Conglomeration of Healthcare Professional Bodies in Akwa Ibom State, being a joint leadership structure of the Nigerian Medical Association (NMA), Pharmaceutical Society of Nigeria (PSN), National Association of Nigerian Nurses and Midwives (NANNM) and the Association of Medical Laboratory Scientists of Nigeria (AMLSN), as part of an initial preventive response held her meeting at the Pacemaker Conference Hall, Doctors' Mess, Uyo on Monday 23rd March, 2020. The Conglomeration of Healthcare Professionals is herein after referred to as the leadership of healthcare professionals.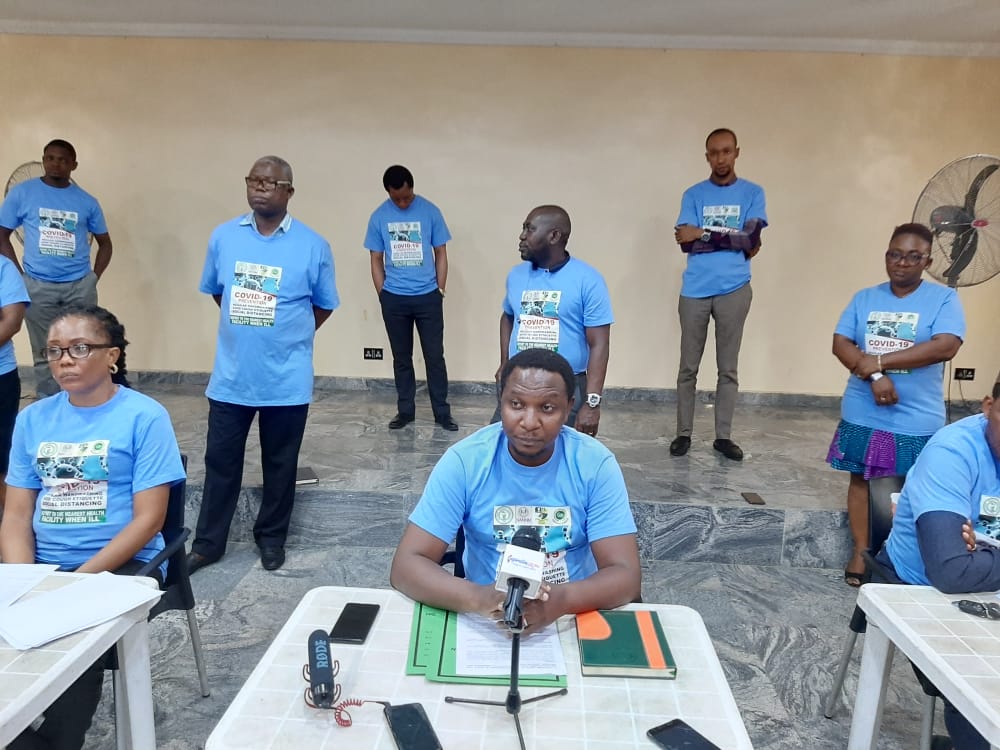 The meeting which had the executive leadership of all the above Professional Associations was chaired by the NMA Chairman and with the three other Chairmen as Co-Chairs.
ACTIVITYThe meeting deliberated on the outbreak and prevention of COVID-19 in Nigeria, the State of Healthcare in Akwa Ibom and the health sector preparedness for COVID-19 outbreak in Akwa Ibom.
OBSERVATIONSThe Leadership of Healthcare Professionals noted the current outbreak of the Corona Virus Disease 2019 (COVID-19) which was first identified in Wuhan, China in December 2019.The meeting also noted the rapid spread of the disease across continents leading to three hundred and eighty one thousand, seven hundred and sixty one (381,761) infected cases with one hundred and two thousand, four hundred and twenty nine (102,429) recoveries/discharge and sixteen thousand five hundred and fifty eight (16,558) deaths. This leaves us with a case fatality of about 14%.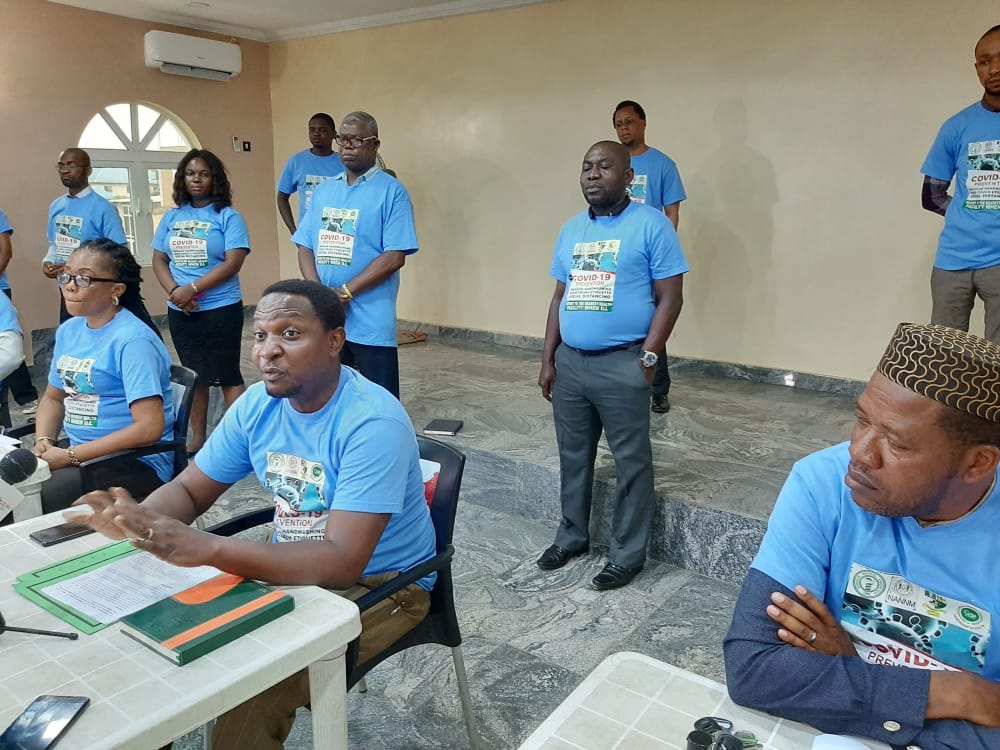 These figures are as at 23rd March, 2020 and are still rising.The Leadership observed with sadness the upsurge in the number of confirmed cases in Nigeria, as reported by the Nigerian Centre for Disease Control (NCDC), which has moved from just 2 cases to 40 confirmed cases and death within 96 hours.The Leadership received reports and presentations from our members from the four professions of Medicine, Nursing, Pharmacy and Medical Laboratory Science on the state of preparedness at their various places of work in the event of an outbreak of COVID-19 requiring response in the State.
The Leadership noted with surprise that the Leadership of the Professional Bodies in the Health Sector of Akwa Ibom State is not being carried along by the Government in whatever preparedness that may be ongoing. This apparent lack of communication has contributed in fueling rumours, half-truths and non-truths – a situation that is inimical to the prevention of COVID-19 outbreak in the State.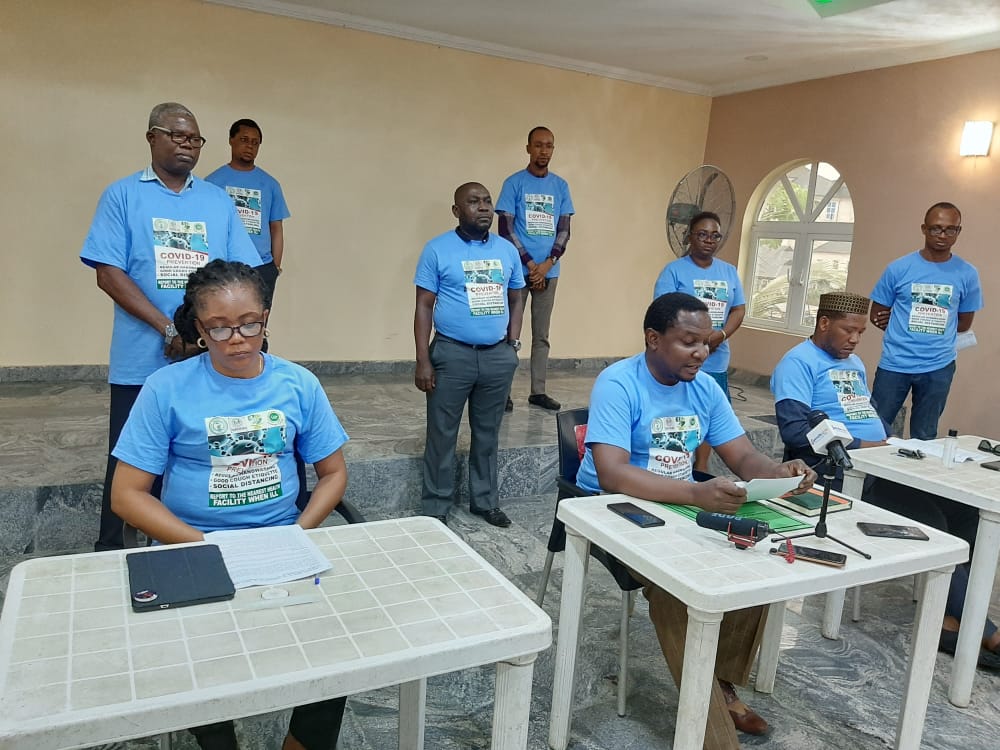 The Leadership observed with satisfaction that the State Ministry of Health has embarked on public health enlightenment campaigns with radio jingles in English and vernacular. The Leadership of Healthcare Professionals in Akwa Ibom also received reports on COVID-19 preparedness activities by the State Ministry of Health. Some of these include preparation of the Isolation Centre in Infectious Diseases Hospital (IDH), Ikot Ekpene, distribution of Personal Protective Equipment (PPE) by the Ministry of Health, COVID-19 screening at the Victor Attah International Airport among others. This is commendable.
The meeting also received reports that majority of the healthcare professionals have received no formal training on COVID-19 outbreak response or the management of a Clinical case.The meeting also noted with satisfaction the setting up of a Hospital-based Taskforce on COVID-19 by the Management of the University of Uyo Teaching Hospital.The Leadership noted with shock that why passengers travelling through the Victor Attah International Airport are being subjected to screening, no screening of any kind is being conducted at our land and sea borders with Cross River State, Rivers State, Abia State, Cameroun and Equitorial Guinea where majority of travellers pass into Akwa Ibom State.
The meeting also frowned at complaints received by members that healthcare professional are being blackmailed to work without personal protective equipment including basic devices like facemasks, gloves, hand sanitizers and hygiene facilities such as running water. In the face of the current outbreak scoping water from a drum will not suffice. The Leadership noted the irony that our healthcare workers who are paid a miserly hazard allowance continue to always patriotically put their lives on the line in defense of Society. Examples include the health workers responses during Ebola, Lassa Fever and now COVID-19 outbreaks. The Leadership observed that there are no triage points and established protocols in our various hospitals across the State.

RESOLUTIONSThe Conglomeration of Healthcare Professionals in Akwa Ibom State thanks the Akwa Ibom State Government through the Ministry of Health for its efforts so far on COVID-19 preparedness. Similarly, we thank the Management of University of Uyo Teaching Hospital (UUTH).The Leadership of healthcare professionals in Akwa Ibom State individually and collectively resolved to engage with the Commissioner for Health to ascertain the level of COVID-19 preparedness in the State.The Leadership demands that the Government makes available adequate Personal Protective Equipment including facemasks and gloves to all health facilities in the State (including the UUTH as it caters mainly and predominantly for Akwa Ibom people).
We reiterate that our Code of Ethics in the healthcare professions recognizes no barriers or dichotomy in healthcare delivery.The Leadership calls on the Government to increase its awareness efforts by making available flyers, posters, and other information, education and communication materials. We also urge the Government to increase the translation of the radio jingles into pidgin, Annang, Ibeno, Ekid, Oron, and Obolo languages. Similarly, we call on all radio stations to donate airtime for the airing of these public health enlightenment jingles.
We also plead for our radio talk shows and phone-in-programmes to have special periods for health enlightenment interviews.The Leadership calls on the Government to immediately apply a partial lockdown policy in Akwa Ibom State viz:(a). Set up Surveillance Screening Posts at all points of entry (borders) into Akwa Ibom State:Rivers – East-West Road border community of Ikot Ukpong in Akwa Ibom StateIkot Abasi jetty(Marine entry points)Cross Rivers, Cameroun and Equitorial Guinea – Oron jetty (Marine entry point)Itu jetty (Marine entry point)Itu Bridge (for those coming by road)Abia – Ikot Ekpene – Umuahia RoadIkot Ekpene – Aba Roadiv. Iwukem and other entry points.

(b). All motorists should fill Surveillance forms and be screened at this points.
6. The Leadership suggests that all Civil Servants from level 12 and below should be directed to stay at home except for those on essential duty.7. The Leadership calls on the Government to enforce social distancing by placing a ban on all social gatherings of more than 50 persons in line with the directives of the Presidential Taskforce on COVID-19.
We appeal to our religious leaders and the general public to cooperate with the Government. 8. All entertainment and relaxation spots, clubs, bars should be closed down. As an example effective 12:00am on 26th March, the NMA will be temporarily shutting down operations at the Doctors' Mess.9. As a matter of urgency, the Leadership calls for the following responses as regards health workers protection:All health workers should be immediately trained on COVID-19 even if in phases.
Thereafter standard Operating Guidelines should be provided and enforced.All health facilities should establish triage points complete with triage forms and infra-red thermometers for screening of patients and healthcare workers.In our Teaching and Secondary Health Centres, all elective Surgeries should be postponed while our outpatient clinics should be scaled down. Similarly, all free medical outreaches should be suspended and the Leadership of our various professions will sanction any health worker who participates in putting our communities at risk.All emergency entry points (A & E, Labour Ward, Newborn Unit) into our Teaching and Secondary Health facilities should be strengthened with more resources and Personnel deployed there.
All healthcare workers must be protected by the Government and hospital management. HEALTH WORKERS ARE ADVISED TO ONLY ATTEND TO PATIENTS FOLLOWING THE PROVISION OF PPE WITH HAND SANITIZERS (AND/OR RUNNING WATER WITH LIQUID SOAP AND PAPER TOWELS).
10. The leadership calls on Government to immediately create Isolation Centres that are well equipped. We also demand that the Government immediately equips the Isolation Centres in IDH, Ikot Ekpene and UUTH with ventilators.
As healthcare professionals, it is our strong opinion that an Isolation Centre for COVID-19 cannot be said to be fully equipped without ventilators.11. All Public Officers and Private Business premises should immediately institute hand hygiene measures and temperature checks at their entry points.12. We call on the Government to consult with transport unions and to immediately take pro-active measures in ensuring social distancing within the transport operations of Akwa Ibom State.13. We call on religious leaders to recognize their roles as opinion leaders and support the Government in propagating only correct messages on COVID-19.14.
We call on all Corporate Organizations in the State, Philanthropists, Political Leaders, Faith-based Organizations and well-meaning individuals to immediately make financial and material donations to the State Ministry of Health's response on COVID-19. These donations apart from cash can be in the form of the much needed ventilators, hand sanitizers, gloves, face masks, and other PPE.15. Lastly, we urge all our members to remain calm and continue to provide the leadership which the society requires from us at this point. We put on record your immense patriotic services to our dear State and our nation.

God bless you.
Dr. Nsikak Nyoyoko Chairman, NMA – Akwa Ibom State Branch
Comrade Patrick OduChairman, National Association Of Nigerian Nurses and Midwives (NANNM) AKS Council
Dr. Akwaowoh Akpabio– Akwa Ibom State Branch Chairman, Pharmacy Society Of Nigeria (PSN), AKS Branch
Emilia Eliezer Chairman, Association Of Medical Laboratory Scientists Of Nigeria ( AMLSN ), AKS Branch.