Wayne Huizenga, American businesman once said that "Some people dream of success, while other people get up every morning and make it happen". My friend, Aniekeme Finbarr belongs to that class who never wait for things to happen, he make things happen. I have shared the last one decade with him and I can say very proudly, that he is a very dependable guy.
From our days at Bush House Fan Club, (an association for fans of the popular Bush House Programmes that aired on tv and radio stations in Akwa Ibom State), I see in this guy an insatiable hunger to make big dreams come true.
One morning in July 2009, he told me he will go air as a radio presenter, we laughed because I thought that was a very crazy idea. Brilliant guy, speaks well, writes well, educated but, radio? That was quite a tall dream, I thought. We both loved  radio but we had no training or exposure to go on air. We did not have the boldness to tell our mentor then, Michael Bush that we wanted to go on air. After Bush left for Abuja, Finbarr told me one day that  Idy James had given him a nod to start going on air by presenting sports on AKBC Radio during the Bush House show. I knew it will be a disaster and hahahahahaha, the first outing was a mess, stage fright had swallowed my friend's voice , the background music was too loud, I could hardly hear him, he mixed up the scripts, it was bad. Surprisingly, he told me he won't give up. Everyday, he would dress and go to the AKBC staion at Ntak Inyang to watch how presenters manipulated the console and presented. He turned my room to a mini radio station, writing scripts, practicing, recording himself and playing it back, again and again. The next outing was not that bad, although he still didn't sound like the regular presenters but with every edition he kept improving until he gave himself a very big name on radio, The Prime Minister of the Airwaves (whatever that means).
From then till sometime in April 2012, my friend was Guest Presenter and Analyst on AKBC talking sports and later politics. He was a regular on Sports Arena and Sports Magazine, he presented Medley Showcase, Democracy 45 and other exciting programmes on AKBC radio and tv. He dazzled his fans with an excellent command of English and his deep voice. I am sure many thought he was an older guy.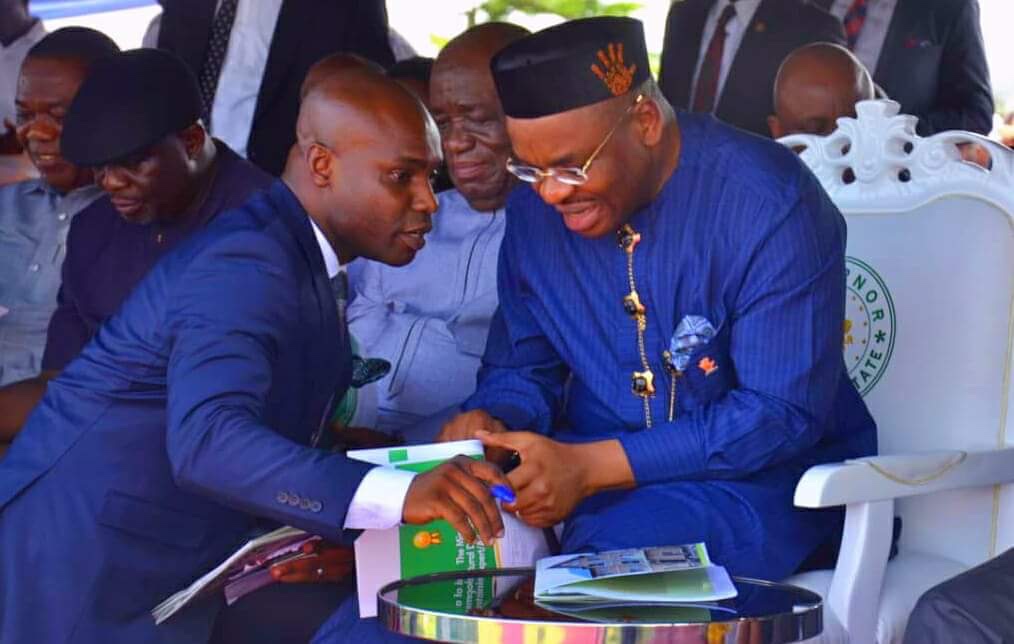 He later left for Abuja to become Head, Programmes and Presentation at Bush House Nigeria. He presented programmes on Kapital Fm, Abuja and I had the delight of listening to my friend anchor live programmes on the network service of Radio Nigeria.
From September 2012 to December 2013, he joined Love Fm, Abuja as On Air Personality, reading the news and presenting programmes. In January 2014, former deputy Governor, Noble Lady Valerie Ebe engaged Finbarr as her personal Master of Ceremonies and Media Assistant. In 2015, Governor Udom Emmanuel appointed Mr Finbarr as his Special Assistant on Media.
I am proud to speak of Finbarr's versatility in the media. He is irresistible when he dazzles on the microphone and keeps you turning over the pages when he puts pen to paper. He is a utility player in the industry, fine master of ceremonies, excellent writer, creative, passionate, humble and always cheerful.
Aniekeme Finbarr was born November 6, 1988, attended Queen of Apostles Seminary, Afaha Obong, Abak and is a graduate of Communication Arts from the University of Uyo. He is married to Ekaete and they are blessed with Ti-Abasi,a girl and Kini-Abasi, a boy.
As my friend hits 30, three decades of passionate pursuit of life goals and making society better, I wish him the best life has to offer and a bright future in view. Be good brother and do have a wonderful birthday.
Henshaw Nyong