Written By :Annie Charles Emmanuel
Governor of Akwa Ibom State, Deacon Udom Gabriel Emmanuel is set to create over 3000 jobs and raise over 1000 entrepreneurs.
Inline with his dream of building an economically vibrant society, Akwa Ibom state Governor, Deac. Udom Emmanuel is set to create over 3000 jobs and raise over 1000 entrepreneurs.
This feat is championed by office of the Directorate Of Micro- Finance Development through one of his brain child tagged "My Entrepreneurship Goals programme.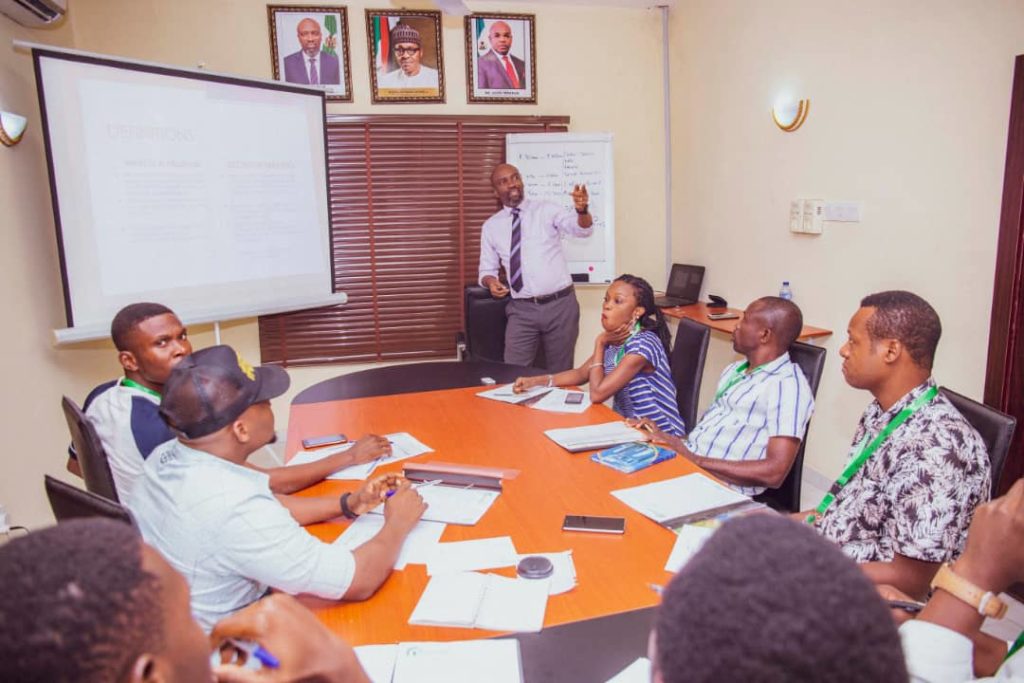 Speaking at the inaugural human/ business development lecture today at the Directorate, the SSA to Governor Udom Emmanuel on Micro Finance and Enterprise Development, Mr. Imr uwah said the programme is aimed at targeting start ups and already existing budding businesses thereby mentoring such into successful business brands while providing counselling in cutting edge industry practise.
It could be recalled that on his inauguration for his first term in in office and upon campaigns for a second term as governor, Deac. Udom Emmanuel placed on record to develop the Small and Medium scale businesses in Akwa Ibom state.
In his manifesto tagged " the completion Agenda" as the second item on his governance blueprint Emmanuel reiterated his commitment to create jobs, develop skills and Enterprise spirit amongst the teaming Akwa Ibom youths and promising entrepreneurs. As part of his manifesto brief, Emmanuel is building a business development community preestablished on promoting local contents while also partnering with the private sector through his Public Private Partnership Policy to discover, protect, promote and support indigenous business brands to the global world.
The Governor through the Directorate Of Micro- Fiance and Enterprise Development will solve the problems of lack of jobs and social vices which is anti development and to the well being of persons, the government and the larger society and inspire entrepreneurship as well amongst well meaning entrepreneurs in Akwa Ibom.
The "My Entrepreneurship Goal programme (MEGP1) is segmented to hold in different batches which will seek to train over 3000 budding businesses, discover new business opportunities, give room for business mentorship while seeking to expand the entrepreneurs' business premiums, profit margins, marketing and business visibility.
Courses for the attendees includes:
Business Development Strategies
Analysis Of Business problems.
Cooperate Financing 1&2
Business Leadership
Marketing Management.
Personal Effectiveness 1&2.
Strategic Management.
Operational Management.
Entrepreneurship.
Speaking at the inaugural class today with the first set of the students at the My Entrepreneurship Goals Programme, Emmanuel through Mr. Uwah stated that he means well for the entire Akwa Ibom and prays young people and budding entrepreneurs to leverage on the opportunities presented by his government to create wealth, job opportunities and total wellness.
" My Entrepreneurship Goals Programme is aimed at identifying 3000 Akwa Ibom startups and existing entrepreneurs, develop businesses through skills acquisition, trainings, mentorship and access to Soft Loans, membership and mentorship into the Micro- Finance and Enterprise Development Directorate Net work.
The students, call them entrepreneurs who registered for the programme were very enthusiastic while on training, thanked Deac. Udom Emmanuel for such gestures and delivering people centric governance to his people even during the post elections seasons.
As the programme continues the governor through the Directorate calls for more registration from the public and prays Entrepreneurs to take advantage of the My Entrepreneurship Goals Programme.