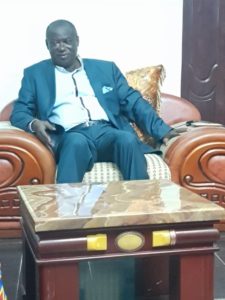 -ENDORSES UDOM EMMANUEL FOR A SECOND TERM.
…….Engr. J. B. EFFIONG
The Leader of Central Uruan, Engr. J. B. Effiong in an exclusive media chat at his residence bared his mindon salient issues that concern the upcoming 2019 general elections in Uruan Local Government and Akwa Ibom State at large.
The former Chairman, Governing Council of Akwa Ibom State Polytechnic reiterated that Gov Udom Emmanuel has performed beyond expectation and has consolidated on his campaign promises.
Governor Udom Emmanuel has done so well that he merit a second term that when l look the road in my village, mbiakong, Idu, Ita Uruan to Mbiaya and that is why am donating a police station to that high way.
Udom Emmanuel is the only Governor that has really remembered Uruan and he deserves our support for a second term.
I am appealing to the Governor to look into Zoning in Uruan so that they can be peace in the land,let there be a fair play and equity.
Central Uruan has the highest voters Strength in the entire Uruan and if the seat of house of in Uruan Is given to another Zone we perceive the opposition winning the general elections.
Because surely if PDP make mistakes to give to another zone and the other party will bring a candidate from central and likely they will win.
And Some people in Uruan are going around lying to Government and the leaders of PDP in the State that if you remove the house of Assembly from South that there's nothing in southern Uruan.
Mr Okon Okon the chairman of Board of Internal Revenue is from South East the Same Zone with Hon.Aniekan Bassey.
Barr. Akpakan Okoho is the Commissioner 3 law reforms commission and he is from the same ward with Aniekan Bassey.
The Vice Chairmen and Secretary of council is from Southern Uruan and the only permanent secretary in Uruan is from Southern Uruan.
"Henceforth they should stop spreading falsehood that there is nothing in southern Uruan"He said.
The senior Pastor also went against Politician who regard Central Uruan as a region with no prudent people to keep off .
In his words he says Hon. Aniekan Bassey when he was declaring told the entire Uruan and Akwa Ibom State that he will only run for a tenure to complete the Second tenure of Hon. Kufre-abasi Etuk from Southern Uruan.
Today I am surprised that he is coming back to seek for a third term for Southern Uruan.
He is doing this as if there's no brain in central Uruan, Central Uruan has good brains whether by God's Providence or by his destiny, Emmanuel Nicholas is the candidate from central Uruan he is qualify, he is a lawyer and experience and today he is an SA to the Governor on research and documentation.
When Aniekan Bassey won the Elections he was a paint dealer and also an undergraduate.
"Emmanuel Nicholas is our Sole candidate and he is most preferred, most credible and experience". And to crown it he is a Lawyer ."
When he was asked question on central Uruan producing both Chairman and House Assembly member ,he says is not a thing in Uruan ,afteterall
Hon.(Prince) Asuquo Nyong Essien was the House of Assembly member and Hon.Orok Etim Orok was the chairman from the ward and from the same Zone.
Hon.Tony Jude Akan and Rt.Hon.(Barr)Usenobong Akpabio were chairman and house of assembly member respectively from the family, same village,same ward and same zone-Northern Uruan.
Rt.(Dr.) Eventus Edem and Hon.Kufre Etuk were chairman and house of assembly member from the same zone southern Uruan concurrently.
"So no one can stop central Uruan from Producing a Chairman and a house of assembly member where as this one is from Central 1 and 3 .
"In Uruan we don't need cultist on the seat of representation,even the Bible says when the righteous is on the throne the people rejoice"
Uruan is too big to be influence by some selfish people who doesn't have the interest of the masses."
In conclusion the leader of central Uruan says
"Emmanuel Nicholas is the best and the most popular candidate that we have for the House of Assembly Seat come 2019 general elections"
It is either Uruan Central and Emmanuel Nicholas or no other, because he is highly qualified and has intimidating profile.