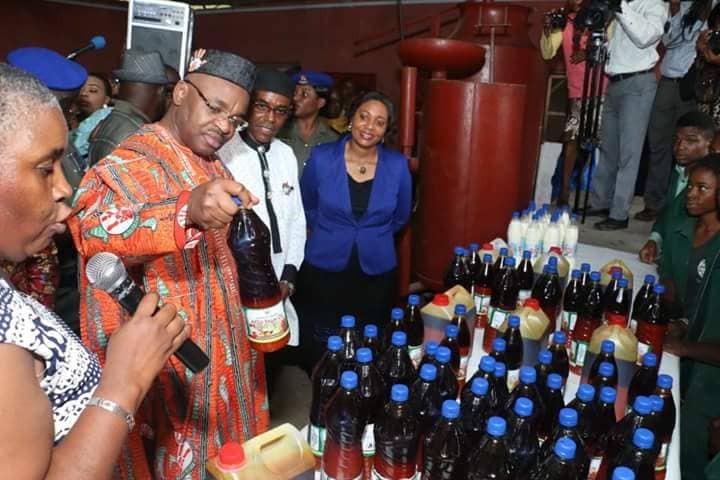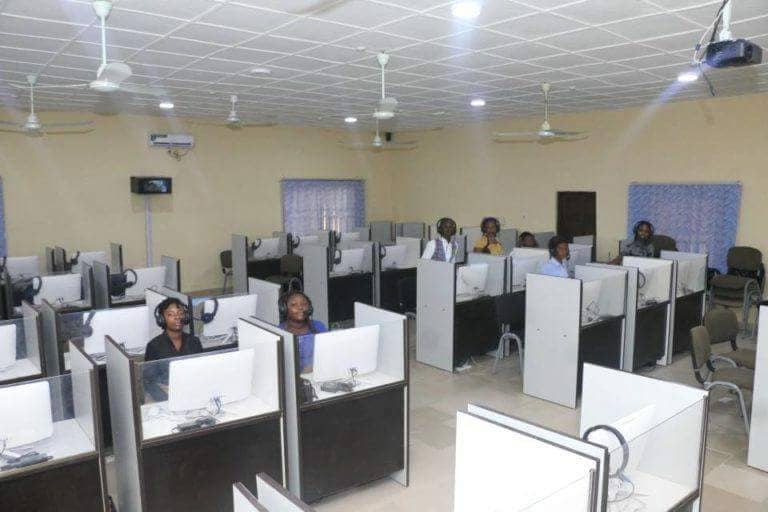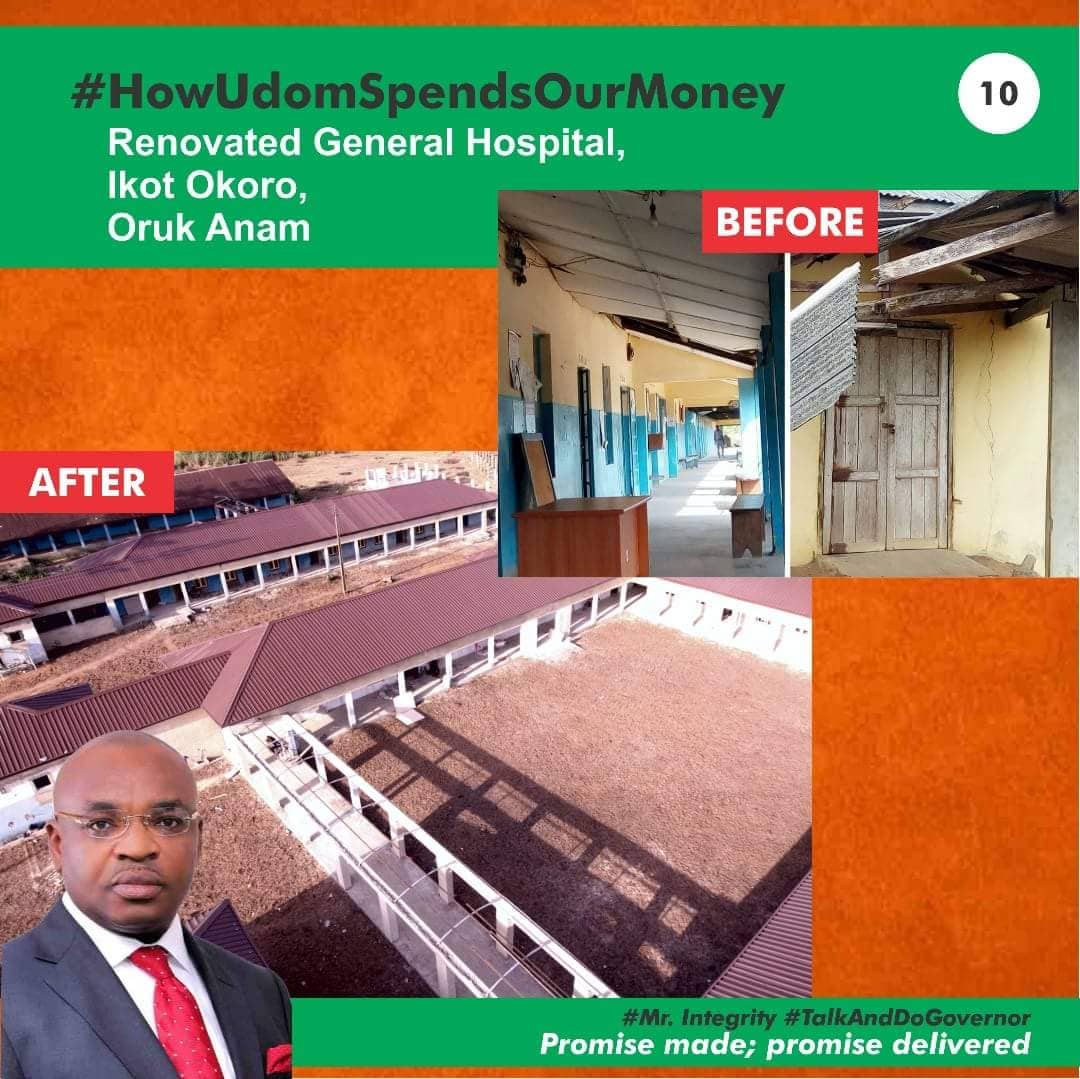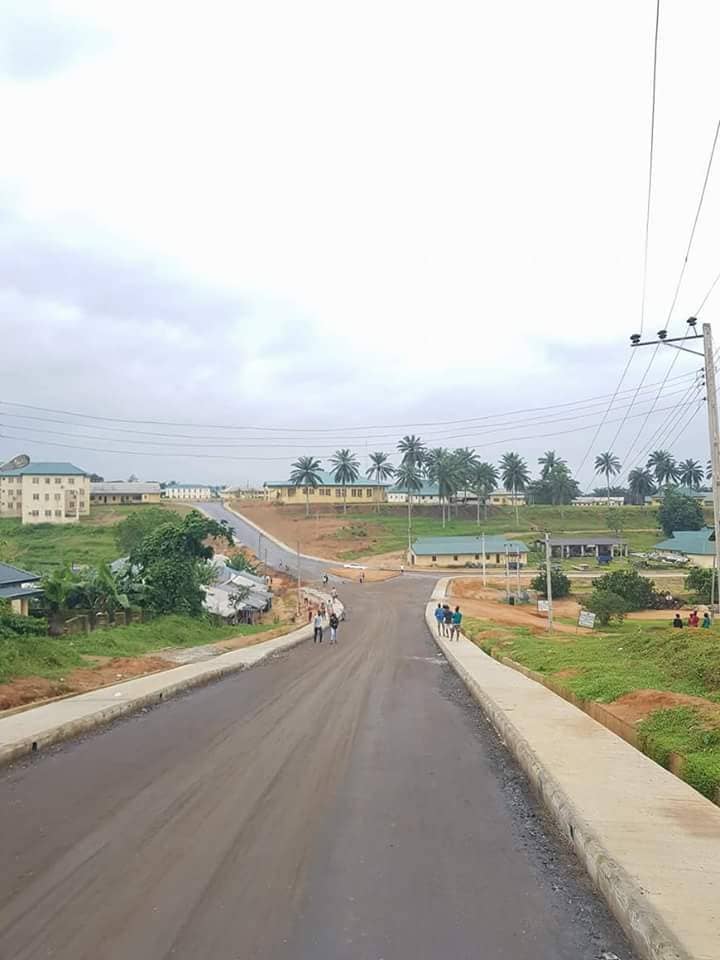 By Itoro Noah
What Governor Udom Emmanuel has done for Oruk Anam in less than 4 years, no body has done for us even in 8 years.
To my knowledge, the following have been initiated/executed by His Excellency, Governor Udom Emmanuel:
1. Renovation of General Hospital, Ikot Okoro.
2. Facilitates the establishment of Navy Military School, Ikot Ntuen, Ekparakwa.
3. Taking over of the Urban High School, Ikot Akpan Essien.
4. Construction of 5.1 Km internal Roads in Akwa Ibom State University, Obio Akpa campus.
5. Construction of 4 Classroom Block at Primary School, Ata Obio Akpa.
6. Construction of 500m of Fence at Navy Military School, Ekparakwa.
7. Electrification projects in Ikot Akpan Ibesit, Oruk Anam.
8. Renovation of 4 Classroom Block GPS, Ikot Oko.
9. Renovation of 3 Classroom Block at Primary School, Ikot Essien, Ikot Obioruk.
10. Construction of Assembly hall at Primary School, Ata Obio Akpa.
11. Renovation of 3 Classroom Block at Primary School, Ukpom Edem Inyang.
12. Electrification at Ibianga Ikpe.
13. Renovation of 4 Classroom Block at SAPS, Ibesit Okpokoro.
14. Renovation of a Hall and 2 Classroom Block at Primary School, Ikot Akpan Essien.
15. Construction of Market Sheds at Ikot Esenam.
16. 23.25km Ikot Ekaide-Ikot Okoro-Ikot Ibritam road in Oruk Anam (on-going).
17. the 18.95km Ikot Ibritam-Ekeffe-Ikot Akpan Afaha road with a bridge in Oruk Anam (ongoing).
18. Rehabilitation of Electrification at Ikot Esenam and Environs.
19. Restructuring of Urua Anwa to a modern market.
20. All public Secondary Schools in Oruk Anam are part of the schools in the state benefitting from the free and compulsory education sustained by the state government which also covers payment of WASSCE/NECO Examination.
21. At the Akwa Ibom State University, Obio Akpa campus, six major projects have been commissioned by the governor. They include a digital language library, a commercial farm palm oil mill; a commercial farm feeds mill, vegetable screen house, ultra modern Mass Communication studios and a standard performance arts theatre.
22. A poor orphan from Oruk Anam is presently enjoying a scholarship scheme of Gov. Udom Emmanuel, covering tuition fees, school materials and boarding at Tower of Ivory Schools, Abak
23. Electrification project in IKOT AKPAN, Ward 6.
24. Electrification project at Ibianga in Ward 4.
25. The wife of the governor is from Oruk Anam and Governor Udom Emmanuel presently has several sons and daughters of Oruk Anam occupying sensitive and important positions in his government among which are :
i. Prof. Victor Inoka, Hon Commissioner for Education
ii. Hon. Sampson Idiong SA on inter-ministerial and direct labour projects
iii. Hon. Nnamso Idiong, SA on Project Monitoring
iv. Mrs Idongesit Etiebett SSA on Education monitoring
v. Hon. Iboro Udom, Hon Commissioner Civil service commission
vi. Uduak Ewitat, Chairman Akwa Savings and Loans Ltd
vii. Hon. Prince Ikim, Chairman Environmental and Waste Protection management Board
viii. Louis Udom, SA to the Governor
ix. Saturday Benjamin Personal Assistant to the Governor
x. Hon Okon Okon Joseph Ekpo, SA to the Governor on Project monitoring.
xi. Michael Usungubo PA to the Governor
xii. Hon Igwat Umoren SA to the Governor
I've been reliably informed many more projects will be executed before the end of 2019 and several others initiated from 2019!