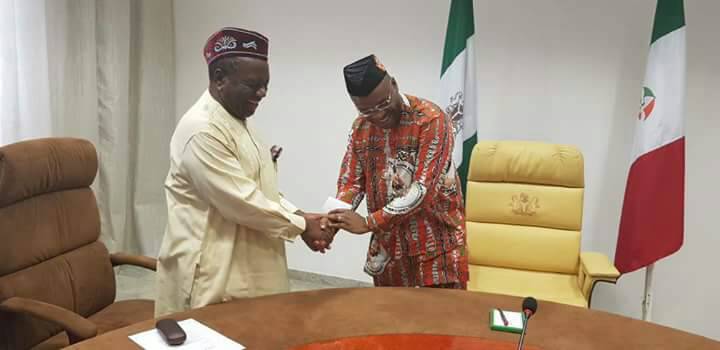 1. On Akpabio's first day in office, he accused his predecessor of leaving behind 40bn debt for him.
2. His administration refused to complete the Science Park project started by Attah's government, and rather accused the former governor of paying 90%for the project with work done only 10%
3. Akpabio instigated three probes to disgrace his former boss. They include the airport project, the printing press and the science park project. After all the media trials and castigations, the reports were never made public.
4. When Nneyin Allison Attah, unfortunately, died in 2012, the duo released personal medical details of her ailment to the press. No condolence visit or messages was presented to the former governor. Rather they accused him of using the wife's health challenge to collect money from government.
5. Akpabio/Ekere accused Attah of wasting money on only designing and site clearing of the Ibom international airport, denying him all credit he deserved.
6. Akpabio also accused Obong Attah of completing only 7 rooms at the Le Meridien Ibom Hotel and Golf Resort, hence has no right to claim the vision.
7. Akpabio/Ekere sponsored the elders to write the infamous insulting open letter "What does Obong Attah want" advertorial against the former governor, and published them in several national dailies.
8. Akpabio/Ekere refused several appeals to rename the airport, University or any monument after Obong Attah.
9. Akpabio/Ekere faulted Attah's Technological driven State University vision and changed the institution to a conventional university with a second campus at Obio Akpa.
10. Attah was rebuked for explaining that there was no Environmental Impact Assessment at the site of the Tropicana center by Akpabio, and the hotel and several other components at the complex were waste of public funds.
11. Ekere as MD of Ibom Power Company, clearly accused Obong Attah of bringing refurbished turbines to deceive Akwa Ibom people.
12. Their administration refused to allow the former governor use Ibom Le Meridien Hotel he built to celebrate his 70th birthday in 2008. Attah later made use of an open field in a churchyard.
13. Obong was never invited to any state function in Akwa Ibom for 8years.
14. He was denied opportunity to make any comment during the landing of an inaugural flight at the airport in 2009.
15. Halted operations at the Victor Attah Digital Opportunities Center, VADOC, Obio Imo street, because of the name of the center.