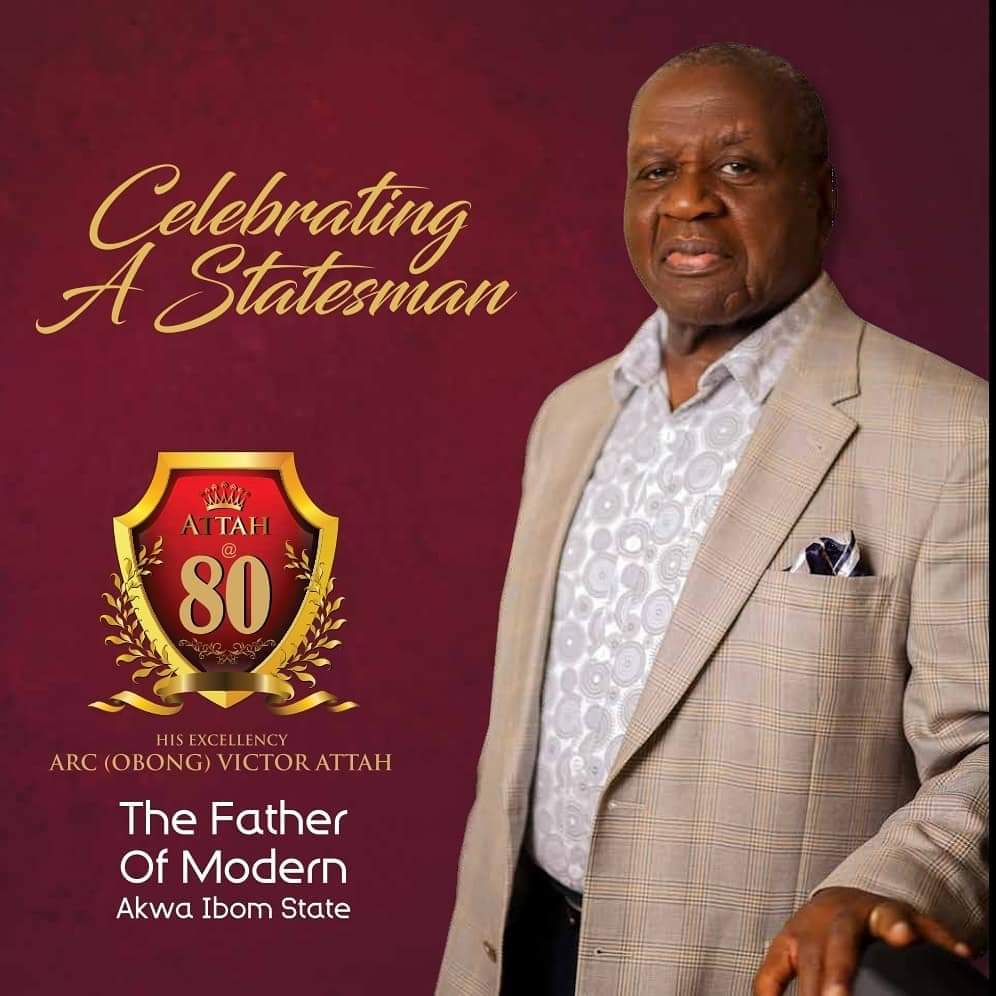 By Joseph Okon
Today marks the 80th birthday of the former Governor of Akwa Ibom State, Obong Victor Attah who served as governor from 1999 to 2007. But what is more shocking to Nigerians is the seeming mockery on Attah's birthday emanating from his successor, Senator Godswill Akpabio and his erstwhile deputy Mr Nsima Ekere.
Why today's felicitation by Akpabio to Attah is shocking to Akwa Ibomites and Nigerians in general is because Akpabio's undying hatred to former governor Attah in the last 11 years has made his greetings to the former leader of the state at 80 to be seen by many who followed Akpabio's activities on Attah, as mocking and hypocritical.
It is important to note here that all leaders in this country political, religious, and traditional had tried their best to reconcile Akpabio with his former boss who brought him up to become governor, but to no avail. Akpabio has consistently ensured that he frustrates every attempt to reconcile him with Obong Attah since he emerged the governor of the state in 2007.
He takes every opportunity he had to insult, humiliate, malign, and ridicule Attah throughout his 8 years of 'uncommon thievery' according to Ita Awak. Akpabio took time in his 8 years as governor to malign Attah's reputation, denied him of his right as former governor, and make some gullible Akwa Ibomites to see Attah as an unsuccessful man. At some points, Akpabio had to pay people to abuse Attah on radio, television, newspapers and social media platforms.
It has gone down in the history of Nigeria that Obong Attah became the most insulted former governor by his successor. Akpabio carpeted every noble achievements of Obong Attah as governor claiming that in 8 years, Attah did not achieve anything for the state.
Throughout Akpabio's 8 years, he has never identified with Attah on the occasion of his birthday. It became a standing order in that government that no official of government or anybody that has anything to do with Akpabio's government should identify with Attah on anything or risk being sack.
Even after his 8 years of uncommon thievery, Akpabio has never felicitate with Attah throughout his 3 years in the senate until today that he thinks having Attah on his side who is a strong Ibibio factor will aid him in his devilish plan to foist Nsima Ekere, a known fraudster on Akwa Ibom people.
Within the last 11 years, the greatest undoing of Akpabio to Attah who took him from nothing and made him who he is today was Akpabio's denial of Attah an access to use Le-Meridien Ibom Hotel and Golf Resort in 2008 for his birthday. Despite the fact that the hotel was conceived, constructed and completed by Attah.
Akpabio had successfully ensured that Attah's rights were denied as a former governor even his pension and other entitlements. Attah complained to all the relevant authorities who equally talked to Akpabio but to no avail. He requested the then House of Assembly headed by Rt Hon. Sam Ikon to name Ibom International Airport, after him which was granted. But Akpabio rebuffed every plea by Akwa Ibomites for him to name Ibom International Airport after Attah who conceived and constructed the airport.
It could be recalled that the inaugural flight landed at the airport on September 23, 2009. That means Akpabio could not have started an airport project in May 2007 and completed same in 2009 contrary to his claim. Available records has it that the airport project was at the advanced level as at when Attah left office in 2007, and he already paid for most of the equipment which arrived shortly before he left office.
This is contrary to Akpabio's claim that he met a bush, and that he started the construction and completed the project from scratch. That is the same project Attah laboured for but Akpabio vowed never to name after Attah.
It all started from Akpabio's first day in office where he accused Attah of leaving behind N40 billion debts for him. He blatantly refused to complete Ibom Science Park started by Attah despite the entire plea by Akwa Ibomites claiming that his predecessor stole 90% of the contract sum leaving him with 10%.
Akpabio went ahead to instigate probes against Attah to embarrass his former boss. The airport, the pioneer newspaper printing press, and science park probesvwere Akpabio's game plan to ridicule Attah and spew lies against Attah to the world. When Attah lost his wife and former first lady of the state in 2012, Akpabio/ Ekere could not have a change of heart to honour the dead. They refused to pay Attah a condolence visit neither issue a condolence message, rather the ridiculed Attah by accusing the former governor of using his wife death to beg for money.
As if that was not enough, Akpabio paid some elders in the state to write the infamous insulting open letter "what does Obong Attah want?" this open letter became an advertorial heavily sponsored on all National Dailies and Local Newspapers. He collaborated with his then deputy, Nsima Ekere and faulted Attah's Technology driven University, and converted it into a conventional University.
Attah was rebuked, humiliated, and insulted by Akpabio and Ekere for explaining that there was no Environmental Impact Assessment EIA at the site of the Ibom Tropicana center by Akpabio. Nsima Ekere, the then MD of Ibom Power Company accused Attah of bringing in refurbished turbines to deceive Akwa Ibom people on the Ibom Power Project.
Today, because of the 2019 election, Akpabio/ Ekere now felicitate Attah on his birthday. Isn't it hypocritical that Akpabio who never saw anything good about Attah, who even wanted him dead is now the one felicitating with Attah?
Because God will always win, today there is light at the end of the tunnel. The pride of place that was denied Obong Attah throughout Akpabio's 8 years of so-called uncommon era has been accorded him.
Today, a prophet has been honoured in his homeland. His right as former governor of the state has been restored to him by Governor Udom Emmanuel. Attah has been accorded the respect he deserved in Akwa Ibom State through Governor Emmanuel.
The crowning of the events marking the 80th birthday of Attah will be the naming of Ibom International Airport after the Eduek Ekpe of Asutan, His Excellency, Obong Victor Attah by Governor Emmanuel.
To God be the glory!
Happy Birthday Your Excellency!