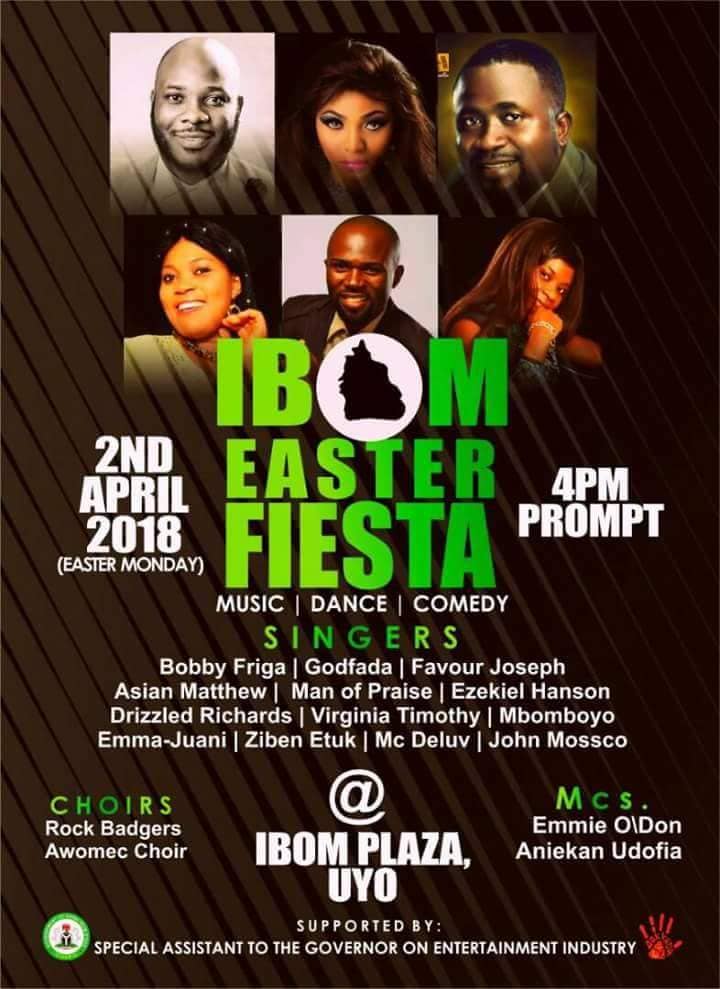 Henshaw Nyong| UYO – Monday, April 2, 2018//ENTERTAINMENT
ALL is now set for the third edition of an annual Easter Celebration Concert in Akwa Ibom State tagged: 'Ibom Easter Fiesta'*.
The maiden edition of the event was in 2016 and had the Ibom plaza in Uyo filled with more than three thousand (3,000) spectators.
This year's edition, according the Special Assistant on Entertainment Industry to Akwa Ibom State governor; Mr David Sergeant, is scheduled to hold on Easter Monday, 2nd April, 2018, at the usual venue; Ibom Plaza in Uyo, the State capital.
Already, Governor Udom Emmanuel, his wife; Deaconess Martha Emmanuel and members of the State Executive Council; notably Commissioner for Works, Akparawa Ephraim Inyang-Eyen, that of Housing & Special Duties; Akparawa Akan Okon, are expected to be in attendance to show solidarity to entertainers and confirm their love for the people in the grassroots.
Also expected is the Speaker of the House of Assembly, Rt. Hon. (Barr.) Onofiok Akpan Luke, leading other members of the 6th Assembly to the solemn event which will commence by 5pm.
The Governor's aide popularly called Utang Akwa Ibom, in a chat with newsmen in Uyo, confirmed: "By God's grace we have crossed all the 'T' s and dot the i's'. Everything about the show have been concluded and I can assure everyone that they will have a funfilled occasion to mark the resurrection of Jesus Christ".
He stated that Akwa Ibom is the only state in Nigeria named after God and as such, the line up of artistes billed for Monday's event comprises talented singers with songs that give praises to God, and dwell on inspiration, motivation and positivity.
His words: "This year's celebration will feature gospel exponents like Mbomboyo, Bobby Frigga, Godfada, Virginia Timothy, Favour Joseph, John Mossco, Ezekiel Hanson, Man of Praise, Asian Matthew and a host of other very talented gospel artistes".
Meanwhile the governor's aide has called on all and sundry including visitors who came for the Easter holiday to come out enmasse for the free concert and promised it would be different from previous public performances.