Greetings. May We, on behalf of the State Publicity Secretary of the Peoples' Democratic Party, Comrade Ini Ememobong respectfully invite you all to a Professional Development Seminar for the Staff of the Publicity Secretariat and other media professionals .
This Seminar aims at building more capacity in the discharge of media related activities in line with international Best practices while retooling them for greater challenges in future.
The Seminar will feature;
*News and commentary Writing: The Best Approach
*Accepting New Media without discountenancing Traditional Media: NUJ approach
*Crafting Press Release: Practical Tips
Date: Friday, 18th October, 2019
Time: 9:00am
Venue: Party Secretariat Hall, 113 Edet Akpan Avenue, Uyo.
We look forward to having an exciting, educating and knowledge-filled engagement with the Guest Speakers.
Thank You
Sincerely Yours,
Martin Inyangetoh and Jerry Johnny
Ag. Publicity Secretaries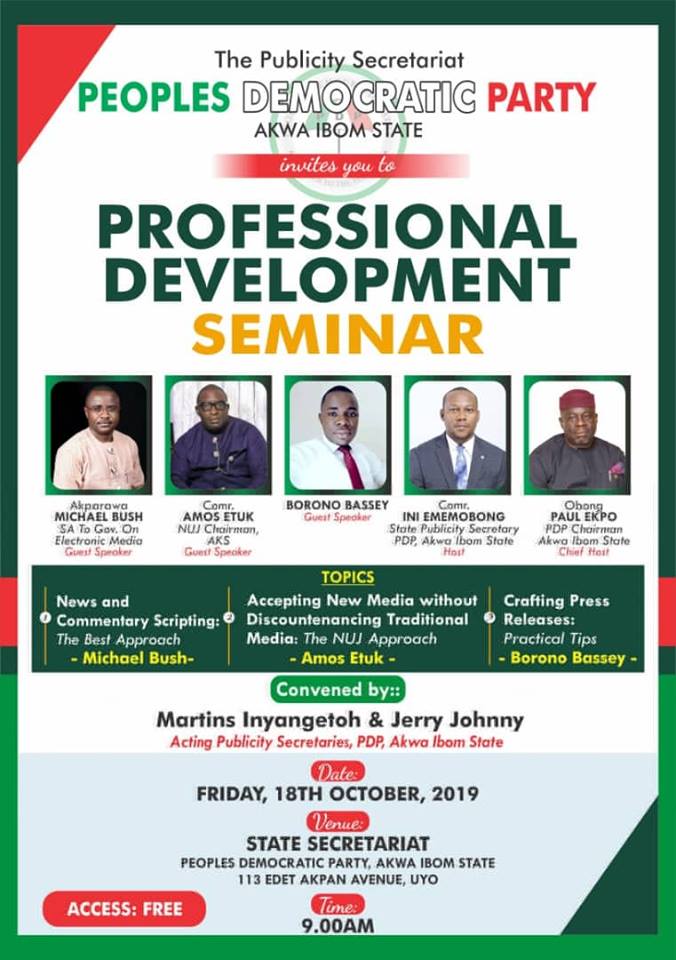 PDP