…As Works Boss Bags 'Best Commissioner Award'
GOVERNOR Udom Emmanuel of Akwa Ibom State, Monday, received candid commendations and eulogies from a group of Newspapers' owners in the State for discovering and appointing Mr. Ephraim Inyang-Eyen, Commissioner for Works.
The people under the aegis of "Media Friends of Ephraim Inyang-Eyen" divulged that their sincere encomiums were poured on the governor because the works boss, after a conscientious scrutiny which took them to various projects sites in the State, has performed creditably well in line with acceptable global best practices as regards quality jobs delivery in terms of roads and bridges donning the landscape of Akwa Ibom.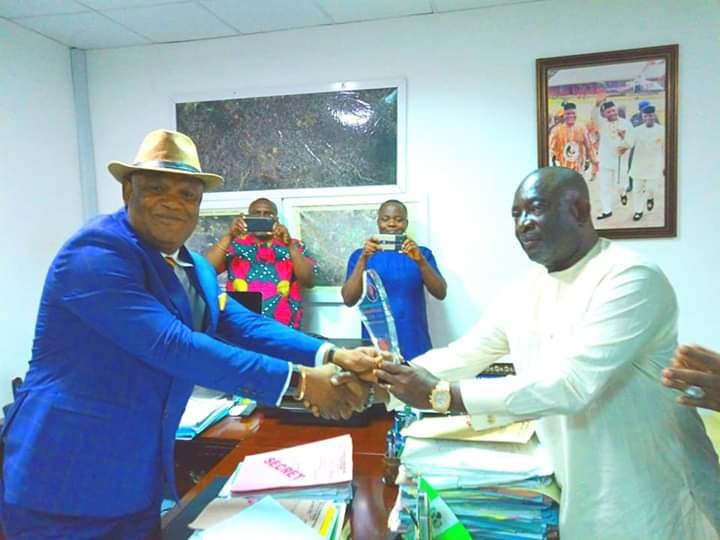 In his address before the award presentation, the Chancellor of the group, Mr. Ephraim Ikpe, explained, "we are a body of principled business persons and risk takers in the newspaper industry in the state. We have come here to wish you well and acknowledge your hard work… We are here because we know what we are doing and have taken out time since 2015 to date to make our careful and candid observations.
"We have observed the activities, programmes, actions, and outcomes of the Akwa Ibom State MDAs using many parameters, indices and statistics and have come to the conclusion, after almost four years that your Ministry of Works under your able leadership and supported by your dogged subordinates has performed creditably well in line with acceptable global best practices as regards quality jobs delivery in terms of roads and bridges donning the landscape of Akwa Ibom State".
Mr. Ikpe, who is the Publisher of The Waves Newspapers added: "Your contributions and successes, no doubt have not come without challenges. These challenges are likely to have been mechanical, spiritual, human, political or whatever coloration it has taken for the last four years that God has used you to turn things around for Akwa Ibom people in the area of road infrastructure revolution, but one thing is true, that the good Lord has stood His grounds to grant you the strength, good health, the courage, the zeal, the love and passion to keep soaring like the Eagle.
"Let it be put on record that nothing good comes easy. There is no success without challenges. No good without evil. No sweet without bitterness. And all these situations, in our mind, represent the equation of God. These two sides of a situation have to come to play to fulfil the will of God. This can explain why there is night and day; man and woman; left and right etc."
He further explained that, after a careful observation and assessment, the group came to conclusion that Inyang-Eyen's "management by wandering around" style which ensures it goes to the spot of actions to see things face to face, has paid off in four years.
"The Honourable Commissioner, Sir, your trekking for numberless days in many months across projects sites in the last four years in many Local Government Areas of Akwa Ibom State, pushing those slow contractors into shape to do things right and getting positive result, sometimes through thick and thin, as well as crisscrossing many local communities to help your governor, Mr. Udom Emmanuel succeed, has not gone in vain.
"Based on the foregoing and with the rights and privileges conveyed on me as the chief servant of your media friends here seated, I declare that we have come here to present to you this Award in recognition of your outstanding performance in the interpretation of the dreams, aspirations, and plans of Governor Udom Emmanuel in delivering people-oriented and economic-enhancing roads infrastructure across the State for the benefits of Akwa Ibom people".
Receiving the award, Mr. Ephraim Inyang-Eyen, thanked his friends in the media for the resounding support accorded his boss, the governor and by extension, ministry of works since he was appointed Commissioner.
The Works boss who stated unequivocally that he was doing his job of interpreting the vision of his boss with clean conscience without anticipating any reward from any individual or organisation expressed delight that Akwa Ibom people in the media have been watching him closely.
"This means that after receiving this award which I will definitely dedicate to my boss the governor, many more (people) will watch me to see if indeed, I merited this recognition", he said.
The Commissioner, who promised to redouble his efforts in matters that concern development of the State, said, he wanted to be judged fairly by "God Almighty who gives me life and will ask for my account, His Excellency the governor whose tenure he discovered and made me his commissioner and Akwa Ibom people who are direct beneficiaries of our little contributions".
Mr. Inyang-Eyen, however, urged Akwa Ibom people to create the right environment for the Udom Emmanuel administration to benefit more in the governor second term.
Other members who were present are Special Assistant on Local Media to Governor Udom Emmanuel, Mr. Uko Umoh and Chairman, League of Publishers, Akwa Ibom State, Mr. Ernest Akpan. Mr. Ofonimeh Isong (Onibaba) of the Prime Voice – Secretary, Mr. Amos Etuk of Daily News Wire, Mrs. Udeme Hosea of Skynet and Mr. Emmanuel Effiong of Update.
Others were; Mr. Udeme Inyang of NewsLink, Mr. Kufre Etuk of Nigerian Pulse, Ekaete Okon of Niger Delta Post, Henshaw Nyong of The Town Crier Newspapers and Mr. Imo Udoima of The Informer Newspapers.