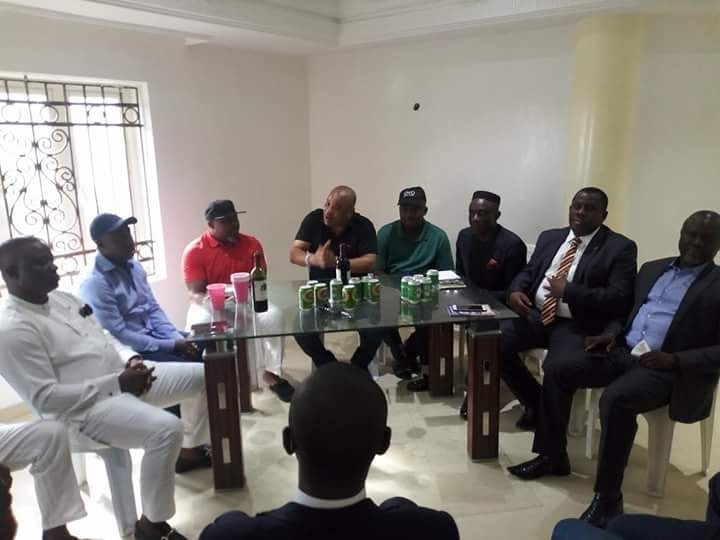 … Inaugurates Central Planning Committee
By Ernest E. Ernest Akpan
MEMBER representing Uyo\Uruan\Ibesikpo Asutan\ Nsit Atai Federal Constituency in the House of Representatives, Hon (Dr) Engr Michael Enyong, yesterday officially inaugurated the central committee for his grand empowerment programme coming up on Tuesday, 31st July, 2018.
The committee, which is chaired by a seasoned politician and Director General of his campaign organization; Otuekong Uduak Ekpo, comprises heavyweight politicians, party men, entrepreneurs and highly honoured professionals.
Inaugurating the committee in Uyo, the State capital, Hon Enyong, who is the Chairman, House Committee on Inland Revenue Service, said the forthcoming grand empowerment programme was part of his contribution to the growth of his constituency.
'Baba Ntan', as he is fondly called, stated that, aside from the legislative duties which he was elected to perform, he has also considered it important to support a sizeable portion of his constituents with mouth-watering cash and materials that will help them in advancing their businesses and earn a better living.
Stressing that the Peoples Democratic Party (PDP) chieftains were the only politicians that empower their people, Hon Enyong informed all and sundry in the State to anticipate what he termed "gargantuan empowerment programme" where items will go round all the 42 wards in Uyo Federal Constituency, Cash support for women, youths and about 420 women would be empowered with huge amounts to either start or finance their businesses.
He hinted that since the inauguration of the 8th National Assembly in 2015, he has raised motions, bills and contributed greatly to issues affecting the 4 Local Government Areas of Uyo, Uruan, Ibesikpo Asutan and Nsit Atai LGAs and the state at large, stressing that he will not relent in his effort to ensure the voice of his constituents are being heard loud and clear at the 360 members house.
Recall that the Uyo born Federal lawmaker had on March 18, 2016, made history in the State, when he assembled his constituents and gave his account of stewardship, less than one year in the National Assembly.
During the maiden constituency briefing, he donated four (18 seater) buses, other vehicles, tricycles, sewing machines, generating sets, Motorcycles and cash of N100,000 each to a good number of women from the federal constituency.
He told his people that he had facilitated the employment of more than twenty (24) people from Uyo federal constituency into key institutions of government.
However, present during yesterday's inauguration meeting were House of Assembly members representing Ibesikpo Asutan State Constituency; Rt Hon (Elder) Aniekan Uko, Nsit Atai; Rt Hon (Elder) Mark Esset and Uyo; Hon Monday Eyo, Board Member, State Internal Revenue Service, Hon Ekere Afia and Hon Nsentip, who took time to eulogize the National Assemblyman, for his remarkable achievements in just three years in office and for uniting all the four State lawmakers of the Federal Constituency to work together for the PDP.
They also used the occasion to thank the leader of the party, Mr Udom Emmanuel and State Chairman; Obong Paul Ekpo, for working for the good and progress of the Party, assuring that they will continue to pray God to grant the Governor the strength, good health and wisdom to discharge his duties creditably, expressing optimism that victory belongs to Mr Emmanuel and all PDP candidates in the 2019 general elections.
Meanwhile the Planning Committee for Hon (Dr) Engr Michael Enyong Mega Empowerment Programme has Otuekong Uduak Ekpo as Chairman, Hon Tony Asikpo; Secretary and Mr Ernest Akpan in charge of Media and Publicity.
Others are: Hon (Dr) Ekere Afia; Contact and Mobilization, Hon Monday Eyo Okon; Security, Engr Ntete; Welfare and Barr Peter Ndem in charge of Venue.
Some key members of the committee also include: Hon Anthony Mike, Hon Nkanga, Daniel Ndem, Bishop Ime Ekpe, Rt Hon Akpan Monday Akpan, Eno Sampson, Elder Ita Udo Mbon, Elder Ime Asuquo Etim, Mrs Uduak Ubong, Hon Kufre Mendie, Lady Kate Asian, amongst others.