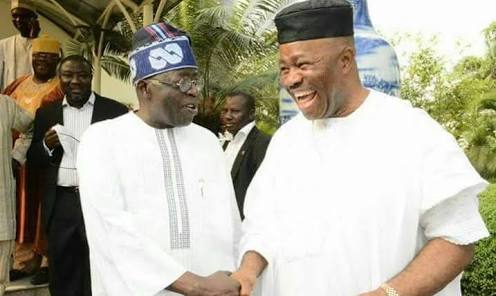 Former First Lady and wife of the immediate past Governor of Akwa Ibom State, Mrs. Ekaette Unoma Akpabio has allegedly heaved a sigh of relief that her husband, Senator Godswill Obot Akpabio can now sleep with his two eyes closed.
Unoma AKpabio allegedly told a lady politician in her Ukana Ikot Ntuen home in Essien Udim Local Government Area recently that immediately her husband defected from the Peoples Democratic Party (PDP) to the All Progressives Congress (APC), that they have experienced a new lease of life.
Prior to Akpabio's defection to APC, security spooks from the Economic and Financial Crimes Commission (EFCC) were allegedly running after the former governor due to heaps of petitions they received daily, detailing how Akpabio and his cohorts allegedly fleeced the finances of Akwa Ibom State, said to have run into hundreds of billions of Naira, mostly written by those he may have stepped on their toes.
According to our impeecable source, Unoma made the confession while playing hostess to some women from the area who paid a solidarity visit to the former first family in Ukana recently.
Mrs. Akpabio is said to have lamented that since they left Government House, Uyo, about 39 months ago, hardly did a day pass without operatives of Economic and Financial Crimes Commission (EFCC) coming to their house in Abuja with one petition/accusation against her husband or the other.
She is alleged to have further stated that the way and manner those security operatives breathed down her husband's neck made life so unbearable for the family such that they became apprehensive he might be arrested and jailed.
With this exposition, Mrs. Unoma Akpabio, may have subtly and inadvertently told her guests that the major reason her husband defected to APC was to avoid EFCC arraigning him for the alleged financial crimes he is accused of committing when he was governor of the state for eight years.
This may also be in sync with rumours which had made the rounds both in online and offline media that Akpabio's main reason for joining the APC, despite the prime positions and offices he had held when he was in PDP, was to avoid the EFCC from prosecuting him for financial heist he may have allegedly committed.
A close source to Akpabio said the Senator dreads detention than anything else, adding that with the way EFCC was breathing down his neck, the best option left for him was to decamp from the PDP to APC, to save his neck and political career.
She is also alleged to have reasoned that with the arraignment and consequent jailing of former governors of Plateau State, Senator Joshua Dariye and that of Taraba State, Reverend Jolly Nyame respectively by the EFCC, it was a matter of time before EFCC gets him jailed for the alleged corruption, hence his decision to defect and join the APC.
culled from the Wednesday edition of UPDATE NEWSPAPERS.