…We trust your capacity and competence – ONNA PDP
Akparawa Ephraim Inyangeyen has emphasized that his decision to contest for the seat of the Senate in Eket Senatorial District in 2023 was driven by his personal convictions and desire to change the narratives of representation in the Akwa Ibom South Senatorial District.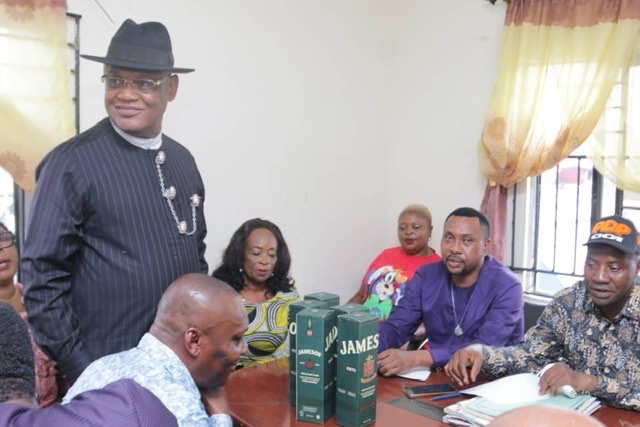 Inyangeyen who already is enjoying wide acceptability and encouragement in the senatorial district, stated this during his consultation of ONNA Chapter of the Peoples Democratic Party (PDP), at the party Secretariat, today.
The former Commissioner of Works and immediate past Chief of Staff to the Governor said, like many in the Senatorial District, he is personally dismayed by the poor quality of representation in the zone, and therefore was out to undo the many years of underperformance and losses for ESD to regain its pride of place, by a Senator with delivery capacity and robust fighting spirit to connect the senatorial district to the centre.
"My party chairman, my coming is to accord the party the honour it deserves and to inform you officially of my ambition. Because of what we've experienced, time has come when people should no longer be sent to the Senate just because they were favoured by zoning or adopted by a few power brokers, even when they had no personal convictions or the capacity to deliver on mandates. As you all would agree, this has brought nothing tangible to the senatorial district. Henceforth, my argument is, irrespective of whatever principle applies, let those desiring to represent our people do so on grounds of capacity and competence"
Further advancing his reason, the Senate aspirant stressed that after he has closely studied the ugly situation, his aspiration was motivated by personal convictions and the need for change that will affect the senatorial district positively.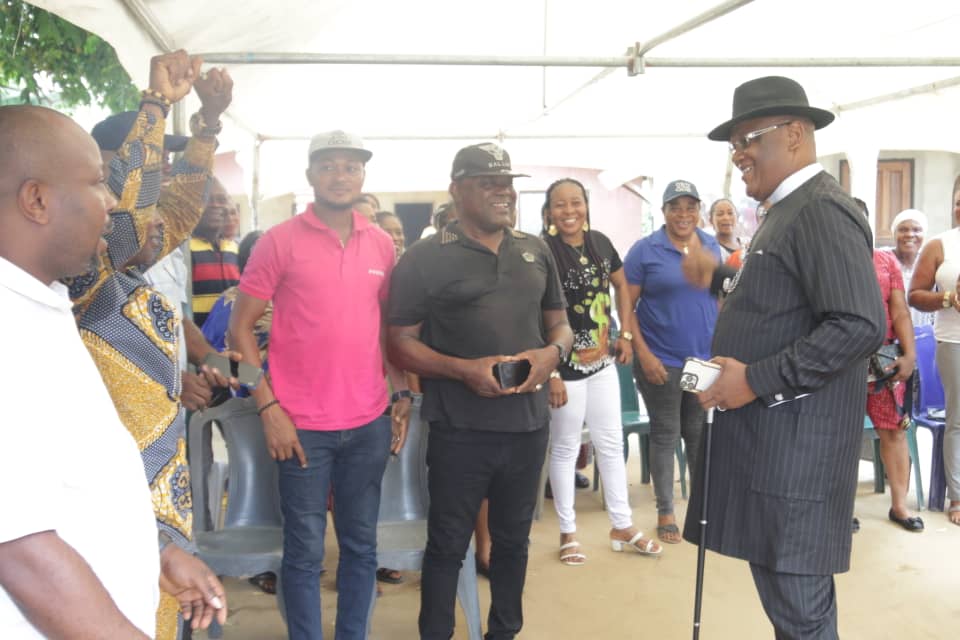 Inyangeyen, whom the ONNA chapter describes as The Pillar of the party, said: "It is good that all the three federal constituencies in ESD have benefitted and taken their due turns, with Ikot Abasi. My argument is that it now can start from any of federal constituencies, and whosoever desires or aspires for the Senate should come to the table of debate and tell the people what he or she will do for the people that will make the difference. There is no law that any federal constituency cannot present a credible and competent candidate. It can start from anywhere, provided the electorate was given fair opportunity for proper assessment of aspirants, not on emotion or parochial interest that lacks logic"
Earlier in his welcome speech, the PDP Chapter Chairman for ONNA, Barr. Ubong Adiakpan, observed that although the party welcomes every aspirants and accords them a level playing ground for their aspiration, Akparawa Inyangeyen has clearly proven his capacity and competence in previous offices he has held.
Commending him for his courage and senate ambition, Barr. Adiakpan, said the people will only go for an aspirant or candidate with the capacity to effectively represent the the people and positively affect their welfare.
"The party is not partisan. We welcome everybody. But, like everybody would agree, in matters of effective and people-oriented public service, the name Inyangeyen is not new. People already know what you can do when given opportunity. Therefore, with your discretion, respect and humility to consult the party structure in ONNA, we have openly signed you on to embark on campaigns in the name of PDP when such time arrives. Behold your son, Akparawa Ephraim Inyangeyen, ONNA people".
Present during the consultation were all 17-member Executive in ONNA PDP Chapter, including the Deputy Chair, Mrs. Margaret Udo Ndem; Secretary, Emmanuel Uwa; PRO, Mr. Eno Sampson; Treasurer, Mr. Hanson Aniekan; and Women Leader, Promise Nkanta, and others.
Present also in the all-inclusive event were the 78 statutory delegates; councilors and ward chairmen and their vice from the 12 wards; and leaders of the party from the local government.
It could be recalled that the new Electoral Law, as amended, recently assented to by President Muhammadu Buhari gives fresh perspectives that do not appear to make zoning a binding principle in a party's choice of candidates in the 2023 elections.
By Inyangeyen's official itinerary, consultations to other places continue in days ahead.