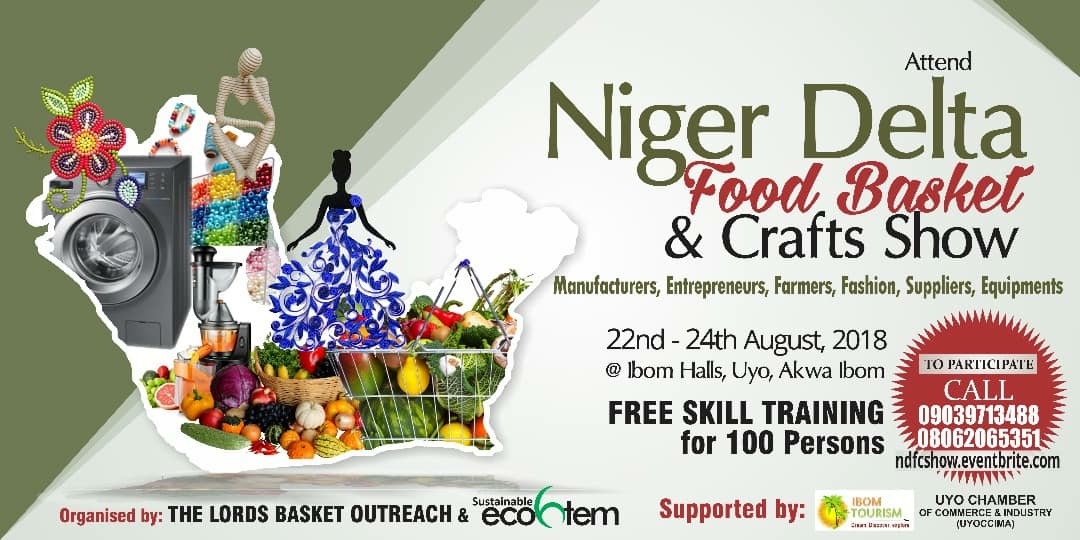 Is the perfect place to connect with today's, entrepreneurs, industry leaders, suppliers, young entrepreneurs and your peers.
It offers both buyers and sellers the opportunity to meet and deal with the biggest manufacturers, retailers and suppliers in the Niger Delta especially in the
following categories:
✅Food Manufacturers
✅Equipment Suppliers
✅ Farmers
✅ Development Organizations
✅ Creative Businesses
✅Fashion & Designs
✅ Catering Services
✅ Beverage Companies
✅ Fabric Production/Retailers
Also
✅Supermarkets,
Cash & Carry
✅ Importing, Distributing,
Wholesale companies
✅Food service companies
✅Department stores
✅Contract /
✅ Catering
businesses
✅Restaurants
✅Hotels
✅ Schools
Visitors at the food expo can attend sessions about:
▶production planning, agritourism, retailing, branding strategies and farmers marketing.
🇳🇬Local growers will also be available to showcase their expertise.
For further enquiries and to participate, please call 09039713488
Date- August 22-24 2018
Kindly click the link to register for free .
https://ndfcshow.eventbrite.com