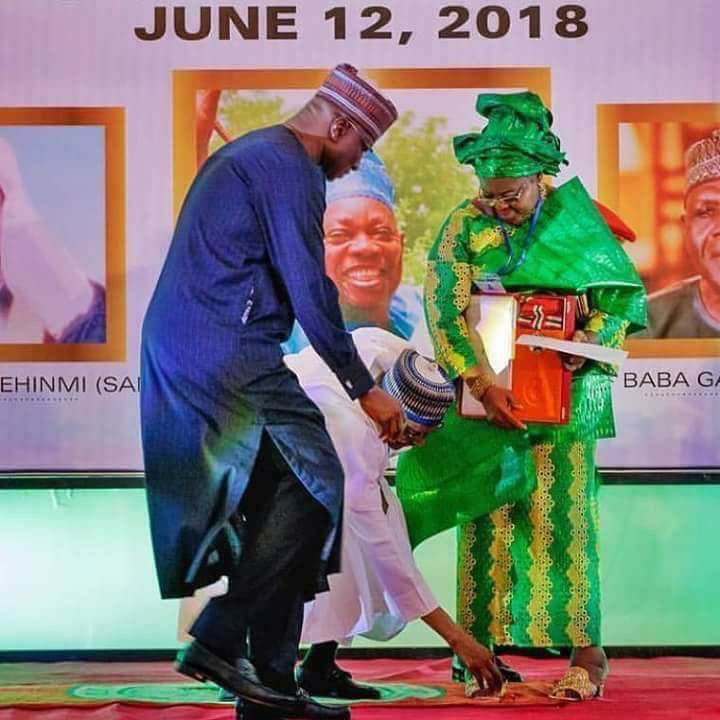 I have always enjoyed a particular delicacy shared by the Efiks, Annang, Oro and Ibibios. It's a "white soup" known locally as "afia efere ebot". All the major tribes in Cross River/Akwa Ibom have their own version of this age long delicacy. I have always wondered which tribe prepared it best. I have been privileged to enjoy it prepared by women from all the tribes. On May 29, 2018, then Democracy Day, I was forced to give my verdict.
Yes a friend's wife (she is Ibibio) brought the meal to us at Mechanic Village, Uyo. I saw "nkop", (God knows the English name), periwinkle ("mfi"), "okopusem ebot" (local goat) meat, stock fish and smoked fish fighting for space inside "afia efere". But aside the army of proteins there was something I could not identify. It was the Ibibio touch. Suddenly I realized why my friend has 5 children – one set of triplets and twins each. I told myself to be careful how I ate the meal for fear of the triplets experience during this Buhari times. It would be almost a disaster to be told your wife has given birth to not one, not two but three little otherwise sweet things. When you weigh the economic implications you may inadvertently find yourself on an escape journey to Senegal without a luggage. I know what a good meal can do to a man's libido. But when I tasted the soup I forgot my fear until I was brought back to my senses by the sound of the National anthem from a nearby black & white TV in Ude Spare Part's Office. It was a repeat of the broadcast by the president of the federal republic on democracy day. Sadly instead of affecting my taste it affected the "local government chairman" between my legs. The guy shrank to its lowest. The last time I noticed my "chairman" shrunk to that level was when I was invited to EFCC during my days in banking.
I saw my president struggling to defend himself against himself instead of speaking to the nation. As if in a trance I was taken back to May 29, 2015. I recalled a man whose major selling point in 2015 was his supposed integrity. A man whom the hopeless thought had brought hope; a man for whom the hungry clapped their hands that has brought food; a man whose swearing in caused the jobless youths to dust their certificates believing jobs have come.
But three years down the line, instead of jobs, instead of food, and above all instead of hope he was on that microphone on democracy day sweating as he read the fraud written for him by APC. You could hear a man struggling within himself to the point of almost puking. He knew that most of the things he mentioned in that speech were lies. He knew this because like him or hate him, he has some level of integrity but he read the speech of lies all the same. After all, Owelle Rochas Okorocha said that every politician is entitled to a great degree of political fraud. And the new Buhari is a politician.
The truth is this: all is not well. But Mr. President seems to gradually recovering himself. The June 12 recognition is good. For whatever was his motive the larger picture looks good for some sort of social healing. But that would not put food on the table of Dr. Nsima Ekere who runs a Homeopathic Clinic at Ntak Inyang nor Malam Garba Shehu who sells water melon – wholesale – at Adong Kassa fruit market, Nasarawa. It also has little meaning to Sola Otenigbagbe of Iwo, Osun State who completed his Masters 4 years ago and could only secure teaching job in a private school at Oshogbo which salary draws tears instead of hope. Eteka Udiminue from Udung Uko who smuggles Petrol to neighboring Cameroon and his friend Pius Nsemeke of Idu Uruan who just joined him to learn the smuggling trade have not heard of the president's June 12 action nor do they care. This is because it may not have any immediate nor medium term effect in their lives. It only help Mr. Buhari achieve expansive nationalism.
But the currency swap with China would have great effect on the lives of not only the aforementioned but Nigerians in general. It is therefore one of the greatest achievements of this administration when comes into full stream. These are the kind of things PMB should spend more time doing than the search for social populism. But let me warn that this is in the short term.
If not well managed it may put a final nail on the coffin of Nigeria local production and import substitution drive. For although China is Nigeria's largest trading partner the economy of scale tilts in favor of China.
As a manufacturing hub China boast of robust infrastructure, technology, manufacturing clusters and cheap labor. Therefore it would continue to produce at a comparative advantage in the foreseeable future. Hence comparatively cheaper goods.
However, locally the policy will lead to a reduced demand for Dollars and easing off of pressure on our Dollar reserves, as a large portion of Nigeria's import needs are served by China. It means henceforth related transactions would be settled in Yuan rather than scarce Dollar reserves, which would then be channeled to servicing other demands such as portfolio investments, capital repatriation, etc. This is good for the economy.
But a lot of work needs to be done in the economy. Aggregate demand must be expanded to accommodate the new Nigeria – China trade relationship. If the cost of goods and services reduced by some percentages and there is no deliberate policy to empower the people to take advantage of it, the reciprocal effect may not amount to much. One of the ways this can happen is if the spate of unemployment continues.
He should know that the people are hungry, they are traumatized and jobless and helpless. He should stop listening to sycophantic masquerades and drummers who beat and dance on his praises. Not much has happened in the last three years to better the lives of Nigerians. Rather he should listen to the cries of ordinary Nigerians whether expressed through people as high as OBJ, Danjuma or as low as Ndueso Essien. The people are hurting. They are dying.
Unemployment in Nigeria is no longer an aberration but a recurrent decimal with an escalating threat of permanency. Government must do something about unemployment. A critical step is a workable policy on development and support of SMEs. SMEs are the growth engine of any growing economy and the largest employers and creators of employment. A focus on SMEs is more critical as the country opens up its belly to China through the newly introduced currency swap.
SMEs can play a role in mitigating the problem of imbalance in the balance of payment accounts through its export promotion.
While the large scale industries may increase inequities of income and concentration of wealth, SMEs help widespread equal distribution of income, wealth and employment.
Like Buhari, Abacha was a reader of scripts written to him by people who didn't wish this country well. They wrote all sorts of lies and statistics you dare not contend. Nigerians were gagged and suffering in fear and silence. Selfish beneficiaries of Abacha government ruled the airwaves. Social media wasn't popular then. One business man from the Eastern States even vowed to go on exile if Abacha didn't succeed himself. The security agencies abdicated their roles of protecting the citizens to that of gestapos. Mr. President Buhari should avoid that road at all cost. Let his 2019 elections be a reward for service to the people and not a do or die affair.
He should concentrate on service delivery to the people to make life better with or without 2019 elections. He should let the people remember him not as one who won his second term at all cost but a great servant and achiever whom the people rewarded with a second term, as they are gearing up to do for Mr. Udom Emmanuel. Let not the drums be rolled out in jubilation the day he leaves office as was done for his friend Gen Sani Abacha. That history was pregnant with shame.
James Abang R828
Atte-Okiuso Village, C/o Oyubia PA
Urueoffong/Oruko LGA