—AKS INFO BOSS, CHARLES UDOH
Governor Udom Emmanuel has put in place numerous initiatives to keep the youths positively engaged, a measure that has scored the Governor highly and earned him commendation across the state and beyond.
The Commissioner for Information and Strategy, Charles Udoh made this known while presenting prizes to Pioneer Winners in the "WIN YOUR TUITION FEES" sensitization programme recently introduced by Ministry of Information and Strategy.
Charles Udoh who was represented by the Dean of Directors and Director in-charge of Technical Services in the Ministry, Mr. Inyang Jameson, said, the sensitization programme which runs every Thursday by 2pm on set of Update Akwa Ibom Radio programme on AKBC 90.5FM is geared at attracting the attention of youths in tertiary institutions to government programmes and projects and in the process ameliorate their financial conditions.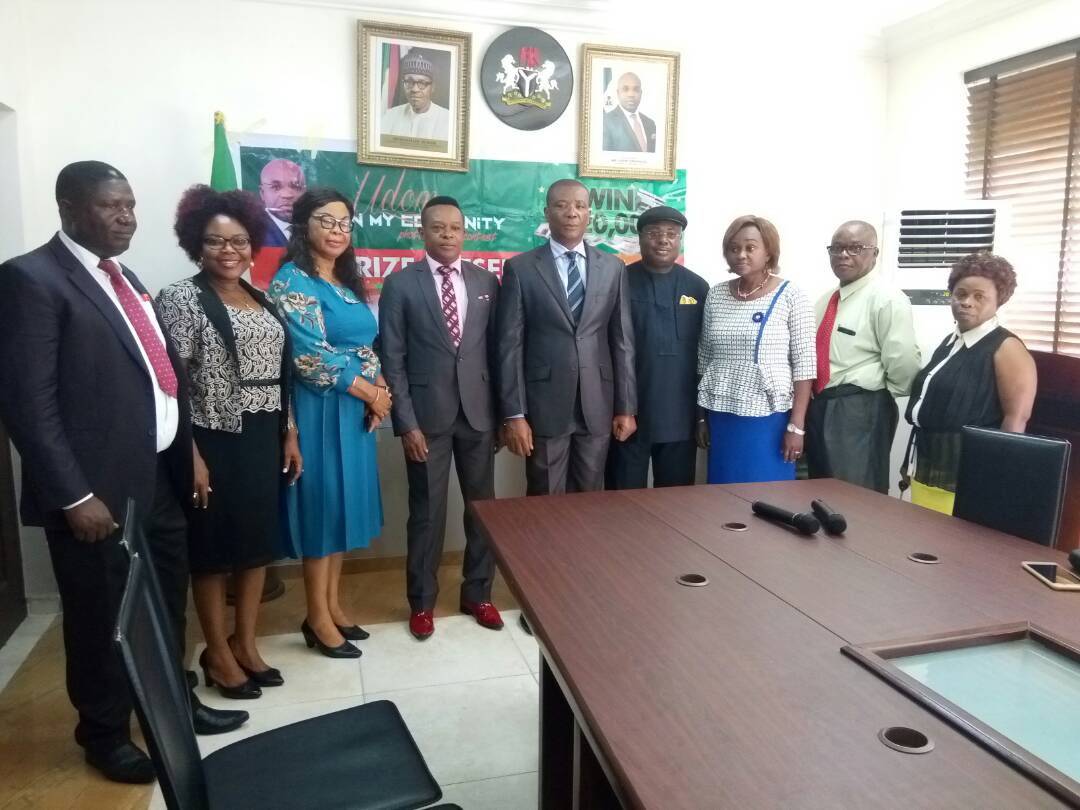 He said in addition to win your tuition fees which keeps the students positively engaged, Udom in my Community Photo/Video contest is also running all geared towards youth involvement in governance.
Udoh who expressed appreciation to Governor Emmanuel for approving these initiatives alongside several other youth empowerment programmes in other sectors like Agriculture, ICT, Sports, etc congratulated the winners and urged more youths to come on board the programmes.
The Coordinator of the programme and Director of Strategy in the Ministry, Mrs. Grace Akpan, lauded the Information Boss, Charles Udoh for the numerous sensitization programmes geared not only at publicizing government programmes and activities but also at positive engagements of the youths turning them away from societal vices and crimes.
She reminded the public that, all entries for Udom in my Community Photo/Video contest as well as answers to questions for the "WIN YOUR TUITION FEES" should be forwarded to the Udomcares Citizen Centre through sms or whatsapp with phone nos 09076173782 or email to citizen@akwaibomstste.gov
Highlight of the event witnessed by all Directors in the Ministry included the presentation of prizes to Winners in the 7th edition of Udom in my Community Photo/Video contest and responses by Star Winners of the 11th and 12th editions of Update Akwa Ibom Radio programme and Udom in my Community Campaign, who all carted home N20,000 each.
#Udomisworking!!!
#winyourtuitionfees!!!
#udominmycommunity!!!