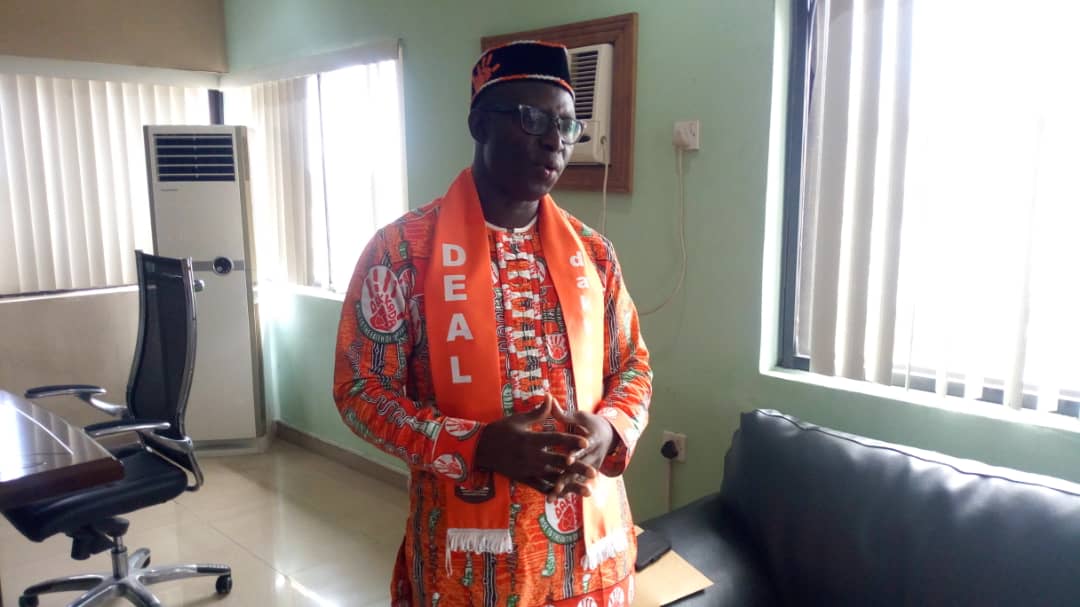 By Umoh-Obong Kingsley
The member representing Akwa Ibom South in the National Assembly, and wife of former Military Governor Udoakaha Jacob Esuene of the old Cross River State, Chief (Mrs) Helen U. Esuene, has decried the rate at which people take politics as a professional way of livelihood.
Speaking while receiving a group of entrepreneurs in the state under the aegis of Dakkada Ambassadors Entrepreneurs League (DEAL) in her office on Thursday, she noted politics should not be seen as a way of earning a livelihood, rather as a service.
Chief Helen traced the problems the country is currently faced with to the manner people take politics to be – the do-or-die affair and impunity being practiced in the political curriculum. According to her, "If we saw politics as a means of rendering service, some of those negative throw-ups wouldn't have been.
"Politics should be seen as a different kind of public service. A civil servant is a public servant as well those in the private sectors, rendering services to the public even though they are expected to make profits, but by and large, they are rendering some level of services to the community. If we see politics in that light, we will eventually get it right."
The business tycoon, who once served as a Human Resource Manager for Mobil Producing, and owner of Villa Marina Hotel in Eket, commended DEAL for the idea to bring a synergy between politicians and the business community, describing it as a step in the right direction, adding that "It will sensitise and educate politicians more on how they should stand and play politics without getting their fingers burnt due to the negative aspect of it. It will also help a politician to hold his/her head high and not be dragged into things that normally he/she will not do.
"When you are desperate, the tendency is that you will fall for things that normally you would not do which you will later regret, but when you know that you livelihood does not depend on it, you will be able to have a freer mind to take better decisions for yourself.
"Politics is more or less a passion. It is like a hobby. In Nigeria, we are very innovative, creative, resilient and hardworking people both men and women. We just need somebody to sit down and think out of the box, and you will find out that there is something to do that will earn you something reasonable."
The Senator charged politicians to have their sources of livelihood because it would be difficult to be a good politician without a source of livelihood as it will make mess of you.
Earlier, leader of the team, Senior Special Assistant to the Governor on Marketing and Brand Management, Mr. Sam Edoho, who doubles as Chairman of DEAL, in his remarks, noted that small and medium scale businesses drive the economy.
He said that DEAL brings together a group of business people in Akwa Ibom State and get them to be interested in politics as well as bring those in politics to have interest in business so that there will be a synergy, adding that the majority of people in the political terrain today do not have a fall-back position. "They take politics as a full time career, and that is dangerous. So, to avoid such dangers, we try to encourage people to focus on business while paying attention to politics.
"Politics is not bad but important in the sense that it determines who governs, directs and the policies the person makes. When we have people who are conscious of business and its demands, they will make policies that would be friendly for the business environment."
Mr Sam further disclosed that the state Governor, Mr Udom Emmanuel, having understood the need to synergise politics with the business community, introduced the Dakkada philosophy to encourage Akwa Ibomites to rise and take up something to do and not be idle, as God only blesses and multiplies what you have, and not emptiness. You cannot build something on nothing.
He stressed that the Governor has done tremendously well for the business community both in the policies he has implemented, programmes he has, and the projects he has executed are favourable to business, as well as security, relative safety of lives and property. "All these are inviting investors across the globe to come and invest in the state thereby giving room for those doing small businesses the enabling environment to expand their businesses."
Present at the visit were Secretary of DEAL, Mr Etiene Ukpong; Financial Secretary, Mrs Philomena Jonathan; Hon. Inemesit Okoko; Mrs Glory Asanaga, Mr Cyril Owowo and Mr Umanah Sunday.