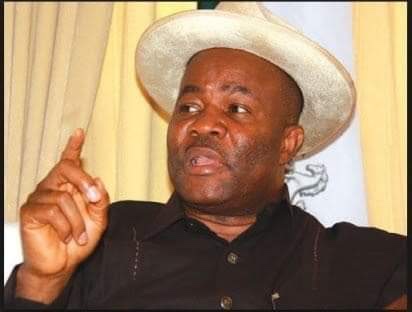 One perpetually unkempt and scrubby man who lives off on hush money particularly from politicians,   Abasiandikan Nkono, has been enlisted by the Ukana 'pocket never dry tin god' to fight off stark truth which tears up the veil built around his new benefactor, Godswill Akpabio.
I read the rejoinder with the above title and it gives me many reason to believe that this man can defend the devil, provided such defense will place a pot of bitter leaf soup and fufu, his favourite on the table. On one hand, I am glad that since after he wrote his last article with a pseudonym though,  in 2014 for a certain local newspaper which has folded up, exposing the sins of Akpabio when his man Friday as it was then who was vying for the governorship fell out with Akpabio; that he has now found his voice and pen again after four years, this time from the spirit box in Ukana, the seat of lies, blood and death.
It is heartrending that Nkono, like a typical Akpabio's sycophant wrote that he is distraught to see "disregard for elders in Akwa Ibom State by the younger generation…".
Dear Nkono, if exposing Akpabio's evil agenda against Akwa Ibom people sums to disrespect, then I'd wish the exposé remains what it is. Let me ask you, did   Akpabio show respect to Obong Attah whom God used to make him who he is today? Did Akpabio as Governor have any regard for Akwa Ibom elders? Is it the same Akpabio whom you are trying to deify the same man the APC accused of killing prominent Akwa Ibom people? Was it not in his regine that the mother of a Governorship aspirant was kidnapped, abused, murdered in the most barbaric, cruel and inhuman manner and her lifeless body dumped by the road side? Did Akpabio have regard for Ibibio elders when he ordered the abduction of His Excellency, Group Captain Sam Ewang's wife? Did Akpabio have regard for elders when he ordered the kidnapping of Senator Aloysius Etok's wife? Did Akpabio have regard for elders when his government killed, raped, plundered, destroyed and humiliated us?
Nkono, you said you lived in Lagos. Perhaps you knew your benefactor then? Can you ask him what happened to him between when he was packaged back to Akwa Ibom state and the time he finished with Akwa Ibom people as their ruler?  Ask your 'tin god' what on earth provoked him to show intense hatred for nationalities and tribes in the state to the extent that he became consentaneous to the killing, maiming, abduction, raping, and economic emasculation of Akwa Ibom people whom he felt could face up to him.
I am today surprised that in self defense, Akpabio now remembers that there is inter marriage, economic and social ties between the Ibibios, Annangs and Oros. Wasn't he aware of this between 2007-2015?
On your wish that I should pay a 'Thank You' visit to Sen. Akpabio. I suppose that is also the wish your benefactor? If it is, then give me an appointment and rest assured that I will come there, provided the delegation would be led by ufan ndito ubuene, Dr Ime Umanah. I will drive in the same car with Late Hon. Okon Uwah, and would have Late Chief Ukpanah, do the opening prayer. At the meeting, it will be my honour to have Late Hon. Oyong Asukwo, give the vote of thanks while Udonwa's mother will assist Akpabio's wife serve us food and drinks.
Nkono, just like your benefactor, you attempted in your veiled holiness to quote the scriptures. Akwa Ibom people are not oblivious of the fact that your paymaster has severally stood on altars to pronounce curse on himself and children that he has never killed anyone nor sent someone to kill on his behalf, yet each passing day, the ghost of all those he massacred keeps tormenting him day and night. Who is fooling who? Stop making a fool of yourself before Akwa Ibom people. Even the devil can quote the scriptures.
You said I write to impress others or to massage my outlandish ego at the gross expense of the innocent, and that i am "an abomination unto the Lord". How can you, on behalf of Akpabio whom the gods have even rejected his corpse from being buried in Ukana say this about me? If there is a man who has become an abomination, it you who defends evil for a pot of soup. I'd think hunger has caused you to become more mean and wicked at heart than the man you are trying to defend.
With all the sorcery and killing which took place under Akpabio's reign, you did not describe it as a "state of moral bankruptcy taken too far". The hush money you have taken has frozen good conscience out of your humanness that's why you have tried to exonerate Akpabio from the horrors and atrocities of his regime. But the good news is that the more you try, the more the ghosts of those killed stare him in the face. Soon, even sleep shall be a curse unto everyone who had a hand in those horrors. This is not a curse but what must happen so that men will come to full knowledge of the truth that they cannot play God nor fool their fellow men forever.
As a funny man that he is, Sen. Akpabio is saying he ended his second term as governor nearly four years ago, and yet even the killings/kidnappings in Ukanafun was linked to him. The issue is, why does he try to run away from the monster he created? Who bought guns for  those boys? Who used them as hitmen against families while the first family as it were enjoyed the extravagance of wealth from the state treasury? Have we forgotten that DIG Udom Ekpoudom before he became one of the Akpabios had said publicly at a town hall meeting in Abak convened by Akpabio that he was worried by the cache of arms stockpiled by Akpabio's aides?
In all of this, you and Akpabio should be careful not to provoke me further. If you do, I'll go with you all the stretch to the public so that you can write more of those rejoinders and press releases.
Akpabio should face his problems with the ghosts hunting him. I am not his problem. His problems are from what he did with his own hands when he was the tin god of Akwa Ibom from 2007-2015.
Akpabio cannot ignore the fact that Akwa Ibom people will continue to hold him to account, and come 2019 the people will take their destiny in their hands and not allow Akpabio and his gang of blood thirsty hooligans draw Akwa Ibom back again. Never!
Akwa Ibom People, please when they come with their useless Political propaganda ask them questions.
By Emmanuel Sam