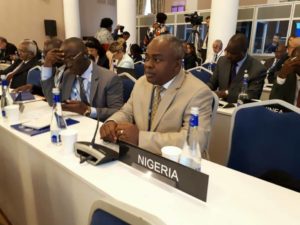 By Ubong Nsekpong
Sometimes last year I was returning from the office at about 5.00PM. After waiting for almost an hour looking for a mini bus or a taxi, I got one who intended a destination beyond mine. Boarding the bus close to my house, a friend had called me requesting I should come back to his house and fix a computer problem he was having. "I am already close to my house," I apologized, "and my wife is already waiting," I concluded checking the longer hand of my watch as the tip kissed the base of the number 6 while the shorter hand dragged between 6 and 7.
My apologies did not only infuriate my friend but right now when he believed he has achieved so much in life, I had no excuse not offering the service whenever and wherever he called or had need of one. After few persuasive talks which I stood my grounds – it was either he brings the hardware to my house and I fix the problem or he should have to wait till the next morning. Then my friend busted into what I had to pull my phone a little distance from my ear to avoid my ear drum being damaged from his thunderous anger from the other end.
"Da," he addressed in a way that declares the brotherhood between us. "If you don't come and scan this document for me this evening and I lose this opportunity, I will not be your friend again. Don't call my line again – as if we ever did that, I thought to myself. If you hear anything about me don't be concerned, if I hear anything about you I will not be concerned too," he ranted rather bombastically. "You say you are going back to your wife and you don't care if I process this document this night, trust me this the end of my friendship with you," he threatened as I highlighted the bus heading down the street to my young family.
My mind flashing back to the years of betrayal from the same friend. I wondered if he had planted a setup this time by processing a fake passport thereby handing me indirectly into the hands of the authorities while his sponsors pay the grave bails to free his wicked body. Pulling the gate apart, I stepped into my abode expecting the warm embrace of my wife. Weeks later, I noticed he had unfriended me on social media, I purposefully called his number and he refused picking. Convinced of his status, I bade him goodbye in return.
Why am I narrating all this this to you? My friend's achievements today are pivoted in what I did for him several years back. I would not bother you with this detail but I have played a pivotal role in his rise but when he thought he had arrived he had discarded the rules of our friendship only to need me again at a time my skills were paramount. Of course, according to him, he had tried one or two vendors and when he realized their skills could not meet his target, he now remembered to call a friend he had since discarded – or maybe came for the renewal of our ties.
My interactions with the people of Etinan Federal Constituency especially those from the Southern Iman region who are the most beneficiaries of Honourable Sam Ikon's benevolence reveals several life changing supports this Honourable Member has offered over the years. Not only do hundreds of young people testify to their acquisition of pensionable jobs through the same man, but a couple of talents has found in him a window which their endowments were first showcased. This, to me has been a very sustainable empowerment. This is the type of leadership we need for today's politics in Nigeria. It builds the future.
It is rather unfortunate that young assumed politicians of today wants everything to happen immediately and since nature do not provide for such occasions, they rise in the morning and before the eve of their days, they not only wither but bow earlier to the pains life offers afterwards. After personally going through the stories told by each individual within and around my community, I have come to realise that the problem is not the politicians but our cravings for fast riches while competitive lifestyle dots the landscape. And while no man can offer all you wanted as a man for a lifetime, such friend becomes adversary whenever our wants is placed on hold by our benefactors.
The media should therefore help the people of Etinan Federal Constituency as the delegates make up their minds to nominate a man to represent the good people of Etinan Federal Constituency in the red chambers from next year. If the PDP should uphold zoning, we should place in our minds that the 'boys' have been 'eating' for the past 16 years and the result is still not felt in our society. The party should zone to promote entrepreneurship which such representative as Hon. Sam Ikon uphold its tenets. The media should not accept the tokens offered presently by some deceptive politicians while mortgaging the future of an entire Federal Constituency.
As 2019 draws near, the media in Akwa Ibom State should help in shaping the polity to accommodate future entrepreneurs rather than hanging on how much is shared from the embezzlement of our collective parsimony. Yesterday I was discussing with a brother and he asked what the 'throwput' would be if Ibaka sea port is completed. "ThrowPuts," according to him are goods you intend to export. He insisted we should rather produce something to export before thinking of creating a seaport, than building a seaport only to continue importing.
With the type of empowerment currently practiced by Hon. Ikon, it is glaring that when most of these startups matures, we will start having 'ThrowPuts' than consumables. We pray the decision makers in Etinan Federal Constituency will support this call to return Hon. Ikon to the Federal House of Assembly to consolidate the PDP's zoning formula to entrepreneurship driven representative. Afterall, we are yet to see those who gained from the 50,000 naira thrown by Ikon's contender at Ibom plaza live without looking for another 50,000 naira to be thrown next day. But we have seen startups supported by Hon. Ikon grow steadily to accommodate other young people within and outside Etinan Federal Constituency. It is time to say no to unsustainable empowerments. #WePray4Ikon.