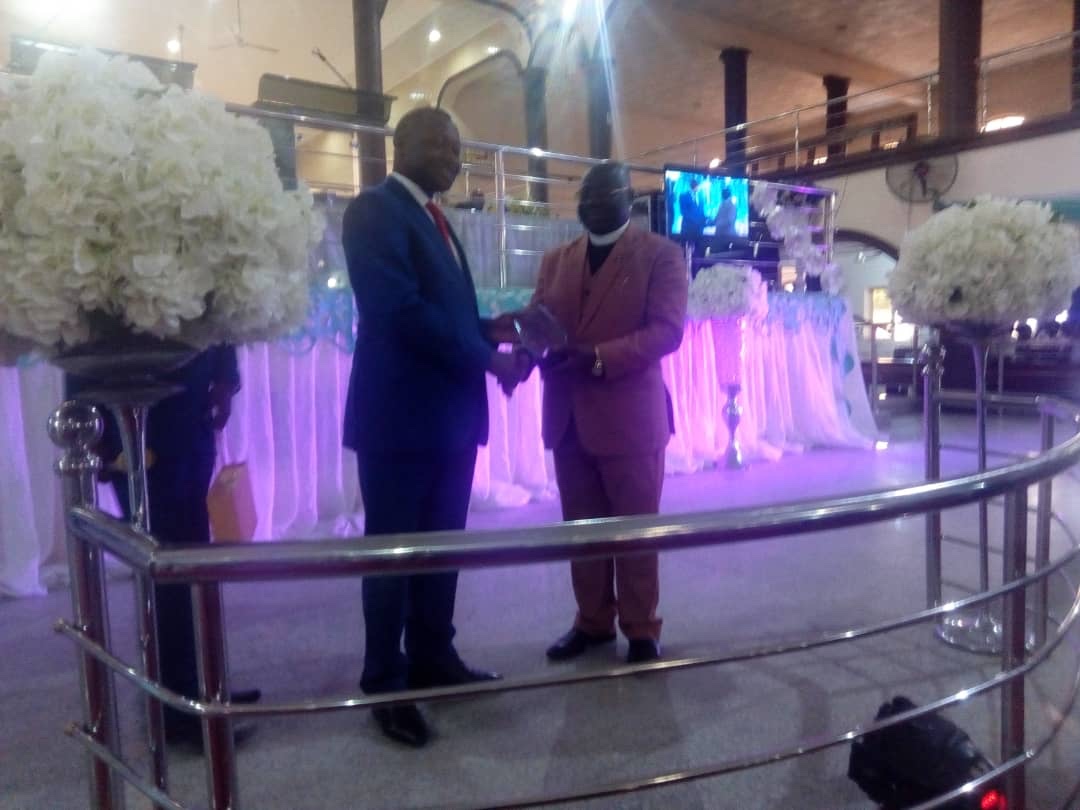 The Executive Chairman of Uyo Local Government Council, Elder Hon Imoh Okon, on Sunday was honoured as "BEACON OF LIGHT" by The Apostolic Church of Nigeria Uyo Field.
The award came barely one month after he was awarded One of Best Council chairman in Nigeria by the Nigeria Local Government Merit Award in Abuja.
Furthermore, during the Thanksgiving and Appreciation Service with the theme "The light shines in darkness" drawn from John 1:5 was to marked the 3rd anniversary of Apostle I. N. George PhD, as the Uyo Field Superindent of the Apostolic Church. Elder Imoh Okon thanked the church for their support through prayers for the government of Akwa Ibom state.
In his remarks at the occasion, Elder Imoh Okon thanked the hierarchy of the church for recognising excellence and modest contributions of different individuals to the society and pledged to continue to use his talent, time and resources to uplift humanity to the glory of God.
However, the Uyo Council helmsman said he striving to deliver on his four point agenda especially in the area of robust empowerment, rural development and mentorship.
Welcoming the honourees drawn from Council members of the church and distinguished personalities from all walks of life, the Uyo Field Superindent of the Church, Apostle I. N. George, commended them as salt of the earth and light of the world for adding taste to humanity and showing the way to many by using their proficiency in different careers to impact on the church and humanity at large.
The Uyo Field Superindent appreciated the modest contributions and team work approach of the current Council members, which has galvanised into feasible development. He enumerated their laudable achievements under his leadership to include the setting up of the media directorate with print, ICT and studio, inauguration of the TACN Youth Movement, setting up if the protocol, medical and legal teams, repositioning if TAC Bible College, setting up if a standard bookshop, payment of backlog of salaries if retired pastors, procurement of a generator and an 18 seater bus among others.
Apostle I.N. George urged the awardees drawn from different categories; Ambassadors of light, Beacon of light and Pillar, to continue in their labour of love by being their brother's keeper and empowering others to make the world a better place for all. He noted that God has blessed them in order to be blessing to others.
Accompanying the Executive Chairman of Uyo Local Government Council to the ceremony were some stakeholders in Uyo including the Paramount Ruler HRM Nsobom Sylvanus Okon himself an Ambassador of Light of TACN. Also in attendance was the National Secretary of the Apostolic Church of Nigeria.
By Uduak Inwang