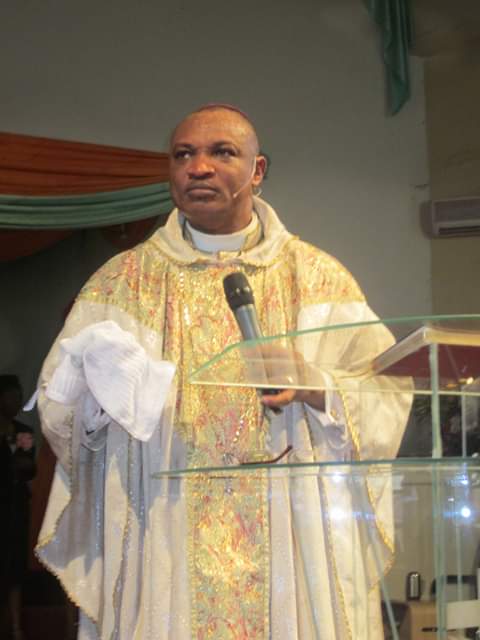 – as 75,000 volunteers embarks on mobilization
Emmanuel Ikpe
The reelection of Gov. Udom Emmanuel of Akwa Ibom State in 2019 is assured as Fathers of Faith under the umbrella of Akwa Ibom Christians Assembly (ACA) promised to deliver the governor with a block of not less than 200,000.
The president of the Akwa Ibom Christians Assembly, Archbishop Cletus Bassy who dropped the hint during an interaction with media officials at the association Secretariat disclosed that ACA in her avowed commitment to reelection of Udom Emmanuel has already culminated over 70,000 eligible voters as members/ volunteers across the state and will be working to achieve the 200,000 target before in February 2019.
The immediate past CAN chairman in the state said their reason for their supporting Udom Emmanuel is based on the fact that he deserves a second term just as predecessors did, for justice and equity, noting that ACA has a great numbers of people and the right to choose who governed them. "We are supporting him because he is a true Christian, that has reflected his conviction with action, he doesn't play politics with his word, he has put God first in his governance.", he said adding that ACA is for Udom Emmanuel alone and that doesn't mean anyone else should not aspire.
According to him there is no vacancy in the Governor's office and as such he urged aspirants to drop ambition till 2023.
The state Christians Pilgrim Board Chairman said ACA incorperated is motivated or indused by what anyone can offer to gain their favour, stating that they are a political party but religious organization who believes in preaching the truth for posterity sec.
The Archbishop explained that the formation of ACA is from the state to Senatorial Districts, Federal Constituencies, Local Government, Wards, Villages, street to street and ACA club in churches, aimed building a unified Christian body that will promote the welfare, peace and prosperity of the people of Akwa Ibom State and to equip members with capacity to effectively engage in political processes for good governance.
Like he pointed out, core values of the association is leadership, engagement, accountability, dominion and sernanthood.
He posited that ACA will continue to facilitate and promote godly leadership as examplified by Udom Emmanuel, and encourage transformative governance by raising political consciousness among believers through the use of sound engagement, strategic participation in election process and other platforms.
Speaking further, Cletus condemned act of instigating violence and crises in the state, noting that no matter the glamor for war by some elements, there will not be any war in the state and franked at seige of the state house of assembly by Nigeria Police and therefore urged parties concerned to approach court to resolve their differences rather than resorting the verment mayhem.
He called on the people of Akwa Ibom State to continue to support Gov. Udom Emmanuel, upholding him and pray for him believing that God will see him through the electioneering.