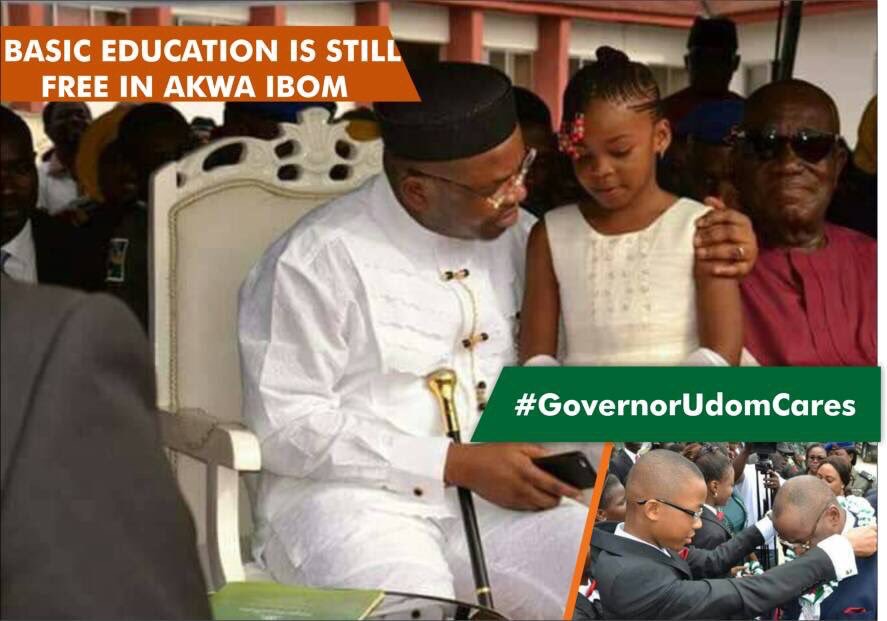 Udo
To an administration desirous of sustaining development with a view of boosting growth in her economic activities through proficiencies in all the sectors, a huge investment in the education sector remains that driving factor that can lead to a splendorous and comfortable society where opportunity meets preparedness, and preparedness keeps the economy growing.
It is in the light of this dogma that the Udom Emmanuel's administration, since it came on board, has continued to invest its resources hugely to procreate a future filled with competent entities that can build on the developmental deposit as interpreted in its 5-point agenda through education.
Aside the free and compulsory education being enjoyed by pupils and students of public primary/ secondary schools, and the subvention of N100 per primary school pupil and N300 per secondary school student per term to cater for logistics, Mr. Udom Emmanuel has created a conducive learning environment through massive rehabilitation and reconstruction of school blocks, provision of science and laboratory equipment, construction of hostels and supply of desks across the 31 local government areas of the state.
With his passionate disposition towards the healthy status of the education sector, Governor Emmanuel had taken over 7 community secondary schools, namely; Technical College, Ikot Udom, Ikot Ekpene L.G.A; Urban High School, Ikot Akpan Essien, Oruk Anam L.G.A; Excellence Comprehensive Secondary School, Ikot Unya, Mkpat Enin L.G.A; Migrant School, Emeruke, Eastern Obolo L.G.A; Community Comprehensive Secondary School, Ekeya, Okobo L.G.A; Union Secondary School, Ibiaku, Ibiono Ibom L.G.A; Community Secondary School, Urua Abo/Ikot Ata-Usung/Ikot Obong Odoro, Ikot Ekpene.
The facelift which has brought to reality the construction and renovation of over 400 school blocks across the state, has also led to the facilitation for establishment and establishment of various strategic schools with value added advantage to cater for the knowledge needs of the society.
The schools include: Government Girls Model Secondary School, Ikot Ekang, Abak L.G.A; Command Science Secondary School, Efa, Etinan; Nigerian Navy Military School, Ikot Ntuen, Ekparakwa, Oruk Anam LGA; Special Police Protection Training Unit, Awa, Onna L.G.A. 
This administration has also made strategic interventions in tertiary institutions in the state involving roads, equipment supplies, academic blocks, etc. 
Not wobbled by the enormous  insertion already made, Governor Emmanuel also made available payment of over N600 million West African Examination Council (WAEC) and National Business and Technical Examinations Board (NABTEB) fees for indigenes in public secondary schools annually; a financial plan that bolsters academic competitiveness amongst indigenes, and also upgraded the Akwa Ibom State College of Education.
Governor Emmanuel understands that any administration who leaves many of its children behind and not help them achieve the competencies needed for a self-fulfilled life in economic independence is heading to anarchy, meaning it built the foundation of its castle in the air thus making the society prone to human hazards whose cost of rehabilitation and re-investment would be ten times higher.
The Udom-led government has transmogrified the education sector with huge investment proven in the many awards of excellence by students from public schools, like Blessing Utibe Ukpong and Inieso Thursday Edward, both from Nothern  Annang Secondary Commercial School, Utu Etim Ekpo in Etim Ekpo LGA, who won the national competition of Stockholm Junior Water Prize Competition, which took them off the shores of this country to Stockholm, Sweden to represent the nation in the international competition.
There is no doubt that Akwa Ibom under Mr. Emmanuel's leadership is building the future and the workforce that will prudently manage its resources after his exit in 2023 and not wallow in frivolity in the name of politics. 
This is one of the reasons we should continue and consolidate on the divine mandate to exceed exceptional expectations. 
#Future Assured.
#IStandWithUdom