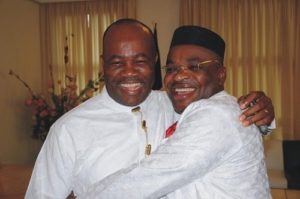 Senate Minority Leader Godswill Akpabio finally broke his long silence over alleged estrangement with Akwa Ibom Governor Udom Emmanuel. He also spoke exclusively to Sunday Oguntola on why the National Assembly passed the bill on order of elections ahead of 2019 and compared life as a governor and lawmaker. Excerpts:
THERE have been fears and insinuations that you will not support the reelection bid of Governor Udom Emmanuel. How do you react to that?
Those fears are just unfounded. I have said it as different fora that come 2019 I will support the reelection of the governor. I have not said anything to the contrary. Anybody thinking that I will not support the governor is just reacting to his or her figment of imagination…
… Well, some said you just say it while working to the contrary in secret
…I have never said I will not support the governor. And I am a kind of person that does not go back on my words. I have endorsed the governor at different fora and nothing will change that.
At the New Year Eve reception hosted by the Deputy Governor, you said all was not well. Is that not in reference to the Governor's reelection's bid?
You see that was not what I meant. It is unfortunate that people have twisted the 'all is well' statement I used at that forum. What I said was in reference to the security situation in two local governments in Akwa Ibom at that time where over 80 persons were killed by a certain cult group with many turned to Internally Displaced Persons(IDPs).
Iso Akpafit was the notorious cult leader harassing Ukanafun Local Government in the senatorial district then. It was spreading to another local government with some of the IDPs even being threatened. So, I said all was not well in terms of security in the district and that there was need to address the situation.
I said that so we can tackle the situation so that election can hold in the district where the governor is assured of almost 500,000 votes. That is true because if the insecurity persisted, there might be no election in the entire senatorial district because it could spread to other local governments.
It would mean all the block votes that the governor was assured of, since we are the only district that will not present a candidate in 2019, might be affected. More so, the governor happens to be our in-law.
So, if we didn't take steps to address the insecurity and so other silent discontents, we might be deceived to think we have those votes intact. The solid basket of votes might be affected. I also said we had two major projects, which the governor had started addressing now.
I said we had the ongoing dualisation of the Uyo-Ikot Ekpene road, which the governor had started addressing. I said we didn't even need to dualise it before putting it to use. It could be one lane.
The other was the completed Four-Point by Sheraton Hotel, which we are yet to put to use that if we could get money to use it will be a major talking point for us and will be a fillip to gather more support for the current administration in the district and beyond. I also remember saying all that day that I stand by the governor for 2019 and didn't want what I was saying to be misconstrued.
Of course, those who reported and the mischief makers didn't report what I said from the security point of view. They twisted it to look like I said all was not well with reference to the governor's reelection bid. But thank God that almost a week later after I spoke, security agencies killed the kingpin and flushed out the cult group. So, for me, that was the beginning of a major turning point.
For me, I believe the security agencies have been working before I spoke up. It was just fortuitous that the kingpin was killed and his corpse paraded just few days after I spoke. So, we later met the governor about three days after the forum.
The governor was able to meet with key stakeholders from the district and explained what he was doing with reference to those projects and the insecurity challenge. So, I was literally shocked and surprised when people jumped in based on what I said to make a political capital out of it. Of course, many of them had beefs for the governor. So, that was what I meant when I said all was not well.
Was it true you gave conditional support for the governor come 2019?
No, I never did. I even said on that day that I stand with the governor. But to make the election smooth for us, we have to address some issues. I even made a comparison that to go for Communion in the Catholic Church you have to be in a state of grace.
I am not the only person that will vote. Elections are about preparations. To have those situations in that area with basket of votes, we have to look at things we can do to be sure we have everyone on board.
One was the insecurity issue and I am glad that is being addressed. People are returning to their farmlands again. Women were not able to farm again. Iso Akpafit's gang was just raping and killing them. A lot of people lost their lives. May their souls rest in peace.
So, my reference to all was well, was in the light of the insecurity challenge at that time. Not only that. For anybody to imagine that I will not support Governor Udom Emmanuel is the height of foolishness.
With or without those issues, the governor will still have won election in my senatorial district. But I wanted us to smoothen the senatorial district so that there would be no stories at all. I even said we are now in opposition. We don't have INEC and Police to do anything for us.
Sometimes, some of those people can become lethargic. A policeman can stand there and just watch something go wrong because they are in an opposition state. So, ultimately it was important to allow the will of the people to prevail. Like what happened in Turkey where Edogan was not even in the country when army attempted to take over. The people marched to the states and used their bodies to fight back. That was what I was talking in Akwa Ibom so that we can smoothen the rough edges. I have also learnt my lessons anyway.
Which are?
One is that even if all is well, you don't say it at least openly…
…People felt even if you had such misgivings, you should have expressed them to the governor privately
Yes, but it was the first major stakeholders' meeting since the governor came on board in the district. I was very impressed with the crowd. I said we should see the governor with some of these issues. I could always see the governor but many of them have not seen or heard from him in three years.
Few days after, we met the governor and he explained everything to us. But when people attempted to jump in, it was like trying to go to the market after it had closed. We saw him. He addressed our issues and we even addressed the press. The former deputy governor spoke on our behalf.
I was shocked that some mischief makers attempted to make a political capital out of it. Even when my media aide attempted to explain what I said, I told him to allow people be. I just kept quiet because everyone is free to insult or abuse me since I chose to be a public servant.
If I was just a palm wine tapper in the village, there is no way any something I say will be misinterpreted. They wouldn't have opportunities for them to attempt to cut me to sizes and try to reduce my sphere of influence.
Is it true you are also preparing an Oron candidate to take over from Governor Udom Emmanuel?
That also is not true. There is nothing like that. You have to understand that when the time of politicking comes, people do a lot of game of elimination. If you look at Akwa Ibom, it is predominately a government state. The only industry is more or less government.
So, people will always try to be more Catholic than the Pope at times like these. Governor Udom Emmanuel in whom I am very well pleased remains one of my major legacies in the state. I cannot go and try my legacies for any reason.
Does Governor Udom Emmanuel deserve reelection?
I believe he deserves reelection for many reasons. First, I believe that in this era of recession, he has really done well because you find out that many states cannot even pay salaries again. He does not owe and that is excellent.
Besides, he has been able to do many projects here and there. He has been able to attract some industries to the state. You talk about the syringes industry, pencil industry, the fertilizer blending plant and the airport for the state. You hear of the industrial zone. In terms of roads, he is also doing very well.
Even the Uyo-Ikot-Ekpene road they are talking about, he has added one lane to it. He has done a sizeable part of it. It was just that during the dry season in December, which we are always particular about, we didn't know it was Julius Berger that went on holiday.
So some people thought it was abandoned, not knowing it was the contractors that went on leave. When we met with the governor, he explained all of these to us and we were happy to pass a vote of confidence on him again. But even after the fantastic meeting, some stakeholders, who are not even from the senatorial district, went about to issue statements.
We can understand because if they were busy farming, running a business or even adding anything of value to the system, they will not have time for such mischief.
Is it true you are planning to leave the PDP?
As the Minority in the Senate, I believe you have to think less of your party and the nation. I have never seen a Senator who will not work with the President. We meet to smoothen the rough edges. The nation is at war and we have to work on a bipartisan level to rescue us, even from recession.
I think all my efforts in these directions confused some people. It makes some think that I am planning to leave the PDP. But the truth is I have nowhere to go. If you compare the two parties, you will realise the APC is a conglomerate while the PDP is a political party. So, who should go to where?
There are always reports you left Akwa Ibom heavily indebted. How true is that?
That is very untrue. You see government is a continuum. I cannot make a categorical statement on the debt profile of the state. The current governor is in the best position to do that. Luckily, he was also the Secretary to the State Government (SSG).
But what I can recall is that we never took loan beyond N80bn and we have paid down seriously. Akwa Ibom is not among the very indebted states in the nation. Some of these things are said by politicians bent on tarnishing the image of the government and the former governor.
And you know when you take over a government you inherit the assets and liabilities. In my time, we did a lot of federal projects and roads. We left behind a lot of things for which nobody paid us. We were owed N100billion of Paris Club refund.
With the benefit of hindsight, were there things you think you should have done while in office?
Anything that I would say I should have done would mean there was no money. I did everything I wanted to do because I went there with a lot of focus. I wanted to change the physical and mental structure of the state.
The youths in Akwa Ibom are more united than what our elders used to be. Of course, the mentality has changed from the houseboy, house girl syndrome. That is because of the free education policy that I introduced. Of course, the physical landscape has changed too. You get to the state and see many projects and transformations. You see a lot of human capital development in the state a lot.
Can you compare life as legislator and governor?
Both are very challenging because you don't have time for your family and children. Both take you across the nation. Lawmaking comes with oversights and you travel a lot within different sectors of the nation.
Both are challenging but being a governor means you are always hypertensive on a daily basis.
The PDP appears uncoordinated with the forthcoming presidential candidate…
…Just like the APC
…But the APC has an incumbent who is likely to seek reelection
But the PDP has many presidential candidates too. It shows you the beauty of democracy. It shows the PDP is still the beautiful bride. That is why many are seeking for its presidential ticket.
Source: The Nation