– Canvasses for massive mobilization ahead of the continuous voters' registration exercise.
Ahead of the continuous voters's registration exercise going on in Nsit Atai LGA across the ten(10) wards, Hon. Mark Esset today met with the leaders of the various communities in his ward 9. The lawmaker gathered the village heads, village youth leaders, village council chairmen, ward chairmen and secretaries of all political parties aswell as party leaders across board.
In his words, Mr. Esset stressed that the essence of the parley was to unify all political parties in the ward ahead of the continuous voters registration exercise. According to the lawmaker, the exercise should be taken as a serious matter, political party regardless, as the sole aim of the exercise is to increase the voters' strength of the ward.
"Let us put party aside, because political party is only but a vehicle to choosing leaders. We must put the collective interest of the ward first.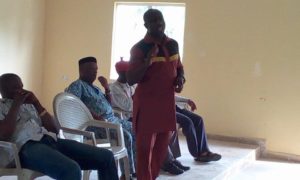 Let us go back to our families, villages, markets, churches and mobilize massively for the voters registration exercise. We need to triple the number of voters in our ward. I want to promise that asides all the projects I've brought to the villages in ward 9, Governor Udom Emmanuel has promised to give us a road linking Idiaba, Ibakang, Adia down to Ndukpuise come 2019. This is the kind of leadership we all crave for because good roads, water etc does not know any political party". He stressed.
Responding, the attendees all affirmed that the resolution reached at the meeting is in the best interest of the ward. The different speakers promised to adhere to the advise and work accordingly.
The APC ward chairman and secretary, Mr Godwin Authur and Mr. Akan Akpakwa thanked the House member for his thoughtfulness and interest in the growth of the ward. They eulogized him for his numerous good deeds in the ward and the constituency especially the countless water projects and civic centres aswell as personal welfare packages and assistance to constituents regardless of party affiliation. Mr. Akpakwa promised to always promote good governance at the expense of party, while Mr. Authur thanked the assemblyman for making government presence felt across the seven(7) units and villages in the ward.
Mr. Esset ended the meeting by inaugurating committees to ensure the success of the registration exercise and mobilized the leaders appropriately to ensuring a hitch-fee exercise.