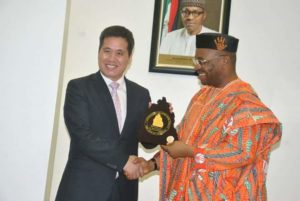 By Ima Akpabio
Akwa Ibom State Governor, Mr Udom Emmanuel, has informed a delegation of Chinese investors that the State Government will explore ways of cooperation with the Chinese government in order to strengthen bilateral relations.
He stated this while playing host to the entourage led by the Chinese Ambassador to Nigeria, Dr. Zhou Pingjian, who called on him on Friday, at the Government House, Uyo.
Governor Emmanuel expressed delight to the team for visiting the state first in their tour of the country, saying that the people from the Republic of China have been good friends with Nigerians and to Akwa Ibom people in particular.
"We have developed your people in terms of human capacity and showcased them to the whole world. It gladdens my heart that, if you go to anywhere in the world, if you don't see a Chinese, it means that place is not good enough. I'm very delighted that you take interest in us."
Gov Emmanuel further said that China is a role model country, stating, "During a comparative analysis in terms of population of Africa, Nigeria, Asia and China, there is one aspect that we didn't copy from you. We started very well but we dropped along the line. In those days, if you want anything in Nigeria, we used to have what we called 'Aba Made' while the Chinese had 'Made in Shanghai'. The Chinese continued in the domestic market but we lost out.
"Chinese economy started developing from the domestic market. They turned their population to something that propelled the economy to be the biggest in the whole world but Nigeria, at a point, dropped the appetite for western products."
The State Governor assured the team that with the current population available in the local market, Akwa Ibom's domestic market can improve on the economy of the Nigerian market with the population of 170 million people.
According to him, cassava consumption in China is huge. "With cassava, we can export about $2-3billion. Cassava can be planted in Akwa Ibom State without fertilizer and it will yield superlatively because of the vegetation.
"Bamboo in China is a whole lot of money but in Akwa Ibom State, bamboos grow naturally. So I will like to see how we can partner so that we can turn some of these economic trees that God gave us naturally. Bamboo has over one thousand uses and China alone has put bamboo to more than 300 uses everywhere.
"The location of Akwa Ibom State can serve as transhipment to the entire Gulf of Guinea. I don't see why we cannot have a hub here where we can operate regional flights to the rest of West Africa. It is a global village."
Governor Emmanuel informed the Chinese Ambassador of the vast opportunities that exist between the two countries, saying that in Akwa Ibom, Chinese holds the big constructions. "We are developing a Deep Sea Port and we have a natural draught of 17.3m which they don't need to do anything.
"The investment they do during the port transition in Lagos, if they invest same in Akwa Ibom, they will reap five times in return. It takes three months to clear goods in Lagos. If a modern sports facility is set up here, it can take 48 hours to clear goods in Akwa Ibom State and that can justify and fast-track the growth of the economy not only in Akwa Ibom State and Nigeria but the entire Golf of Guinea. We have the longest shoreline of 129km in the whole of Nigeria, and as of today, we are the most peaceful state in the country."
The Chinese Ambassador to Nigeria, Dr Zhou Pingjian, in his remarks, said he was pleased at the level of hospitality, understanding and support given the Chinese community in the state, adding that he was delighted to see everyone in the state happy, which shows the level of fulfilment in the state.
He used the occasion to inform the Governor of the Forum on China-Africa Cooperation (FOCAC) summit coming up in September this year in Beijing and expressed belief that it will give new opportunities to grow China and the Nigeria relationship.
Amb. Pingjian disclosed that China and Nigeria have enjoyed cordial relationship since 1971. "We believe that good relations should be strengthened in all levels of government. So, one purpose for me today is to explore new ways for cooperation between the partners at the national levels.
"In 2017, China's input for Nigeria, according to the statistics of the Chinese customs, increased by 79.1 percent. We are very happy to see the good momentum but we cannot be too complacent because the number is still very small comparing the size of Nigeria's economy to China's".
"Last year, China's import for Nigeria was around 1.7 US Dollars though it's increasing very fast, and China still enjoys a lot of trade. But the Chinese government is not in the position to pursue trade."
He further disclosed that measures have been put in place to promote 'made in Nigeria' products and one way to boost made in Nigeria products, according to him, is to make Nigeria partner with China, saying, " we also wish to use this opportunity to explore other ways for us to strengthen our cooperation, not only in the infrastructural sector but also in the manufacturing and agricultural sectors.
"We believe China's cooperation with Nigeria is very beneficial and we have achieved a lot but compared to the size of our economy and the potential, there are still huge potentials to tap in to. Here we have the Dakkada philosophy which is the first word in the Nigeria's National Anthem 'Arise'.
"Dakkada 'Arise' is also the first word in the Chinese National Anthem. While Nigeria's National Anthem says 'Arise O Compatriots', Chinese National Anthem says 'Arise You Who Refuse To Be Slaves', so we sincerely believe that China and Nigeria share a lot. With China and Nigeria arising together, we can bring more benefits not only to the people of our society but also to channel cooperation to the world."