PRESS RELEASE
SENATOR GODSWILL AKPABIO IS IN GOOD STANDING WITH THE PARTY
There have been insinuations on various media that the former Governor of Akwa Ibom state and current Minority Leader of the Senate, Chief Dr. Godswill Akpabio CON is planning to defect from our party to another party. This rumour has festered for more than a year without any iota of truth to its support. But like old wine, this rumour has continually sounded better with every passing day, creating new annexures, spurs and addenda to the original version.
As the leadership of the Party at the state, we have no reason whatsoever to nurse such fears about the Distinuished Senator and immediate past Governor, who has continued to stand with us through the political persecution that our party has been bountifully served by the ruling party at the National. Additionally, Sen. Akpabio is not only a firm believer, but is an active participant in the re-birth agenda and strategy of our party.
It is common knowledge that he is not a lily-livered person who shifts base at the slightest discomfort, rather he is a dogged fighter who, once convinced about a course, leaves nothing to chance in pursuit of his conviction. He has actively taken part in all party activities required of him at all levels from ward to the National and therefore is in a very good standing with our great Party, The Peoples Democratic Party.
We hope that this puts paid to the wicked speculation.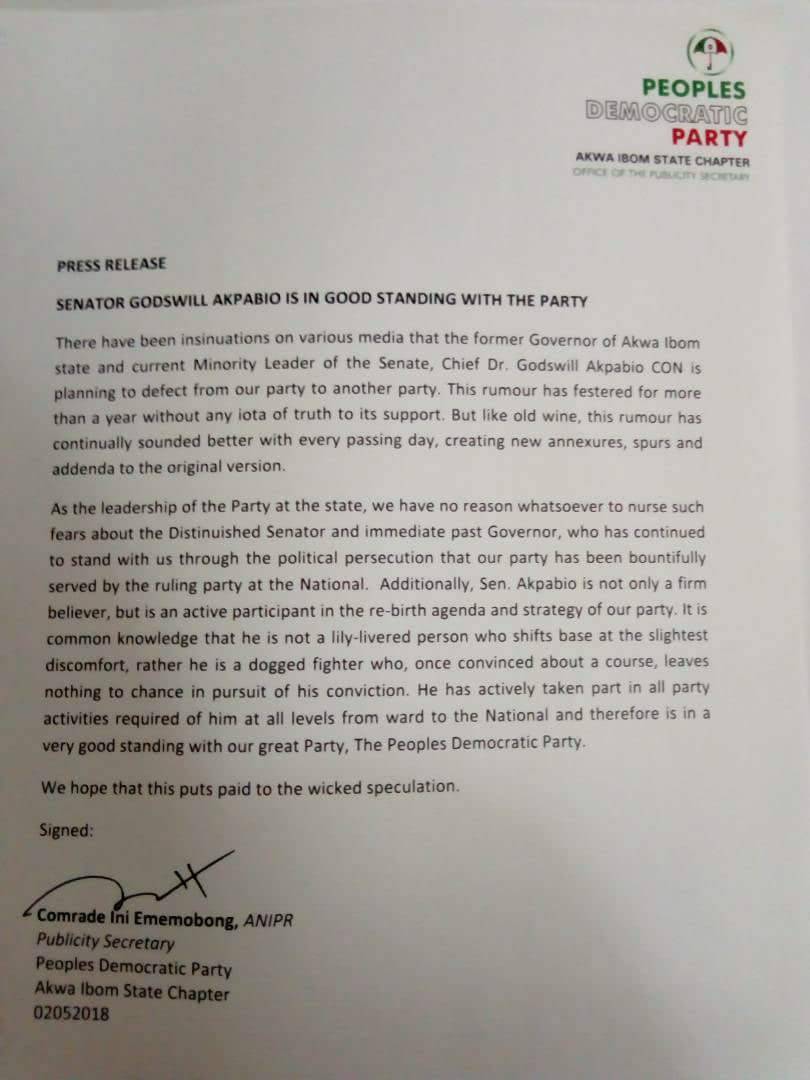 Signed:
Comrade Ini Ememobong, ANIPR
Publicity Secretary
Peoples Democratic Party
Akwa Ibom State Chapter
02052018