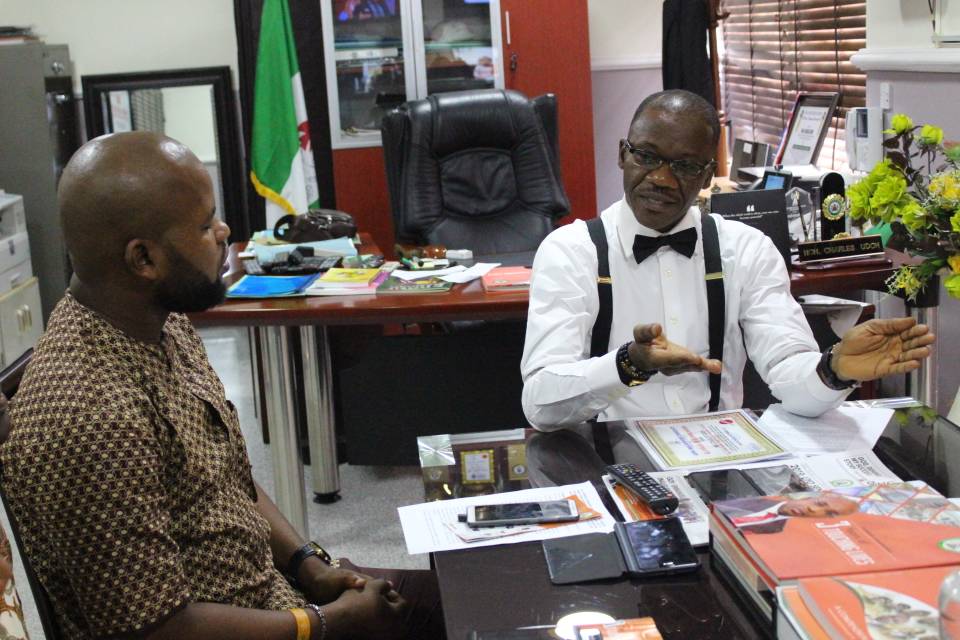 …..AKS INFO BOSS, CHARLES UDOH
Governor Udom Emmanuel's drive towards diversification of the state economy is fast yielding positive results.
This much is demonstrated with over 10,000 indigenous business entrepreneurs coming together to stimulate the state economy away from the hitherto Civil Service orientation, under the auspices of Akwa Ibom Business Community.
The Commissioner for Information and Strategy, Charles Udoh, made this known in Uyo while playing host to the executive members of Akwa Ibom Business Community who were in his office to update him on the activities of the body as well as present him with a Certificate of Commendation as an epitome of Excellence and a rare Legend in the fight for the cause of Akwa Ibom project and work of humanity.
Visibly excited and overwhelmed by the merger of the entrepreneurs towards providing a formidable base for the expansion and growth of their businesses in the state, the Information Boss said, the cooperative development spirit, was a clear testimony of the positive yields of Governor Emmanuel's diversification efforts and commended the business community on the laudable initiative.
Udoh emphasized that, by keying into the economy diversification-drive of Governor Emmanuel, the group has greatly impacted on the wealth creation, poverty alleviation and job creation agenda of the present administration and pledged to lend both his wealth of experience in the business world and financial support to ensure the success of their forthcoming Business Support Breakfast scheduled for July 2018 at Eemjm hotel.
Speaking the President of Akwa Ibom Business Community, Lordswill Umani expressed gratitude to Governor Udom Emmanuel for raising business consciousness of the people through his Dakkada ideology and the creation of enabling environment for businesses to thrive in the state including opening-up of roads and provision of grants and interest-free loan facilities for Small and Medium scale Entrepreneurs, SMEs.
He said with the new enterprising spirit and orientation so many indigenous businesses has arisen and the body now parades a rejuvenated business community with a numerical strength of over 10,000 indigenous business persons.
The group which hinted the Information Boss of plans to organize a historic reception in honour of Governor Udom Emmanuel for his numerous strides especially towards the revival of businesses in the state, presented the Commissioner with a certificate of Commendation in recognition of his sterling performance and a Letter of Nomination as the Chief Adviser to Akwa Ibom Business Community.
Highlight of the event was the presentation of the Compendium "Governor Udom Emmanuel, 3 Years of Touching Lives" to the group by the Commissioner for Information and Strategy, Charles Udoh.