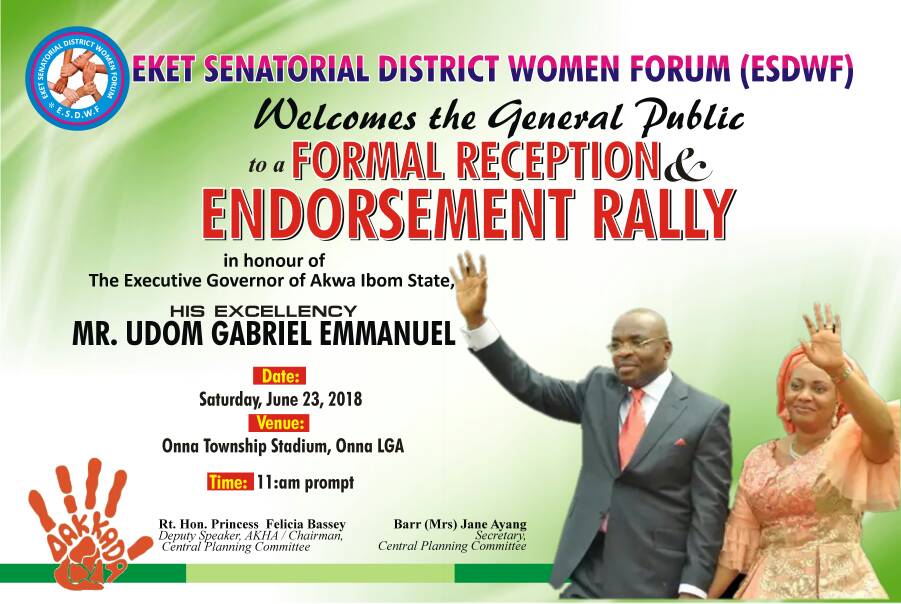 Eket Senatorial District Women Forum (an apex Socio-political Organization for Women of Eket Senatorial District) invites Members of the State Executive Council, the Speaker and Members of Akwa Ibom State House of Assembly, Chairmen of Local Government Areas, Stakeholders of Akwa Ibom Project, Captains of Industry, Traditional Rulers, Heads of Security Agencies, Senior Citizens, Various Socio Cultural and  Political Organizations in the State, the Media and the General Public to a Civic Reception and Endorsement Rally in honour of His Excellency, Mr. Udom Gabriel Emmanuel, as follows:-
Date:        Saturday, June 23, 2018
Venue:     Onna Township Stadium, Onna L. G. A
Time:       11am Prompt
The historic event will be chaired by Engr. Uwem Okoko – MD/CEO, HENSEK Civil Engineering Builders, while Her Excellency, Deaconess (Mrs.) Martha Udom Emmanuel is to serve as the Mother of the Day. The Deputy Governor of Akwa Ibom State, His Excellency Mr. Moses Ekpo, MFR is to Grace the occasion as the Father of the Day.
Speaking with Newsmen on the significance of the Civic Reception in honour of His Excellency, the Chairman of the Central Planning Committee/Deputy Speakers, Akwa Ibom State House of Assembly, Rt. Hon. Princess Felicia Bassey, noted that Eket Senatorial District Women were impressed with the significant strides the Governor has recorded across critical Sectors of Economy, especially execution of life – touching projects, enthronement of all-inclusive purposeful leadership, a development she maintained has silenced all his critics and naysayers.
According to Princess Felicia Bassey, the Governor's divine emergence at the time when the country's economy was nose diving and his artful and professional competence in maneuvering the State out of the quagmire of recession; establishment of industries, empowerment of Women through various entrepreneurial programmes are testimonials that the Governor is a special gift from God to Akwa Ibom People and a pride of Eket Senatorial District.
The Chairman of the Central Planning Committee added that the Governor has given Akwa Ibom Women a fair share in his administration as evidenced in the reasonable number of Women occupying various elected and appointed political positions, provisions of interest – free loans and other grants are achievements that have endeared the women of Eket Senatorial District to the Governor. Princess Felicia Bassey also stated that Her Excellency, Deaconess Martha Udom Emmanuel, Wife of the Governor has used her Pet Project, Family Enhancement and Youth Re-orientation Programme (FEYREP) to affect many lives positively, especially in the area of building houses for widows and sponsorship of Medical bills for Men and Women of the State.
The deputy Speaker said these and many more impressive strides are the reasons, they are celebrating and endorsing the Governor for a Second Term, Saturday.