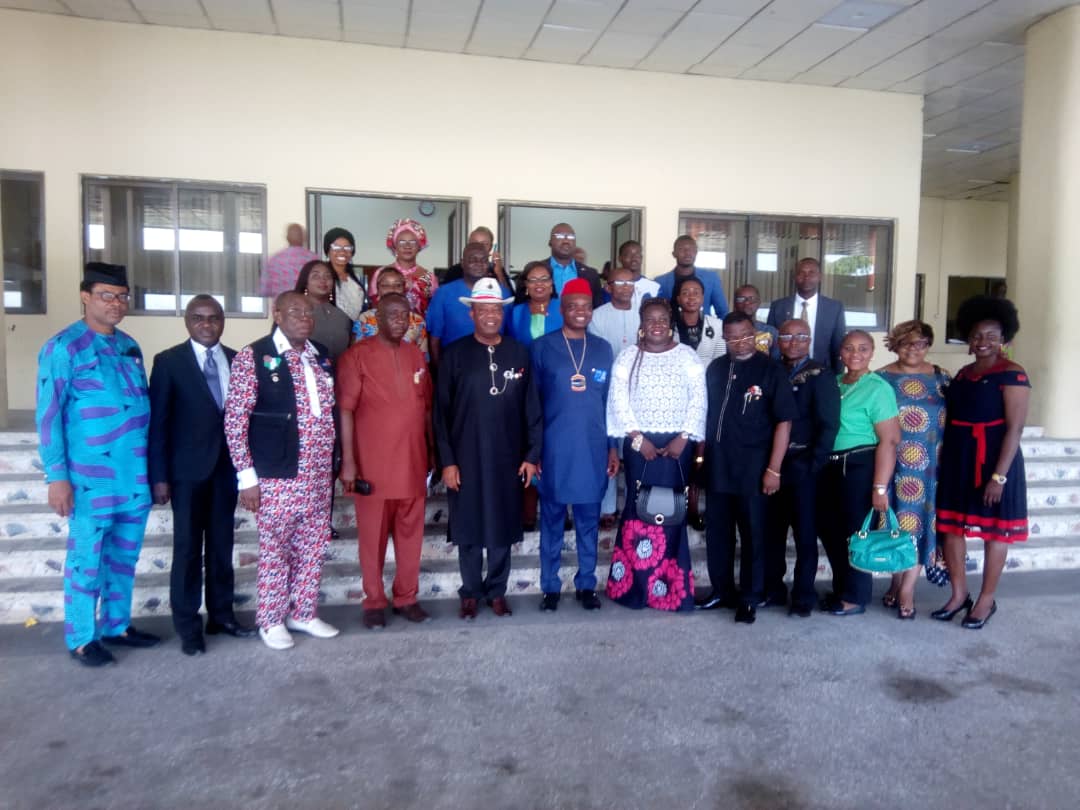 By ANIETIE ESU
"The Governor of Akwa Ibom State, His Excellency, Mr Udom Gabriel Emmanuel is keenly interested in transforming the State into Singapore of Africa", the Secretary to Akwa Ibom State Government, Dr Emmanuel Ekuwem said this while welcoming members of Rotary International,District 9142 Nigeria, who were in his office on a courtesy call at the weekend.
Dr Ekuwem said the Governor's industrialisation drives are geared towards taking the youth of the State off the street and give them job in order to have a sense of belonging.
The SSG himself Honorary Rotarian, said the efforts of the club in contributing to the advancement of the society  was in line with the vision of the State Governor.
According to him, the Governor's industrialisation drive and revolution in agricultural, health and educational sectors are all underpinned by the fact that when petroleum products will no longer be largely patronised, the State will have something to fall back on.
He pledged the readiness of the State Government to partner the club in impacting positively on the lives of "our communities" and described Rotary Club as a civilised organisation and a veritable partner in progress.
The District Governor of Rotary Club International, District 9142 Nigeria, which comprises of the 5 Eastern States and 2 South -South States of Akwa Ibom and Cross River, Dr Dan Ajawara said they were in the SSG'S office to seek partnership of the state government in the execution of life touching projects in the areas of health and education, among others.
Dr Ajawara, flanked by his wife, Ijeoma, commended Akwa Ibom as the most beautiful and peaceful State in the country.
"Rotary International works with Rotary Foundation.The Rotary Foundation is what we used in touching lives in our communities. Every Rotary year, we do more than Seventy-One Million Dollars worth projects worldwide," the District Governor stated.
Highpoint of the event was the decoration of Dr Ekuwem with the Rotary Club paraphernalia and the presentation of compendium of projects commissioned by the club to the SSG.
Present at the visit were the Assistant Governor of Zone 7, Rotarian Val Attah; the District Governor-elect, Rotarian Sam Uko; and  former District Governors, among others.