Obviously, PDP has a unique manner of inculcating, integrating and accommodating diverse interests and intellectuals.
Even when the dreams of becoming a Governor in 2015 and Senator in 2019 were shattered, the State Leader of the party/AKS Governor Deacon Udom Gabriel Emmanuel in his magnanimity has appointed a former commissioner for Justice Barr. Ekpenyong Ntekim as Chairman Governing Council board of Akwa Ibom State Polytechnic, Ikot Osurua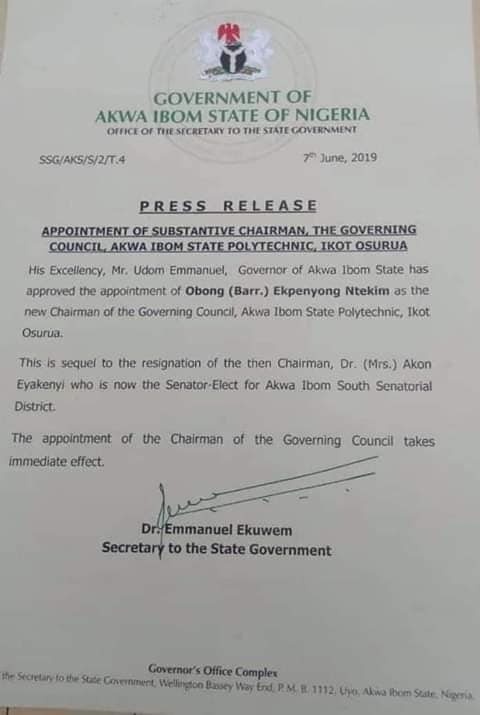 Ntekim takes over from Mrs. Akon Eyakenyi, a Former Minister of the Federal Republic and presently Senator-Elect, Eket Senatorial District. A well deserved. Barr. Ntekim is globally adjudged as highly cerebral, competent and experienced.
Akwa Ibomite are optimistic that Ntekim will change the narrative and set a nice template where the lost glories of the institution will be redeemed, it is worthy of note, that this appointment as another integration of Oro nation in the present administration.
So far, Governor Udom Emmanuel has given Oro a sense of belonging by way of appointments, infrastructural renaissance as well as human development compared to the previous administration.
Congratulations, Barr. Ekpenyong Ntekim (ESQ)