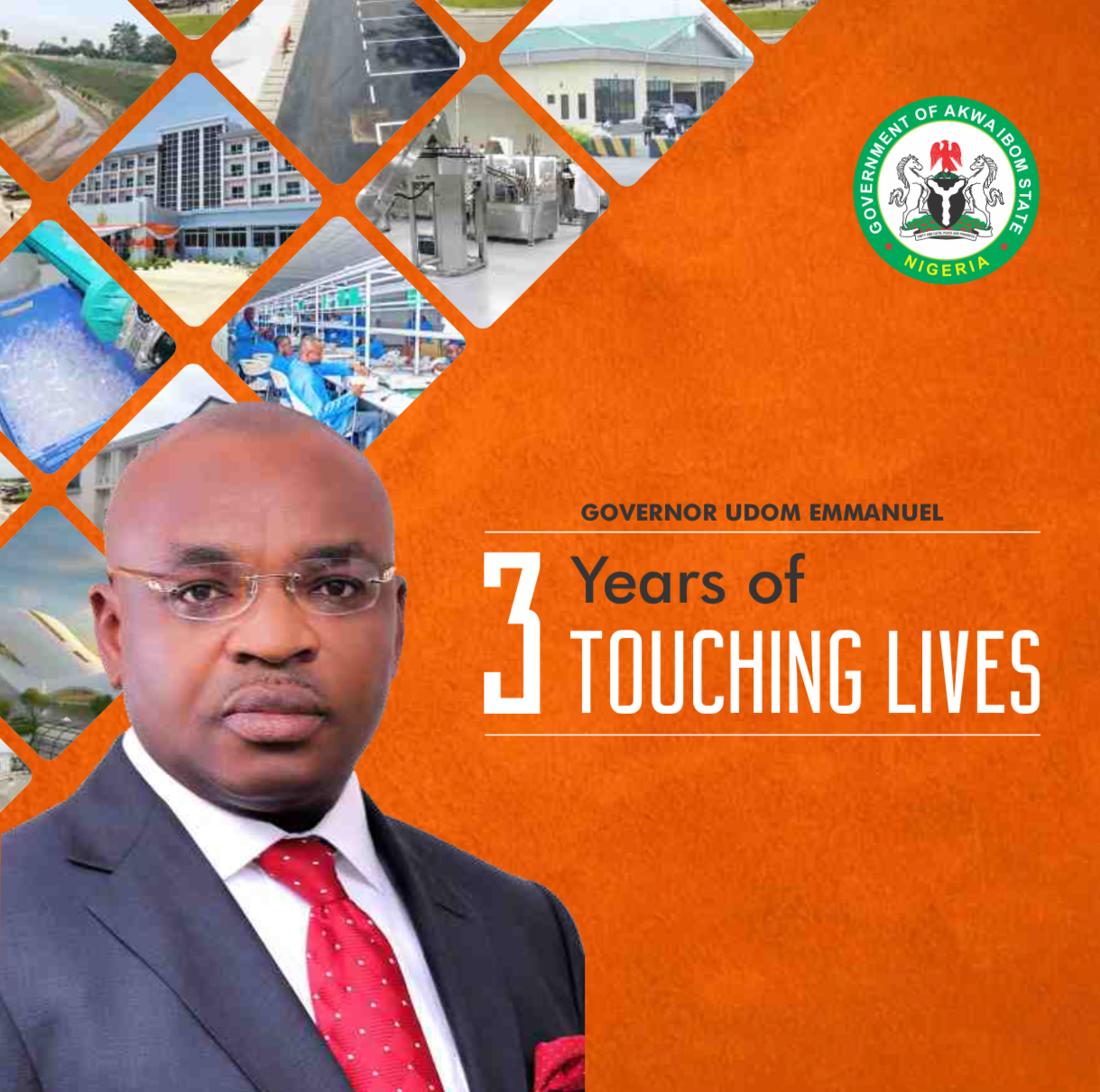 Aniekeme Finbarr
Workout any iota of doubt, in 3 years, Governor Udom Emmanuel of Akwa Ibom State has delivered good governance, life touching projects, peace, political cohesion, rededicated the state to God and managed a depressing recession. It may sound easy but like the Unique Brothers would sing, to be a Governor and to perform well…AMEM?
Statistics shows that Akwa Ibom is second on the table of the few states in Nigeria that attract foreign investors. The industrialization agenda is blooming with the Jubilee Syringe Manufacturing Factory, the largest on the continent and the Metering Solutions Factory both commissioned and running…AMEM?
The Jubilee Syringe Factory was Commissioned by Vice President Yemi Osinbajo on September 23,2017 produces One million syringes daily. The syringe Factory currently employs at least 70 Akwa Ibom people, who were trained in Turkey with just five experts working there. Currently, more Akwa Ibom youths are abroad undergoing training and will return to boost the manpower needs of the company, as the factory looks to expand in future…Amazed by this development, Vice President Osinbajo, who is of the APC said Governor Udom Emmanuel is a clever Governor…AMEM?
To procure & distribute free text books & other
educational materials; pay subventions to public primary & secondary schools; pay over N600 million WAEC fees for our children in public secondary schools annually…AMEM?
To upgrade the Akwa Ibom State College of Arts & Science, Nung Ukim, Ikono to a College of Science and Technology. As well as provide significant support for the establishment of the Nigerian Navy
School in Oruk Anam and Army School in Etinan…AMEM?
As we speak there are Local Government Areas that have not known road construction in the last ten years, some since they were born. They now have completed or ongoing road projects…AMEM?
The people of Itie Ikpe, Nkana Itie Ikpe, Ikpe Ikot Nkon, Obotme, Ukpakon, Edem Urua, Ikwueme, Okpoto, Ikpanya in Akwa Ibom State did not dream that in their lifetime, they will have a tarred road take them home. Since they were born, the Ikpe Ikot Nkon – Obotme – Arochukwu road is the first tarred road in the axis…AMEM?
Our brothers in Abia State are so happy, from Amuvi, Asaga, Obinkita, Ibom, Ututu to Ihechiowa, the story is the same, there is a tarred road now linking Akwa Ibom to Abia State. What a record, Oh Governor Udom Emmanuel…AMEM?
The 14.1km Ikpe Ikot Nkon – Obot Mme – Arochukwu road in Ini Local Government Area is almost completed and the people of Arochukwu in Abia State have already offered a chieftaincy title to honour Governor Udom Emmanuel in appreciation of the road, which ends at the boundary between the two states. He politely declined…AMEM?
Work is on-going in the following projects: the 11,00 hectares coconut plantation; and 16,000 hectares cassava plantation in 15 LGA's. Youths numbering 450 have been trained in cocoa maintenance, shedding and pruning and they are using these skills to grow cocoa all over the state. We have also subsidized fertilizers and we have given oil palm & cocoa seedlings to farmers all over the State. Other projects include the Akwa Prime Hatchery, which produces 10,000 day old chicks weekly, the cultivation of over 100 hectares of rice, and the Free Improved Corn seed distribution program for farmers…AMEM?
Akwa United football Club, for the first time in over twenty years of her existence was inspired to fourth position on the National League table under the Udom Emmanuel led administration…AMEM?
Akwa United played her maiden international tournament, the CAF Confederations Cup following the Dakkada philosophy the new management of the club put together by Governor Udom Emmanuel imbibed…AMEM?
Akwa United won her first ever major trophy in 2016 after Governor Udom Emmanuel repositioned the club carting away the FA Cup. Akwa United made history by winning the maiden Aiteo Cup in 2017 is currently playing Continental football this year 2018 at the well maintained Godswill Akpabio international stadium…AMEM?
The second Akwa Ibom Youths Sports Festival just started after the very successful maiden edition where all Secondary schools are expected to participate giving a window for talent hunt. Over 10,000 kids playing in more than 20 sports…AMEM?
Eket Stadium is currently under construction in fulfillment of Governor Emmanuel's campaign pledge. The artificial Turf and all modern fittings needed to build the Eket Stadium and revamp the Uyo Township Stadium have been delivered and received by the State government…AMEM?
Governor Emmanuel has built a sports complex at West Itam Secondary school opposite the NNPC Mega station along Uyo Ikot Ekpene Road. 9 more to go…AMEM?
The female team of Akwa Ibom State, Ibom Angels made it to the FA Cup final and finished second, which is tremendous improvement on her past records….AMEM?
There is a revival of our football supporters culture as more and more enthusiasts are trooping to the stadium to watch live matches since Governor Emmanuel took over….AMEM?
Governor Udom Emmanuel is working and achieving so much success in developing our sports sector in less than three years…AMEM?
Governor Udom Emmaniel is currently undertaking the construction of over 50 roads in the Uyo metropolis and environs…AMEM?
Akpaube Close, Akpa Ube Lane off IBB Avenue, Ekperi Close by Akpaube, Idak Ukpa Street, off Aka Etinan Road, Afaha Atai village crescent road, in lbesikpo Asutan Local Government Area, Vision close in Nsukara Offot, Udotong Ubo Lane, Akparen Street, Nung Atai Street leading to Christian Secondary Commercial School, Ibiono Lane, Unit D line in Ewet Housing Estate, Ediye Samuel Street, off Edet Akpan Avenue, 12.Akpan Ndem Street by Ewet Housing Estate, Unit G Line in Ewet Housing Estate, Eden Udo Close, roads around Atan Offot from Aka Etinan to the back of the State Secretariat and another spur to Goodluck Jonathan Boulevard, Ring roads 2 now wear a new look…AMEM?
Information Drive was completed and commissioned, Cornelia Corneli College Uyo were constructed and commissioned, the Nsikak Eduok Avenue by Oron road, Edet Akpan Avenue intersection flooding has been conquered as Governor Udom Emmanuel completed an underground tunnel from Edet Akpan Avenue through Udo Udoma Avenue linking it to the Tropicana drainage, down into Obot idim Ibesikpo stream as the outfall…AMEM?
The construction of the 3.5km Ring Road 2 project is also ongoing extending from the dead end of Udo Udoma Avenue across Aka community through Afaha Offot to link up Abak Road. You should know that road…AMEM?
Two days after taking his oath of office to Governor Udom Emmanuel paid a visit to the 78 years old Premier St. Luke's Hospital Anua. As a dividend of that working visit, a New Administrative Storey building block named after Dr Ann Ward was built and Commissioned by Governor Udom Emmanuel…AMEM?
Two other buildings were completely renovated including the Gynecology block and the Male block. Internal roads in the Anua hospital were tarred and the perimeter fence renovated. All these achieved in a record 70 days in office…AMEM?
The Etinan General Hospital has been completely rehabilitated, upgraded, and equipped with modern hi tech health care facilities…AMEM?
The Ikono General Hospital has been overhauled, refurbished, repositioned and upgraded for efficient secondary Healthcare delivery while the Ituk Mbang General Hospital has been up for remodeling and upgrading courtesy of Governor Udom Emmanuel…AMEM?
Considerable medical supplies and consumables were distributed to General hospitals including Immanuel Hospital Eket…AMEM?
The 4.6km School of Arts and Science Road Nung Ukim Ikono has been completed with side drains and is ready for commissioning. The Gully Erosion that threatened to completely destroy the major access road linking Ikono and Ini has been arrested by the Udom Emmanuel administration…AMEM?
The 19.3km Anua Mbak Ishiet road in Uruan traversing 7 villages including, Anua, Ifa Ikot Okpon, Mbak, Ikot Otoinye, Ekim Enen, Adadia, and Ishiet is progressing and the 4.0km Mbiatok – Ekritam – Mbiaya Uruan road, criss crossing Ita Uruan, Ikpa and Mbiakong villages is steadily advancing…AMEM?
The 8.5km Nduetong – Oku Ibiaku Uruan – Ekritam road with spur to Ini Uruan, that passes through the Uyo City Polytechnic to Planet FM 101. 1 premises is in the works, valuation of property that will be affected by the road is ongoing and sorting this out to enable compensation payment to owners will eventually get the project on course. Development is not a tea party…Ebo AMEM?
No Governor in the current class can stand shoulder-to – shoulder with Governor Udom Emmanuel for roads constructed amidst the terrible economic recession Nigeria is enmeshed in. Governor Emmanuel's administration is currently building five dualized roads to completely link up the entire State…AMEM?
The dual carriage 20km Ekom Iman – Etinan road traversing Ikot Oku Ikono – Asuna, Ishiet Erong, Etinan Urban to the roundabout by Etinan Institute. Then the next stretch of 29.0km Etinan – Ndon Eyo road, also dualized, extending through Ekpene Ukpa, Efa, Mbioto, Ikot Oku Ekanem, Awa, Mkpok to Ndon Eyo…AMEM?
The dualization of the 14.5km Uyo – Oron Road (Airport Road – Okopedi Oron – Oron Road by East West Road) cutting across Ekpene Ukim, Ikot Asua, Ikot Etieidung, Nung Atai Eta, and Okopedi Okobo in Nsit Atai and Okobo Local Government Areas…AMEM?
The 13.5km Okopedi Okobo – Oron Road proceeding from Nung Atai Eta, Itak, Uyatie, Edeghi Awa Ikpi, Otti Oro and Uya Oro villages in Okobo and Oron Local Government Areas…AMEM?
The 23. 5km Eket-Etinan Road with three bridges is progressing and cuts across Etinan Urban, Afaha Nsit, Ndiya, Itreto, Okon Eket, to Eket Urban by Okpongkong Bridge…AMEM?
The 19.5km Eket ibeno road which opened up access from Marina Junction Eket to Edebok, Esit Urua, Mkpanak and Ukpenekang villages which has been commissioned by Governor Udom Emmanuel…AMEM?
All these major roads…Ebo AMEM?
Governor Udom Emmanuel is also continuing the inherited dualization of the 25 km Uyo – Ikot Ekpene Road and is determined to complete it…Ebo AMEM?
Obot Akara and Oruk Anam Local and Areas just got their first first major Roads in decades. The 6.4km Nto Edino – Ekwere Azu Road linking Mbiaso and Nto Edino villages to Ekwere Azu border community of Abia State has been commissioned. Two bridges to replace the collapsed ancient of days bridge on that road is 90% complete. Trade, Commerce and social interactions between the two States is now in full trot…AMEM?
The construction of 42. 195km Ikot Ekaide – Ikot Okoro – Ikot Ibiritam – Ekeffe – Ikot Akpan Afaha Road sections 1&2, linking Oruk Anam to Ukanafun and the East West Road is on course…AMEM?
Another 28km Abak Nsekhe – Ikot Akpa Nkuk – Ikot Etim – Ikot Ikara joining up to Ikot Ibiritam, also in Oruk Anam has been awarded and work has begun on that road giving Oruk Anam a sense of inclusion and belonging…AMEM?
Emmanuel has continued to give premium coverage for Education, even in the face of the harsh economy, facilitating the advent of three new Secondary Schools in the State…AMEM?
The Nigerian Navy Military school (NNMS), Ikot Ntuen, Oruk Anam Local Government Area is set for commissioning…AMEM?
The newly established Army Command Science Secondary School in Efa, Etinan Local Government Area, which was refurbished and equipped to replace the Salvation Army Secondary School. Are you aware? …AMEM?
The Model Girls Secondary School, Ikot Ekang, Abak Local Government Area which Governor Emmanuel commissioned and which has since commenced operation…AMEM?
There is also the Obio Akpa campus of the Akwa Ibom State University, in Oruk Anam, where six major projects commissioned by the governor include: a Digital Language Library, a commercial farm palm oil mill, a commercial farm feeds mill, vegetable screen house, Ultra Modern Mass Communication Studios and a magnificent Arts Theatre…AMEM?
The entire stretch of internal and access roads in the Obio Akpa campus are under construction complete with side drains…AMEM?
The College of Education, Afaha Nsit, Nsit Ibom Local Government is recording a massive face lift, as access and internal roads are in advanced stages of construction. Governor Emmanuel is committed to creating a conducive atmosphere for learning by boosting infrastructure in the tertiary institutions…AMEM?
The ultra modern Administrative Block in Akwa Ibom State University, Ikot Akpaden was commissioned by Governor Udom Emmanuel and do know that the construction of internal and access Roads have commenced in the Permanent site of AKSU in Mkpat Enin?…AMEM?
The University of Uyo just got her first Arts Gallery building courtesy of the first family to honour the memory of Late Prince Bernard Sampson Idiong and Professor Stella Idiong, parents of Her Excellency, Mrs Martha Udom Emmanuel? Isn't this gesture a manifest proof of their love for education?…Ebo ke AMEM?
The Udom Emmanuel administration has sustained the free and compulsory education from Pre Primary to Senior Secondary 3, and undertakes payment of Senior Secondary Certificate Examination, SSCE, fees and running into hundreds of millions for all indigent students…AMEM?
As part of the State's people-oriented programme free eye care and treatment programme was carried out across the State, in conjunction with MTN Foundation at Ibom Hall. At that programme, 15,350 people were screened for various eye diseases, 1,150 eye surgeries performed, and 2,000 eye glasses distributed free of charge. This program was carried out through FEYReP, the signature programme of the governor's wife, Mrs. Martha Udom Emmanuel…AMEM?
In pursuit of animal protein sufficiency Akwa Prime Hatchery with a capacity to deliver 540,000 day old chick per month was constructed and is still producing…AMEM?
Salaries of government workers are paid within a month and government is touching every sector in many remarkable ways.
What's the secret? Abasi nnyin anyedo the source. To be a performing Governor…AMEM?