The new faction is named Reformed-APC (R-APC) with Buba Galadima appointed as the Chairman.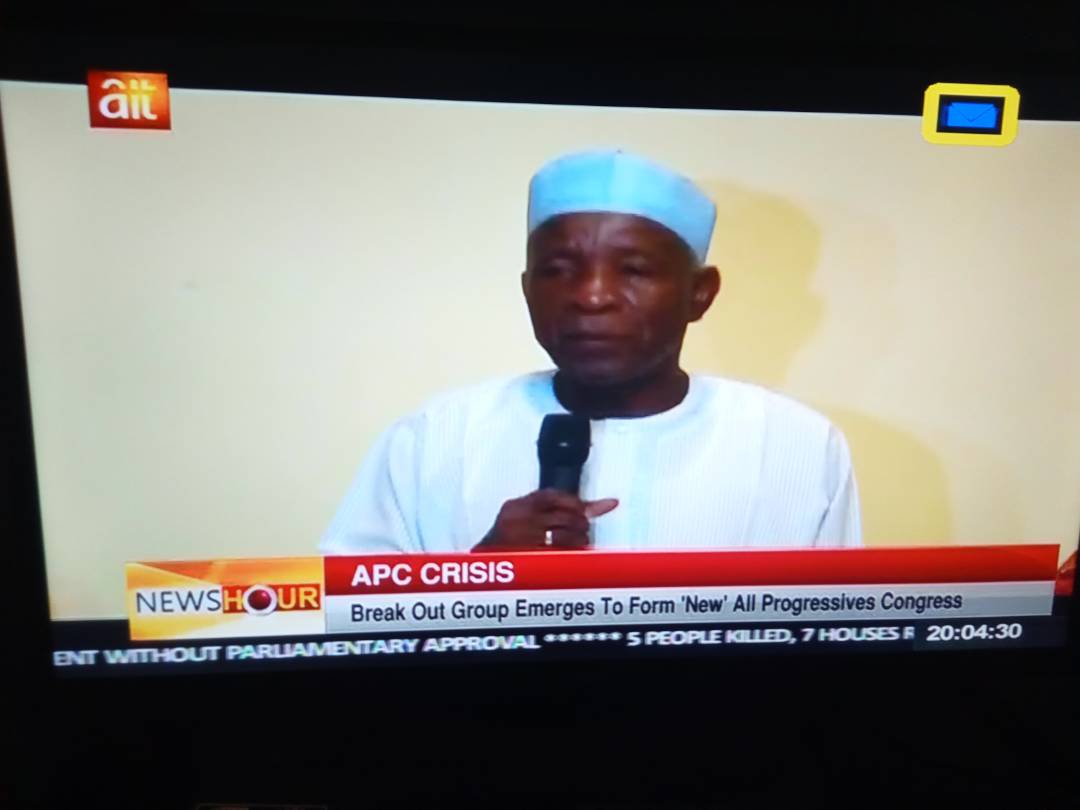 The new faction is made up of aggrieved members of the APC, mostly from the National Assembly.
Briefing journalists after their meeting at the Sheraton Hotels in Abuja on Wednesday, the chairman, Galadima, said the new faction was formed due to the failure of the APC.
They described APC as "severely underperforming and unable to meet its potentials for good governance."
"We are sad to report that after more than three years of governance, our hopes have been betrayed, our expectations completely dashed. The APC has run a rudderless, inept and incompetent government that has failed to deliver good governance to the Nigerian people.
"It has rather imposed dictatorship, impunity, abuse of power, a complete abdication of constitutional and statutory responsibilities, infidelity to the rule of law and constitutionalism.
"It has failed to ensure the security and welfare of our people and elevated nepotism to unacceptable height. The APC has failed to deliver on its key promises to the nation. There is no evidence of any political will to reverse the decline of our party, while leaders who have created these circumstances continue to behave as if Nigerians owe our party votes as a matter of right."
Galadima who has previously been critical of the Buhari-led administration added that recently concluded APC ward and state congresses were intensely disputed as it was conducted with "impunity, total disregard for due process."
Some other members of the R-APC  include:
Yobe State – Buba Galadima (National Chairman)
Kano State – Bala Muhd Gwagwarwa (National Deputy Chairman, North)
Abia State – Chief Theo Nkire (National Deputy Chairman, South East)
Ondo State – Hon. Eko Olakunle (National Vice Chairman South West)
Kaduna State – Hon. Hussaini Dambo (National Vice Chairman North West)
Kogi State – Mahmud Mohammed Abubakar – (National Vice Chairman, North Central)
Benue State – Hon. Godwin Akaan (Deputy National Secretary)
Oyo State -Dr Fatai Atanda (National Secretary)
Edo State – Kazeem Afegbua (National Publicity Secretary)
Adamawa State – Daniel Bwala (Financial Secretary)
Jigawa State – Abba Malami Taura (Deputy National Auditor)
Kwara State -Hon. Kayode Omotosho (National Treasurer)
Anambra State -Barr. Nicholas Asuzu (National Youth Leader)
Rivers State – Barr. Baride A. Gwezia (Legal Adviser)
Katsina State – Haj Aisha Kaita (National Woman Leader)
Bauchi State – Mrs. Fatima Adamu (National Welfare Secretary)
Ogun State -Alh. Isiak Akinwumi (Deputy Financial Secretary)
Zamfara State – Alh. Bashir Mai Mashi (Deputy National Treasurer)
Abuja – Hauwa Adam Mamuda (Deputy Welfare Secretary)
Sokoto State – Hon. Shuaibu Gwanda Gobir (Deputy National Publicity Secretary)
Katsina State – M. T. Liman (National Organising Secretary)
Niger State – Dr Theo Sheshi ( Deputy National Organising Secretary)
Galadima, who was secretary of the Congress for Progressive Change (CPC), President Muhammadu Buhari's former party further lamented that the APC administration has been "a monumental disaster, even worse than the government it replaced."