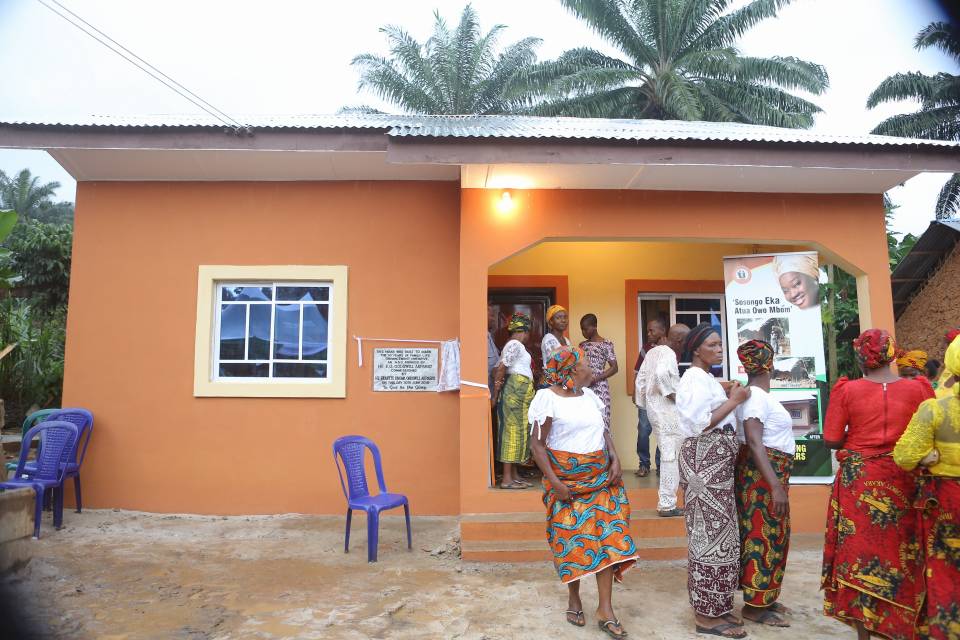 Madam Mercy Jackson Umoren of Nto Eton in Obot Akara Local Government Area of Akwa Ibom State could not withhold tears over the weekend as she became a proud beneficiary of a tastefully furnished apartment donated to her by the wife of the Senate Minority Leader and former First Lady of Akwa Ibom State, Mrs Ekaette Unoma Godswill Akpabio.
Mrs Akpabio was in Obot Akara to commission the house, the second in the series which will take her across all the Local Government Areas of Akwa Ibom North West Senatorial District as part of the activities to mark the 10th anniversary of Family Life Enhancement Initiative, a non governmental organization she founded while she served as the first lady of Akwa Ibom state.
Amidst singing and jubilation by women in the area Mrs Akpabio thanked God for making the project a success and for using her to be a blessing to the less privileged She advised the beneficiary's son to take good care of her mother while studying hard to become a great son of Obot Akara.
The beneficiary, Madam Mercy Jackson Umoren, a 48 year old widow with four children who couldn't hold back her tears, expressed her joy for the kind gesture of Mrs Akpabio. She recounted how she suffered living in a mud and thatch house for years which was later pulled down on May 2018 and in less than a month later, she became the proud owner of a completely furnished apartment.
She recalled how she gave out her first three children to go and earn a living and fend for the family by working in rubber plantations in Benin, Edo State but sadly they had remained incommunicado for over 10 years, and thanked Mrs Akpabio for wiping her tears.
Member of Akwa Ibom State House of Assembly representing Obot Akara State Constituency, Hon Idongesit Ntekpere thanked the former First Lady on her magnanimity and supported her by doling cash gifts and to 15 other widows who were given wrappers by Mrs Akpabio.
Chairman State Universal Education Board, SUBEB, Prof Maria Ikrok expressed happiness and poured encomium on the wife of the Senate Minority Leader and assured her of the support of the women of the Senatorial District for the aspirations of Senator Akpabio for his uncommon representation and touching lives at the grassroots through his constituency projects.