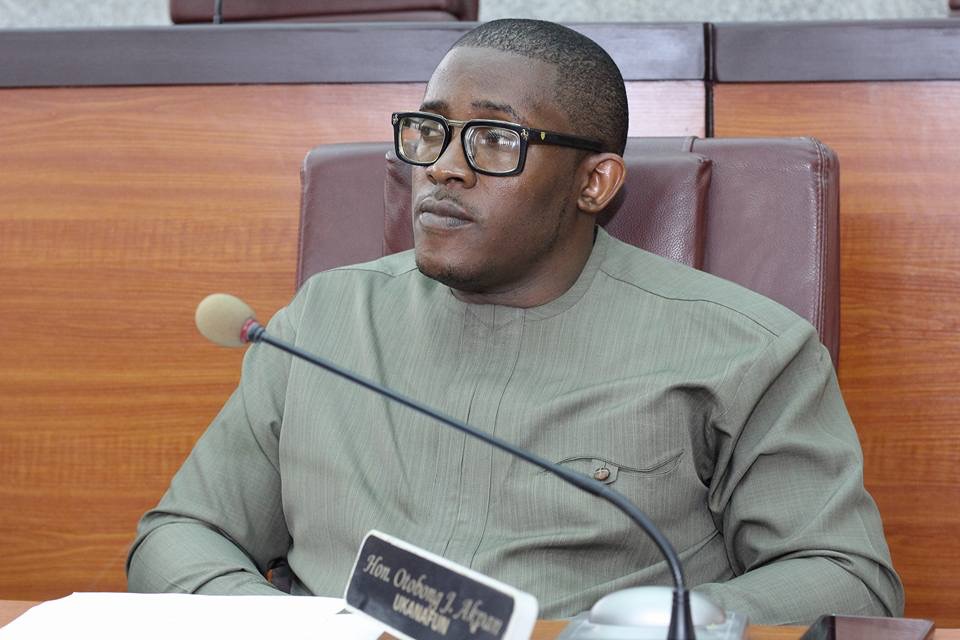 Barring last minute change of mind, all is now set for the mother of all constituency briefings and empowerment programme courtesy of Member Representing Ukanafun State Constituency in the State House of Assembly, Hon. (Deac. ) Otobong Jonathan Akpan.
A release jointly signed by the Chairman, Central Planning Committee, Hon. Isaac Ukut and Chairman, Media and Publicity Sub-committee, Mr Kendi Jumbo has it that the event is scheduled for 16th of May 2018 @ Government Primary School, Ikot Udo Mbang, Ukanafun LGA by 11 am prompt.
The release also invites all political stakeholders of Ukanafun, the leadership and faithful of the peoples Democratic Party, the leadership and Members of the Sixth Akwa Akwa Ibom State House of Assembly, Heads of Government Parastatals, NGOs, the Traditional Rulers, Clergy, Students, the Press Community and all Ukanafun Constituents to the epoch-making event.
Meanwhile, Hon. Otobong Akpan is currently the Chairman House Committee on Lands, Housing and Urban Renewal; Vice Chairman, Committee on Judiciary, Justice, Human Rights and Public Petitions; Member, Advisory Committee on Parliamentary Matters, as well as Member, Committees on Public Accounts, Works and Transport, Information, Labour and Productivity, Intergovernmental, Political and Special Matters, and lastly, Member, Committee on Economic Planning and Development.
He has so far sponsored a bill on Akwa Waterfront Infrastructures and other matters therewith as well as co-sponsored over 15 other bills on the floor of the House.
In terms of motions, the Ukanafun MP has so far moved four (4) good motions which aimed at bettering the lots of his constituents. They include: motion calling on Government to resuscitate the abandoned Oil Palm Depot in Ukanafun, so as to create jobs and generate income for the people of the area, motion calling on Government to complete the abandoned Ukanafun General Hospital, so as to provide basic healthcare services to the people of Ukanafun. Others are: Motion calling on government to step up its security apparatus towards tackling insecurity in Ukanafun as well provide aids to victims of the scourge especially victims of Akpan Essiet Market amongst others and motion calling on the state government to beam its search light on the illegal operation of transport operators viz a viz men of tax force with respect to the incident which claimed the life of a mother of two at Nung Udoe Junction, Ibesikpo /Asutan LGA amongst others.
Legislatively in a whole, Hon. Otobong Akpan is always afoot, making relevant contributions, lending his voice and informed opinions on issues brought to the floor of the House. This gesture, however, has earned him the tittle as the Aristotle of the Sixth Assembly.
In the area of infrastructural developmental and human empowerment, Hon. Akpan has not been found wanting. So far, the lawmaker has paid hospital bills to over 40 Ukanafun/Oruk-Anam indigenes; donated free UTME forms and sponsored free CBT classes for many Ukanafun students (annually); built six classroom blocks at Ikot Akpa Idem (Ward , constructed a Solar energy powered borehole at Ukanafun Ikot Ekpat (Ward 5) and built an ultramodern Civic Center at Ikot Udo Mbang (Ward 7).
He has also secured employment for a number of Ukanafun indigenes in various MDAs. He has consistently been paying school fees for many undergraduates of Ukanafun origin studying in tertiary institutions, without blowing his trumpet.
Some time ago, he moved in and empowered Akpan Essiet Market women in Ukanafun, and also visited hospitals and clinics within Ukanafun and cleared backlog of bills for very many patients.
The lawmaker has also doled out so much money to sponsor the training of many indigenes of Ukanafun in various vocational fields including tailoring, embroidery, decoration, ICT etc. The training is going on right now, and the trainees will be provided with work tools/equipment for startup on completion during the forthcoming constituency briefing.
The above stated achievements are just a tip of the iceberg, as more empowerment programmes and gift items will be unveiled / distributed during the Constituency Briefing come 16 of May, 2018.
#Keep a date.
#HOPEALIVE